5 Questions Performance Marketers Must Ask From a UA Partner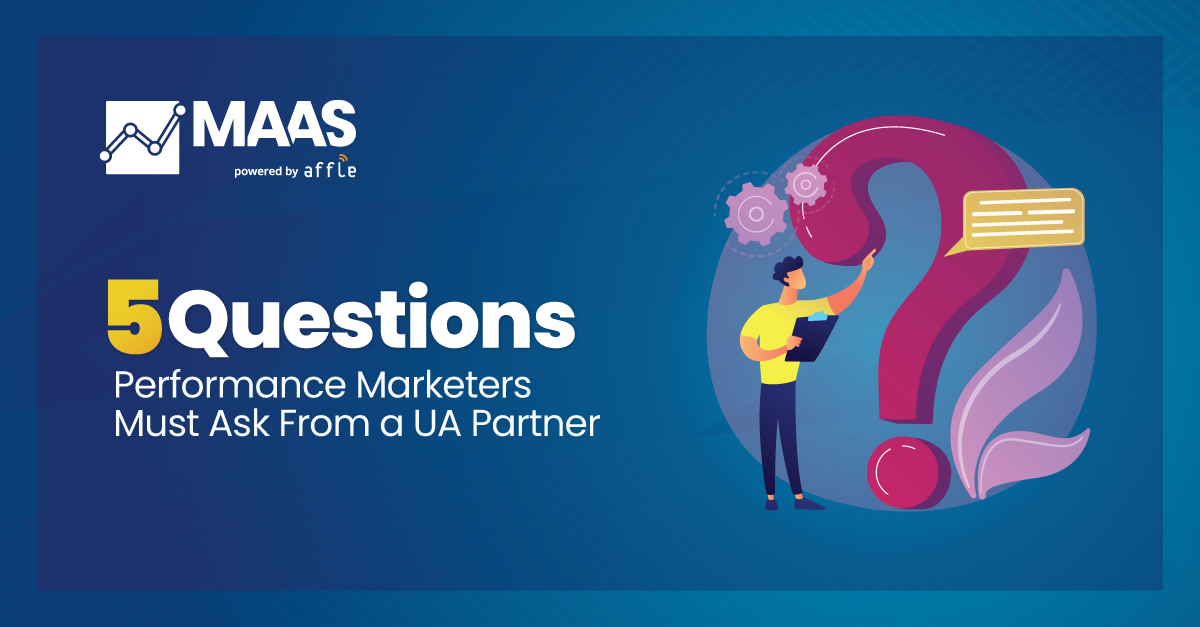 Choosing the right User Acquisition (UA) partner can have a critical impact on the success of your app marketing campaigns. Building a successful app marketing strategy is never easy and having the right UA partner not only ensures scale and monetization but also helps to build your brand credibility.
As the year closes and campaign goals are set for the new year, it is a good time to evaluate your UA needs and get started in 2021 with the right partner. Before you go shopping for a UA partner, here's a checklist of some important questions that you must consider when choosing to work with one:
1. "What scale and performance can I expect?"
This one is a given as a high-yielding scale is the first goal of any app marketing campaign. A UA partner's inventory and reach can help you achieve the desired scale. With diverse inventory sources to choose from, you are sure to get access to a wide range of relevant audiences that ensures that your ad spend is not wasted on irrelevant impressions. It is also important to understand the reputation of your ad partner as not all ad networks will have access to premium inventory. If your ad network doesn't have access to top-notch inventory, then it is likely that your ad campaigns won't perform well and there is also a risk of fraud. 
2. "What are the available ad formats and placement options?" 
Ad formats play a big role in your ad performance. As such, there is no one magic ad formula that works for all campaigns or advertisers. This is why it is important to work with an ad partner that offers multiple ad formats to match your campaign goal. Most ad networks offer the standard IAB ad formats, rich media ads, video and playables, and interstitials. Having a creative suite that delivers enhanced engagement can allow you to have the flexibility to test the formats that work best for you and optimize. 
3. "What are the available targeting options?"
Targeting with better precision allows advertisers to maximize their ROI and continue to optimize the campaigns using insights derived from behavioral segments and cohorts. Check with your ad partner on what are the available targeting options to identify the most valuable users and reach out to them using personalized messages. An advanced UA partner also allows you to access multiple users across diversified channels via Direct Publishers, Programmatic Exchanges, and OEM Recommendations. 
4. "To what degree can I access campaign analytics and insights?"
More advertisers now want to be on top of their ad campaigns. The "spray and pray" approach to advertising doesn't work and advertisers want to work with ad partners who can give them access to real-time reporting and actionable insights. Use advanced data-driven analytics to map your users by understanding their in-app usage behavior. This can be from activity details to purchase history, to allow for actionable insights into what happens post-install. It is also important for advertisers to easily access this information on one dashboard. Jumping between different dashboards and tools can get frustrating and can also make you miss important connections between different reports. Choose an ad partner that allows you to analyze all your campaign performance data with complete transparency under one dashboard to have a holistic view of your ad spends.
5. "What about ad fraud and transparency?"
To keep your brand safety to the highest level, work with reputable vendors who use data-driven technologies to serve ads. The ad technologies that your UA partner leverages can impact your campaign. Hence, choosing the right set of ad technologies can help you to mitigate ad fraud as well as protect your ad spend. It is equally important to get a deeper understanding of what is happening with your campaigns – budget spent, attribution and measurement, and granular reporting on all stages of the campaign. Having a unified in-depth analysis across publishers and channels through fully transparent and granular reporting can help you to gain critical insights into your ad campaign and optimize intelligently. 
To Sum Up
2020 was a year that changed app marketing as more and more businesses took to mobile. For existing businesses on mobile, too, it was a time to reflect on the current app evolution along with key metrics such as measurement, privacy, and ad fraud. As you start fresh campaign goals in 2021, take stock of your current performance marketing efforts to make it ready for the New Year. Look at working with a partner who can offer real-time one dashboard for insights on transparency and incrementality.
If you would like to know more about MAAS offerings and how our solutions can help your app advertising goals, get in touch with us today!