5 RMG App Marketing Hacks to Try this Festive Season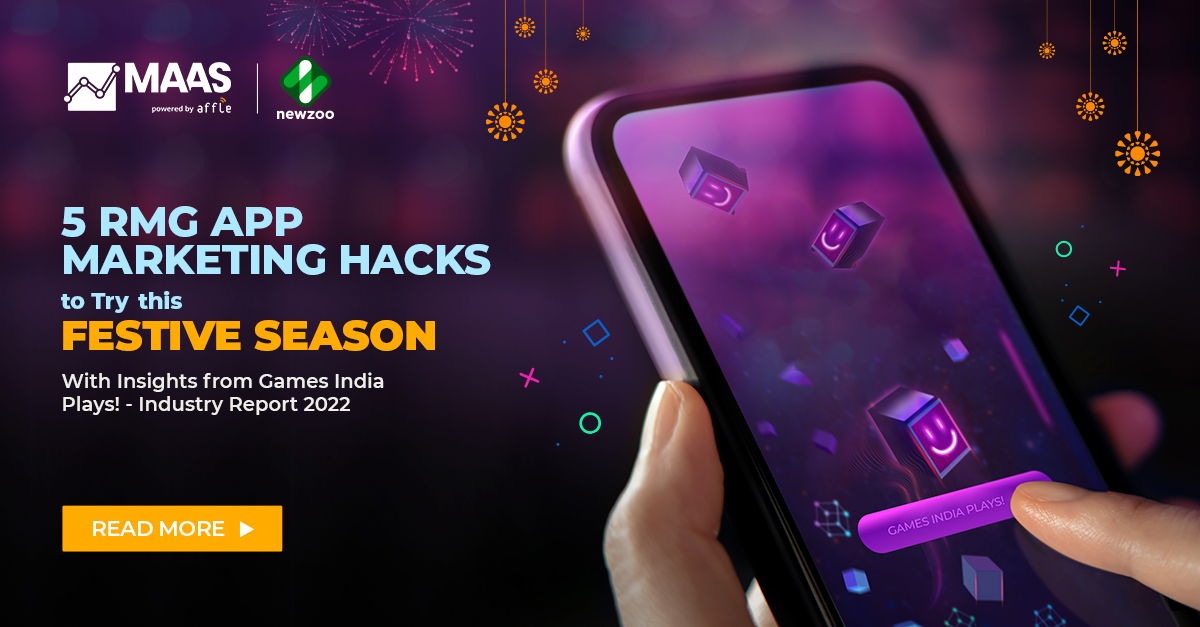 India's festive season is all set to be fun and games (no pun intended!). With the lifting of the pandemic restrictions, people want to make the most of this opportunity to get together with their friends and family. The combination of festivals, gatherings, and games is an evergreen classic; however, modern get-togethers require modern entertainment solutions. The landscape is primed for RMG app marketing in the festive season to win big. It will be exciting to see if the vertical can leverage India's love for traditional Diwali card games to report spectacular UA achievements. Going by industry chatter though, card-based RMG is set to power up the segment's market growth by 3X.
Based on the team's insights into the RMG industry published in India Gaming Industry Report 2022, we uncovered 5 interesting RMG app marketing opportunities to leverage for Q3 2022 UA, Retention and Monetization goals.
RMG App Marketing Hack 1
Where's the opportunity?
Post-pandemic, Indian audiences have matured enough to explore their mobile gaming habits further. The country is showing remarkable progress in online gaming adoption with a number of 373 million gamers. And it is not just one genre they are playing or interested in. RMG app marketers are yet to tap into the complete potential of the existing mobile gaming community, and the festive season is as good a time as any to start. Infact, Google Play Store has already launched its pilot program to host fantasy and rummy apps until September 2023.
How to tap into it?
AI/ML-based audience recommendation. Ask your advertising partner about data management platforms and learn about the granularity it offers. Leveraging such platforms, RMG app marketers can target gamer cohorts who show a high inclination for purchases in gaming apps.
What's the expected outcome?
Increasing brand reach among unique, high-quality users.

Creating an optimized target audience pipeline for better conversions across campaign touchpoints.

Reducing wastage of acquisition costs.
RMG App Marketing Hack 2
Where's the opportunity?
India's smartphone users today are undoubtedly more tech-savvy than they were 2 years ago as mobile-first behaviors have emerged. Across metros and non-metros, mobile gaming apps are the rage across all generations. This year, the festive season shows promise to blend physical celebrations with online entertainment. RMG has every opportunity to carve out a loyal user base with festivals as their key UA campaign themes.
How to tap into it?
Programmatic precision targeting. Finding out relevant high-affinity audiences is just one part of the puzzle. RMG app marketers can blend in location-based, language-based and dayparting targeting to increase brand recall and conversions at the right moment.
What's the expected outcome?
Establishing strategic communication points with users

Increasing brand recall at relevant moments of the day

Shortening time between impressions to install.
RMG App Marketing Hack 3
Where's the opportunity?
Newzoo & MAAS platform's co-partnered industry report notes a 25% install-to-registration conversion rate for card-based RMG. For sports-based fantasy gaming, the figure was approximately 35%. An average of 8-12% of users convert to paying gamers across both categories. India has come a long way in a short time to developing spending intent on online games and the hunger to win is only getting stronger.
How to tap into it?
Leveraging OEM can significantly contribute to converting users beyond Tier 1, who show comparatively higher retention rates and ARPU. 
What's the expected outcome?
Reach out to a more diverse demography.

Increase conversion metrics for non-metro audiences.
RMG App Marketing Hack 4
Where's the opportunity?
With the multiple communication platforms opened up, RMG marketers can significantly increase audience engagement with different ad formats playing out different creative versions of your key message.
How to tap into it?
Rich media, playable ads along with the usual mix of video and display ads in clever placements. With multiple ad formats comes the freedom to choose among placements – minus one screen, lock screens, and native app stores to list a few. Additionally, ask your advertiser for creative analysis to understand which format or content is driving higher CTRs and installs.
What's the expected outcome?
Streamline creative style and content with real-time reporting.

Understand what messaging style resonates with your audience.

Make informed decisions on creating an overall effective creative strategy.
RMG App Marketing Hack 5
Where's the opportunity?
The brilliance of mobile gaming is how it cuts across generations. The adrenaline rush on winning a level or securing a jackpot or breaking a high score is the same from 16-60. For RMG players, this generational gaming affinity opens a huge demographic to target. The excruciating challenge here is how different each segment is in terms of its online behaviors.
How to tap into it?
Campaign diversification across multiple channels like eMails, SMSes, and premium publishers. This is especially helpful to generate conversions among the 35+ demographic group whose online interactions show higher engagements with emails, SMSes, news, social, utility, entertainment, and other gaming apps. 
What's the expected outcome?
Increasing conversions among newer demographic cohorts.

Decreasing chances of losing out on potential user segments
Wrapping Up
The nature of RMG where it appeals to young and mature adults alike demands an intensive UA strategy. To make sure you are not missing out on important campaign measurements, try to unify your efforts on a single platform. Consolidating your RMG app marketing will help you with a comparative analysis of your channel and creative performances. Real-time tracking and audience recommendations can give you a holistic view to take effective decisions on managing the distribution of your performance marketing budget. 
In case you are looking to unify your UA channels on a single platform, the MAAS Unified Audience Platform can assist your business outcomes with mDMP, mKr8, mAmplify and mInsight unified dashboard. Feel free to schedule a demo.