2022 Recap: Check out the Best Stories from MAAS Platform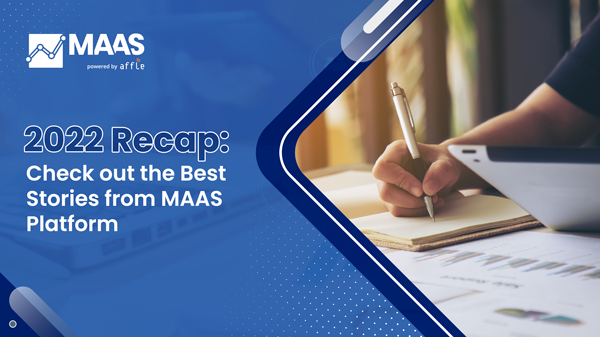 It's been an exciting year for the world of AdTech and for MAAS Platform – we won some prestigious industry awards, had amazing clients to work with and deliver results, took part in very exciting events and panel discussions, brought together industry voices through Mic'd Up With MAAS and App MAASters, and had the patronage of our dear readers like yourself! At MAAS Platform, we always strive to bring to you the most insightful stories from the AdTech ecosystem, our products, and offerings, as well as tips on how you can elevate your mobile marketing efforts. 
If you've missed any of the articles, this is your chance to catch up with all that brewed on the MAAS Platform. Before we close for the year, we want to leave you with our top stories from 2022. So sit back, grab a coffee and get through the end-of-the-year AdTech reading list with the best stories from the MAAS Platform.
The Ultimate Apple Search Ads Battlecard to Advance Your 2023 Mobile Marketing
If you think you have included all the right strategies for mobile app user acquisition in your marketing planning, then this post is for you! Increasingly, marketers are using Apple Search ads for their user acquisition growth and there are many reasons why!
How to Use Data and Channel Mix for App Marketers
Festive marketing campaigns hinge on the right data-driven approach to make the most impact in a short period of time. Marketers need to look beyond the available pool of data and find the most relevant cohorts in the stack to go beyond the next 100 million users. 
Serve a Platter of FoodTech App Marketing Success This Festive Season
Festivals and food make an evergreen pair. The global FoodTech landscape is gearing up to face the upcoming festival rush with panache. MAAS platform collaborated with FoodTech giants – McDonald's, KFC and Swiggy – to leverage mobile marketing and make the most of their seasonal app marketing opportunities, contributing to the creation of a high-value user base.  
MAAS Platform Strengthens Global Presence With Africa Launch
MAAS Platform launched its flagship Unified Audience Platform in Africa to empower app advertisers in the continent to achieve their user acquisition goals. To lead the platform's growth in the region, MAAS has also announced the appointment of Daniele De Canio as the Business Director for the African market.
Fireside Chat: Driving the Next Wave of Performance Marketing in Indonesia
To understand what is driving the next wave of performance marketing in Indonesia, MAAS' Anirudh Bapna (Associate Director – Client Success, Southeast Asia) met with Omnicom Media Group's Managing Partner, Rohan Mahajan for a scintillating fireside chat.
"Gimme 10 Minutes" – How Indian qCommerce Gave a Growth Twist to a Common Phrase
India's qCommerce (quick commerce) sector is having its moment under the sun! 2020's heavy months of a pandemic-affected economy and lifestyle had essentially put a stop to buying essentials offline, thereby paving the way for a greater number of people to confidently embrace online shopping for groceries and other consumables.
Travel is Taking Flight – Is Your App Marketing Ready
With travel norms easing around the world, we are seeing a renewed interest in the travel segment. Here's a step-by-step travel app marketing guide especially for you. 
INSEA's Golden Age of FinTech : Top User Behavior Trends Catapulting FinTech Growth in FY23
MAAS, partnered with Adjust, to study users' behaviors towards each FinTech subvertical in the INSEA region in the recently published industry report – Decrypting the FinTech Gold Rush of the New Normal.
How Did They Do It? Deep Diving Into the Cleverest FinTech UA Campaigns
Team MAAS deep dives into some of the cleverest FinTech UA campaigns. Read on to find out how these brands leveraged contemporary trends for their mobile marketing strategy and what we can learn from them.
From 11/11 to Christmas, How to Plan Your Ad Creatives Strategy for eCommerce App Success
The team talks about some of their observations on the creative tips and tricks that work well for eCommerce app marketing. 
Read more to find out what fits you!
Thank you for tuning in this year on MAAS Platform. We wish you all Happy Holidays and a fantastic New Year! 
Want to write a guest post on our blog? Or feature on Mic'd Up With MAAS? Write to us at marketing@maasplatform.io