Why 2023 is the Era of Mobile App Marketing on a Unified Platform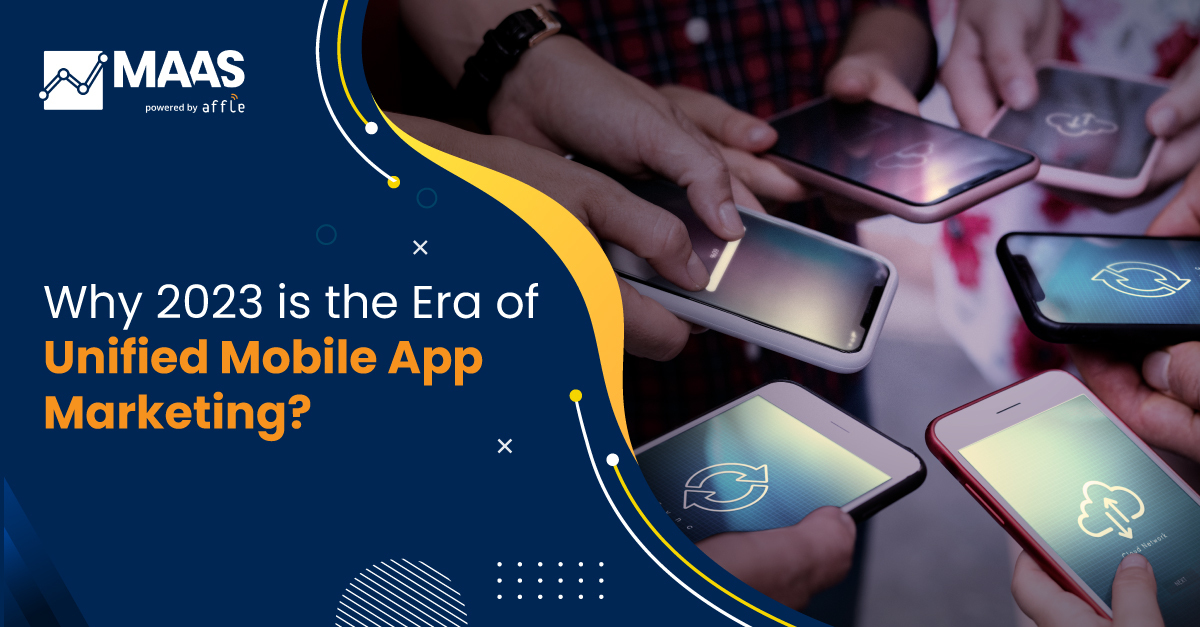 Since mobile app marketing started back in 2009, the mobile AdTech "lumascape" has looked more and more fragmented over the years. Ad networks, DSPs, OpenRTBs, ad formats, and data sources – different companies play to only one part of the equation. For an app that is just starting out, mobile app marketing in this way can not only feel overwhelming, but it also can be limiting to scale the efforts. Mobile marketing for small-budget marketers is ill-equipped to deliver desired business outcomes when they market on 20 networks, 10 dashboards, and 5 DSPs, instead of pursuing their efforts on a unified platform.
With so many networks and channels of acquisition as well as data dashboards that only give fragmented insights, navigating the AdTech maze can be challenging for any advertiser. It's time to unify the mobile app marketing efforts in 2023. We give you 5 reasons why:

1. User journeys are getting complex
The focus for any app advertiser earlier was on volume and incentivised installs to get users to the download page and track installs. It was fairly easy to just set up a campaign with an ad partner and focus on one channel of install. But increasingly, user journeys are getting complex. User discovery – unlike before – is now through multiple channels. And if we were to talk about purchase itself, that is an even more complex line. The journey from discovery to final purchase is often through multiple user touchpoints and channels. A single channel may not be enough. 
Running multiple campaigns across different channels doesn't give advertisers the right results as they have limited knowledge of what channel might be right for them. When running multiple campaigns across channels with different partners, advertisers often run the risk of diminishing the impact of the channel that might be performing better. 
A unified platform also takes away the puzzle of how and when to move to different growth channels. For example, when an app needs to scale, the platform gives them access to quality users at scale through directly integrated publishers and DSPs. And when certain KPIs are reached and campaigns need to be further nurtured, channels such as OEM recommendations and native app stores can be targeted for specific audiences – all this can be done on the platform without the advertiser having to worry about which gears to pull when.
2. Multiple channels can lead to overlap and ad wastage
Because users have a presence on more than one platform or device, it is often easy to overload these users with ads at all touchpoints when running campaigns on multiple channels with different ad partners. You may spend heaps of money to maximize your ad campaigns but not notice any substantial improvement. The problem manifolds when the target audience remains stagnant, but an advertiser is spending money on different channels and partners to target the same pool over and over again, thereby narrowing the reach. This can run you into a risk of audience overlap, leading to ad wastage.
With a unified audience platform, you can increase unique user reach by eliminating duplicating audiences from channels. A unified platform with key solutions to identify overlaps can help advertisers to understand the break-up of their target audience for all channels, see which channels are performing better, and also minimize the duplicate users to display their ads only to actual users. Your ad partner can also give a comparative advantage to of a channel's conversion rate, allowing you to optimize better.
3. Demographic targeting is not enough in the era of hyper-personalization
The key buzzwords for 2023 are hyper-personalization, connected journeys, and omnichannel as marketers respond to unifying their messages across mediums, languages, and demographics. With many businesses doubling down on digital channels to reach newer channels, there's going to be a strengthening of unification of marketing messages across mediums, languages, and demographics. A full-funnel marketing approach on a unified platform helps advertisers to see the user journey in entirety and reach massive audiences through audience intelligence.
For long, marketers have based audience segmentation on the basis of demographics and location, but as new users get added to mobile consumption, segmentation has to go deeper. 
Finding the right audience among a large pool of data can increase ad wastage as not all users will be relevant. Advanced audience segmentation available on a unified platform – for instance on MAAS platform's mDMP – helps advertisers to find the devices which are the right fit for the app's reach. One can look at user cohorts of shoppers, food lovers, travelers, etc to create a targeted campaign for conversion.
4. Data insights are more valuable than before
Data insights are crucial to run any mobile app marketing campaign. But what you do with the data insights received is also equally important for the success and longevity of your campaign. When marketers work with different data sources, ad partners, as well as MMPs, tracking granular insights of a channel's performance can become difficult. What you see through multiple dashboards is only partial insights.
A unified platform, then, becomes a single source of truth to give a comparative analysis of a channel's conversion rate, optimize for right creatives, budgets across channels, and real-time recommendations that help you to see how each campaign is performing across channels and audiences. With a slice-and-dice approach to help advertisers drill down their insights to the level of year, months, and days, an ad partner with a unified platform can give the right competitive edge over the market. 
5. Transparency
Finally, as advertisers demand greater transparency into where the ads are placed, how the budget is spent, and what creatives do well, unifying the marketing efforts takes the guesswork out of campaign planning. Advertisers exactly know how to evaluate the creative impact,  what works better or to see which channel works better at install vs post-install level, these transparent insights can help advertisers make quicker decisions that can help them to drive their budgets.
Want to start your 2023 with unifying your marketing efforts? Get in touch with us for a demo on how MAAS can help you!