The Evolution of Mobile User Acquisition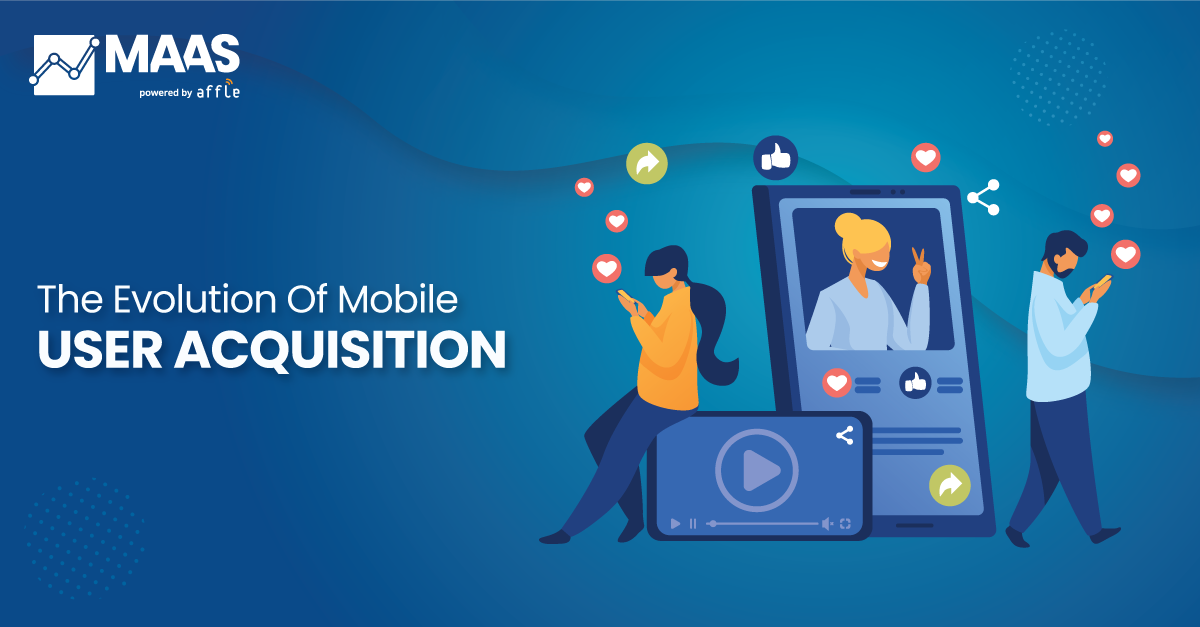 Mobile app marketing has come a long way since the first Apple iPhone was launched more than a decade ago. Apple's iPhone, although not the first smartphone in the market, was definitely the first that redefined mobile and advertising. Ads on mobile browsers started to appear in the early days of the iPhone. Since then, the industry has matured into an app-dominant ecosystem with a freemium model and in-app purchases. 
As the app ecosystem changed, so did the ad formats and the way user acquisition was done on mobile. Let's take a brief look at how mobile user acquisition has changed over time.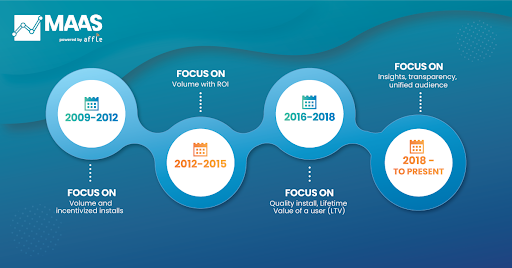 The Beginning: 2009-2012
Focus On: Volume and incentivized installs
Key characteristics: When mobile advertising first began, advertisers were focusing largely on growth and volumes. Apple's App Store arrived on the scene in 2011, whereas Google Play in 2011. Before this, mobile ads were mainly running on mobile browsers. But with the introduction of the App Store, advertisers flocked to use mobile apps instead. During this time, incent traffic on non-incent campaigns, as well as cheap traffic with tricks like auto redirects was common. 
Campaign Types: Incent traffic, burst campaigns, grow on app store rankings, auto redirects
Performance Models: Flat fee, Cost Per Mille (CPM), Cost Per Click (CPC)
The Middle: 2012-2015
Focus On: Volume with ROI
Key characteristics: By now, mobile advertisers had a better understanding of the app ecosystem and were learning about their users' preferences. User experience, therefore, started to emerge as one of the key focus areas. Advertisers, even though still focused on volumes, also began to shift their focus towards performance marketing. They were A/B testing around creatives, supply sources (SDK vs. Affiliate vs. Network), pricing, etc.  In addition to volume, ROI, engagement, and retention also started emerging as valuable performance metrics. It was also around these years that advertisers started to think more carefully about quality tracking, and ad platforms began to work with tech solutions to start conversations around efficient attribution tracking. But even so, tracking and attribution were limited to install. 
Campaign Types:  Creative ad placements (banners, interstitial, rich media, expandable, rewarded video, etc) on networks, aggregators to affiliate networks to drive reach/installs 
Performance Models: Cost Per Install (CPI), Cost Per Action (CPA; with A being any downstream event like order, booking, registration, etc.) 
The Maturing Years: 2016-2018
Focus On: Quality install, Lifetime Value of a user (LTV)
Key characteristics: Mobile user acquisition started to mature during this time as data-driven advertising began to emerge as a key focus area. One of the essential performance metrics that started gaining importance (and relevance) around this time was the concept of LTV. Advertisers wanted to calculate what is the value of acquiring a new user, and app budgets, therefore, started to shift towards the worth of such a user. There was a greater emphasis on what is happening post-install. The view of the user funnel began to expand to what user actions happen after they've installed an app and how they are engaging with it. Subsequently, post-install data became a goldmine for advertisers, who were now sharing this with ad networks with greater enthusiasm. As advertisers began to optimize campaigns more accurately, attribution tracking also started becoming more sophisticated. Concepts of View-Through Attribution also became important for advertisers to measure not just user action based on click, but also based on impressions. 
Campaign Types: Campaigns shifted from purely ad networks to Demand Side Platforms (DSPs) that aggregated supply programmatically on RTB tech stacks. Advertisers could bid for individual users/impressions in real-time. 
Performance Models: CPM on programmatic exchanges but optimized to CPA
The Metamorphosis: 2018 – to present
Focus on: Insights, transparency, unified audience
Key characteristics: Since the last two years, mobile user acquisition has gone into a  metamorphosis. Not only has the industry undergone an AdTech consolidation, but there's also clamor by advertisers for quality and transparency due to rising Ad fraud. Advertisers also want to reach out to users across direct publishers, programmatic exchanges & OEM recommendations all under ONE unified platform. There has been a greater demand by advertisers to analyze all their campaign performance in real-time on ONE dashboard instead of flipping multiple dashboards. On the other hand, users are demanding greater control over their privacy. GDPR was a defining moment for how data is collected and processed for advertising. Hence, advertising effectiveness and relevance hold more importance than before. There's an increased awareness of gauging the effectiveness of ads through incrementality measurement. Incrementality measurement allows advertisers to connect the dots to see how different variables can affect customer journeys and conversions. This is also important today in light of the upcoming changes to IDFA. How measurement will change for MMPs and self-attributing networks becomes key for user acquisition in the post-IDFA era. 
Campaign Types: Return on Advertising Spends (RoAS), Cost Income Ratio (CIR), Incremental value of advertising
Performance Models:  ROAS (Day 7, Day 30), CIR, Retention Rate (Day 1, Day 7, Day 30)