Middle East & Africa – Watch Out for These 5 Lessons for Your Black Friday & Holiday Season Omnichannel App Marketing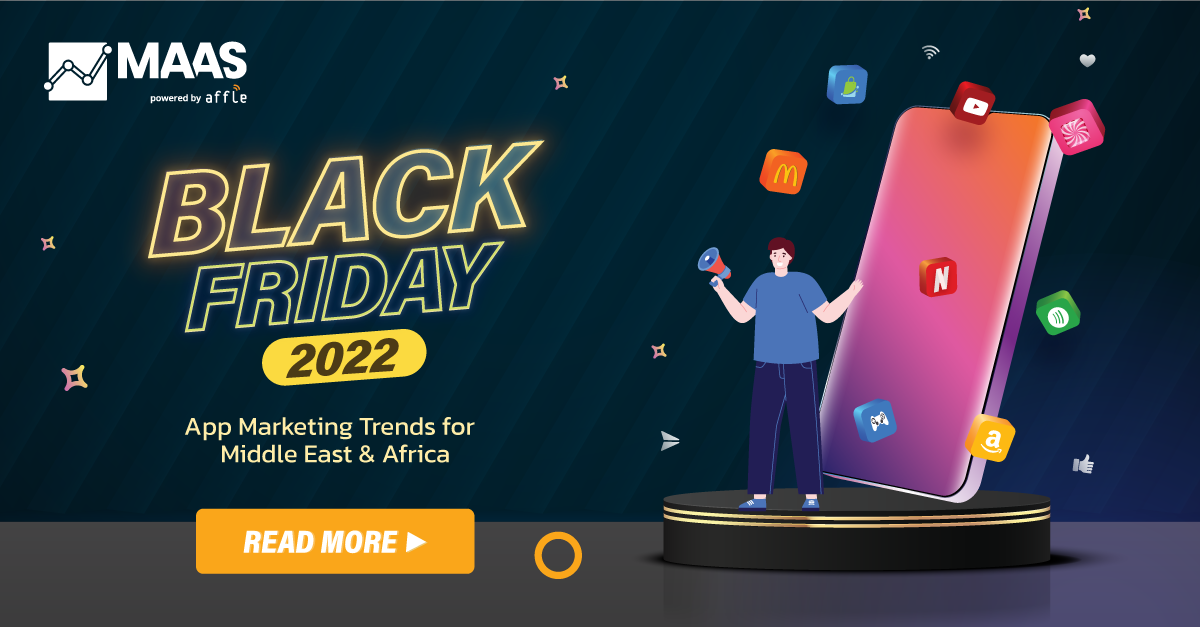 Black Friday 2021 recorded sales worth $ 8.9 Billion setting high expectations among app marketers in the Middle East and Africa. Traditionally associated with the American markets, the Sales fiesta of Black Friday has ever since crossed borders, to make its presence felt in the emerging markets of Turkey, South Africa, UAE, Saudi Arabia, Egypt and more! With recession, inflation, waning of the pandemic – the audience is in a mixed mood while deciding on their purchases. In this blog, the team chalks out 5 ways to help boost your holiday season omnichannel app marketing for the region.
But before we dive into the strategy details, here's a quick infographic to give you a glance at the landscape, user expectations of MENA's consumers. The infographic also gives a quick overview of the strategies whose details we will discuss in this article. 
Black Friday & Holiday Season Omnichannel App Marketing: Infographic
Consumer Sentiment & Holiday Omnichannel Marketing
This holiday season, consumers are in two minds – financial stress and the eagerness to relive pre-pandemic holiday euphoria. Holiday season app marketing conversions will heavily rely on offers, deals that take into account users' sentiments about splurging this year. Focus on essential items like gifts, travel requirements or household appliances. Comparatively, this year bargain hunters are likely to contribute to the bulk of purchases. 
A successful app marketing strategy for the year, is one that will help your users spread out their spending stress and make it easier on their pockets.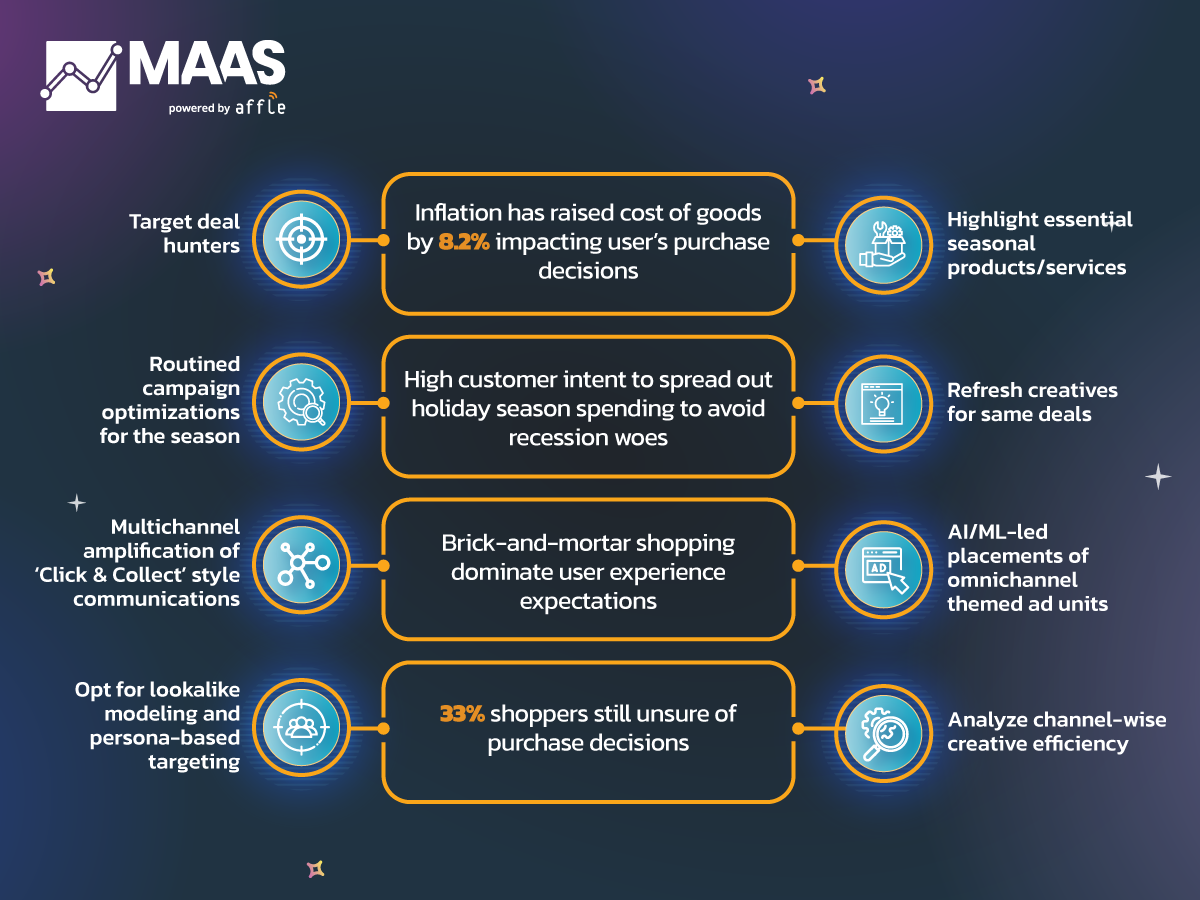 Enhance Your Top-Funnel Conversions with Persona-Based Targeting
The 550+ million odd population of the Middle East & Africa, invariably do not display the same preferences or online behaviors. App marketers often end up with a long list of marketing wastage just to convert low lifetime value (LTV) users. In this final week of Black Friday omnichannel app marketing, check if you are targeting the right personas for your brand to amplify conversions over the weekend. 
Shoppers in the MENA region, usually have a lower spending power, compared to their global peers. Online entertainment, like video, audio or OTT subscriptions, appliances like headphones, ring lights, additional camera lenses are hot picks for the African youth. The country's booming creator and tech economy has opened space for eCommerce apps to maximize on their gadget offerings. Other than that, gamers, lifestyle and travel enthusiasts dominate the region's shopper personas.
Our app marketing e-book goes into further details on this sub topic, if you would like to know more.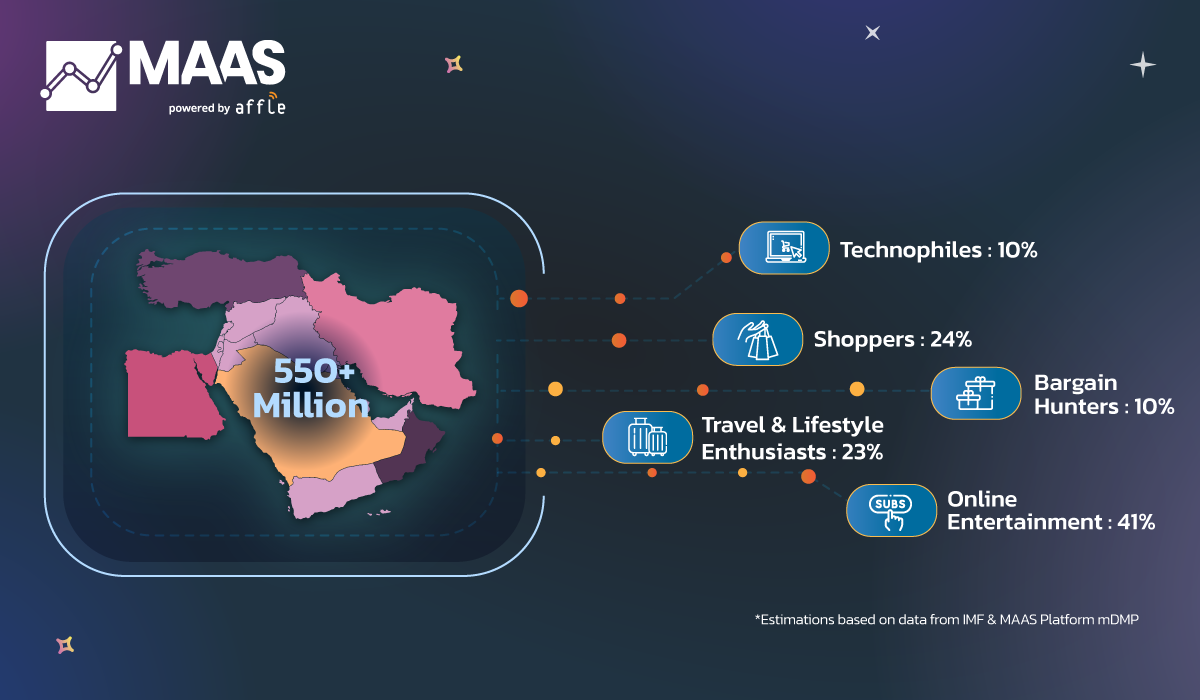 Informed Decisions to Choose Your Media Mix 
MAAS platform, with their association to impactful campaigns in the region – suggests Programmatic, OEM and Premium Inventories to be the channels of choice for the region. You can check out more on channel distribution, how to customize content for each channel in our latest Black Friday and holiday season special infographic. 
Advertising partners can help your app marketers to trace granular insights of channel performance. Partners with unified audience platforms are able to give a comparative analysis of a channel's conversion rate. A holistic picture of overall channel conversions, will be significant to save up on the holiday season app marketing budgets. When asking your partners for the analysis, check for :
Comparative analysis of conversions for each channel

Creatives that delivered high conversion rates per channel

Recommendations for budget distribution – where should you pause, increase or cap your budgets
In recent times, Apple Search Ads (ASA) is becoming a key choice for app marketers to amplify conversions in MENA. How does it work? Read more here!
Identify Actual Unique Reach to Reduce Budget Wastage
Each user has a presence in more than one platform or device. A spray-and-pray campaign overloading users with ads at all touchpoints can lead to ad fatigue, with unfollows, unsubscribes or bounce rates scaling higher. An overlap calculator can help you identify where the audience overlaps are, while recommending easy-to-follow steps to reduce the overlap. You can check out a detailed article on this here. 
For holiday season omnichannel app marketing, ask for an overlap index calculator to ensure you are not losing out on the interests of high value leads. Additionally, the benefits can range between –
Increasing unique user reach

Eliminating duplicate audiences from channels

Informed optimization of media mix

Understanding the true potential of each channel choices
Advertisers who opt for such audience optimization strategies have reported creating a high quality, revenue-generating, loyal user base.
Step Up Real-Time & Full-Funnel Optimization for Omnichannel App Marketing
Maximize acquisition at top of the funnel – Audience cohort optimization is key powered by precision targeting. Unified audience platforms, with their deep data on device behaviors, use AI/ML-based technology to discover and streamline your audience segments. They can then be targeted across multiple channels based on location, demography, and dayparting. A carefully selected audience and targeting format can increase the value of your useful KPIs like retention, first orders, and app sessions of new users.
Activate and engage users – Optimize what your user sees at every touchpoint of their favored channels. For OEMs especially, take advantage of strategic ad placements like minus one screen, lock screens, recommended apps, etc. The ad units can be leveraged to handhold the user from pre-installation phase to making their first purchases. Word of the wise – keep the ad messages contextual to the location, demography or time of day that you are targeting.
Improve CAC/CPA with Conversions – Analyze and optimize creatives, channel budgets and targeting. Unified platforms come with intuitive dashboards that can easily integrate your MMPs and campaigns to give a holistic overview of how your campaign is performing from every angle. With real-time recommendations, it gets easier to achieve campaign goals in terms of Cost Per Acquisition and ROAS.

To know more on making stellar holiday marketing plans, check out our short e-book on the topic.
This week is crucial for app marketers riding the Black Friday wave. Prior to signing off for Thanksgiving, do a quick check of your app marketing setups – audience, targeting, creatives & analysis. If you notice gaps in actual performance vs. expected achievements, the team of seasonal UA experts at MAAS platform are all too happy to help. If you are talking to us about your holiday season marketing, don't forget to ask for your Holiday Offers!