"Gimme 10 Minutes" – How Indian qCommerce Gave a Growth Twist to a Common Phrase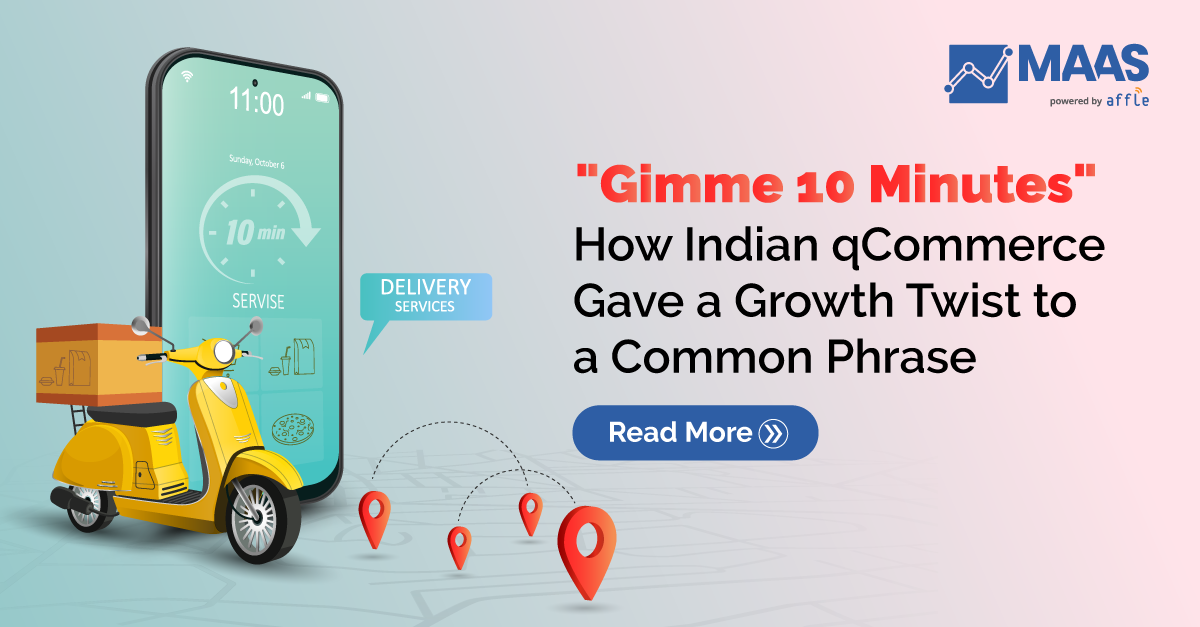 India's qCommerce (quick commerce) sector is having its moment under the sun! 2020's heavy months of a pandemic-affected economy and lifestyle had essentially put a stop to buying essentials offline, thereby paving the way for a greater number of people to confidently embrace online shopping for groceries and other consumables.
In 2020, the average market penetration within online consumables was just 7%, and it is expected it will grow to 12.5% in the next five years. If 2020 was about consumers finding confidence in transacting on mobile-based commerce for groceries and consumables, 2021 was defined by an accelerated push into instant delivery of grocery and fresh produce delivery by giants like Swiggy, Grofers (now Blinkit), and Zepto with the promise of 10-minute delivery. 
A qCommerce Redux 
qCommerce, while a new entrant to the Indian market, has been around for many years now. In fact, it was back in 2013 that GoPuff was established in the U.S. with the promise of 30 minutes delivery and largely catered to students. And just within a few months into the pandemic, GoPuff raised investments for up to $1.7 billion. In Europe, there have been many companies like Delivery Hero and Deliveroo that operate in the space of restaurant delivery. Delivery Hero is now a global speedy delivery service operating in a total of 43 countries and has further invested in qCommerce after it acquired Glovo in 2022.
What's Happening in India
Young markets like India have been no different. The last two years have pushed an intense competition in this space, thanks to the last-minute, late-night appeal to the Gen Z consumers. India's online grocery market grew by 80% to $2.66 billion in 2020 primarily due to COVID-19 and the resulting lockdown. Popular online grocery platform BigBasket reported 3x growth orders while a 60% increase in retention of new customer cohorts. 
The qCommerce market is not just limited to groceries but also extended to consumables in homecare, OTC drugs, beverages, packaged foods, alcohol, etc.
The consumables market in India is expected to become approximately $1 trillion by 2025, where the shift in consumer behavior has happened from stocking up monthly groceries to seeking convenience with smaller, weekly purchases, and on-demand instant orders. 

According to a recent survey, nearly 29% of respondents relied on qCommerce apps to order their groceries. And there is a larger addressable market for it that is waiting to be tapped. Red Seer report finds that about 20 million households in India are already an addressable market for qCommerce – translating into huge opportunities for apps in this space to acquire customers.
Who is the qCommerce Customer in India — and How to Reach them
The typical customer for a qCommerce app is essentially driven by young Millennials and Gen-Z who live in smaller households and often make purchases on the go. This younger demographic is often pressed for time and demands instant gratification as well as makes unplanned impulse purchases when it comes to consumables. The high disposable income also is a driving factor for growth in the qCommerce segment.
But that's not all, there is a market for qCommerce beyond the young Millennials and GenZ, and is spread across categories.

 Reaching these customers in a fast-moving market is critical for market penetration and getting the first-move advantage. As customers get used to a platform and find their needs being addressed, retention becomes easier.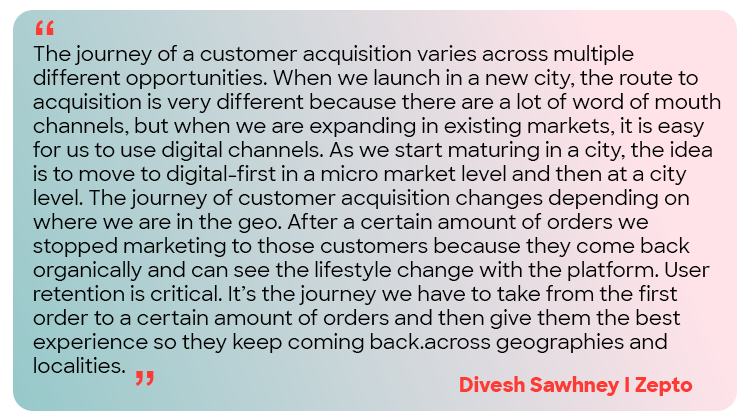 UA Costs and Metrics to Look At
Based on our internal analysis of industry and averages, we recommend looking at some key metrics:

If you are an app advertiser in the quick commerce space, reach out to our experienced team today to get your customized UA strategy! Connect with us now!