The Ultimate Apple Search Ads Battlecard to Advance Your 2023 Marketing Planning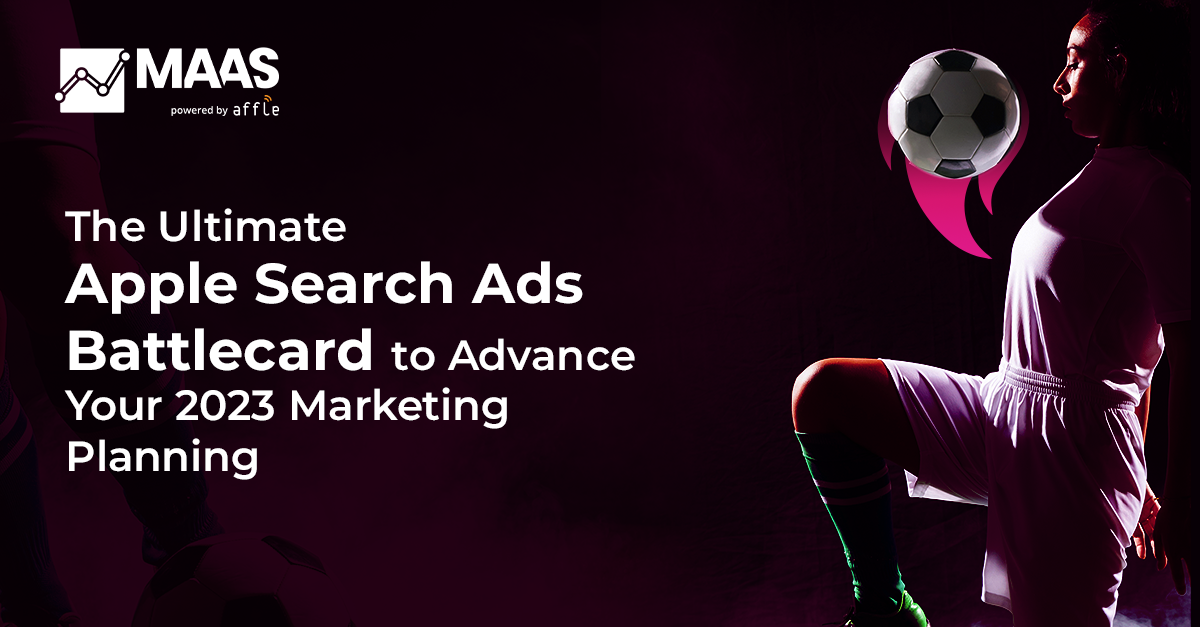 We are at the fag end of 2022 and marketers are looking at the year gone by – the budgets spent, the collected ROAS, and plan for the year ahead. If you think you have included all the right strategies for mobile app user acquisition in your marketing planning, then this post is for you! Increasingly, marketers are using Apple Search ads for their user acquisition growth and there are many reasons why! 
Did you know that there are currently 600M weekly users on Apple's App store and over 70% of the App Store visitors user search to discover new apps! This means a majority of app downloads after the user's intent – a user searches for what they are looking for in that moment of time and if your app is able to be there in the moment of discovery, it is highly likely they will install and convert. 
What are Apple Search Ads?
Very simply, Apple Search Ads (ASA) are the ads that you see in Apple's App Store when you go to search, download and install an app. 
We all search on browsers and app stores with certain keywords – these are either based on an intent or an exact match specific to what we are looking for. The ads that pop up when a user goes to the app and searches for a content or an app can be bucketed into 3 broad categories on which keyword bidding can take place: 
Brand: (organic) search on a particular brand name/exact match

Broad match based on user intent

Competition
How Apple Search Ads Work?
The Discovery of apps using Apple Search Ads is quite similar to how pages get discovered on search engines. Placing the right search word can help advertisers be discovered by the relevant users.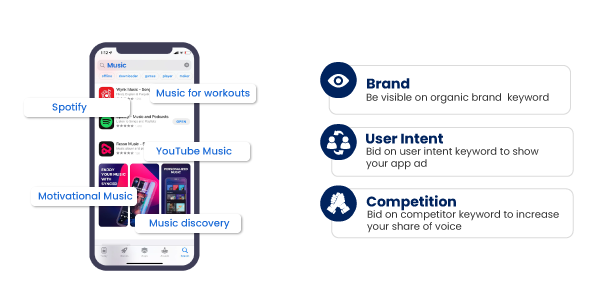 For example, let's take a look at the above illustration – if a user enters a search term "music" they can see a relevant ad based on other related keywords that are bid upon. These can be – a specific brand (here Spotify and YouTube music), user intent (music for workouts), or bidding on a competitor keyword to increase your share of voice. 
Until now, Apple's App Store has ad inventory limited to two ad slots – one on the main Search results page, and the other on the Search tab. Apple is, however, planning to expand this to bring ads to the App Store's "Today" homepage as well as a sponsored unit on app product pages under the banner "You Might Also Like."
Why ASA Matters Now?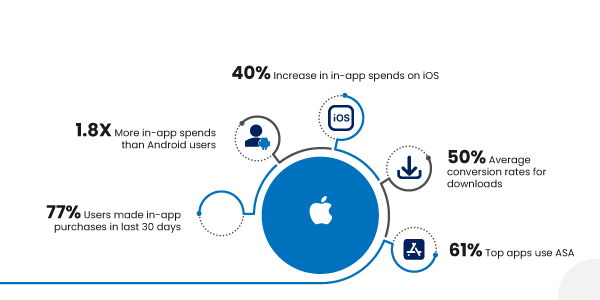 Post the changes to Apple's ecosystem and iOS14, ASA has become the most coveted format for app installs on iOS devices. According to industry data, spending on ASA grew 75% compared to budgets in 2021. 
But, Basic In-House ASA Can Be Limiting
While  some advertisers do use an in-house ASA, a basic ASA search is more like spray-and-pray – they only optimize for installs, with limited to no mapping for downstream events around registrations, orders or transactions. 
The focus for basic ASA is mostly on top-funnel, but a lot of performance marketers want to go beyond and also dig deeper into the right bids. Often this process is highly manual to figure out the right keywords to bid on but there are also not enough insights into bid strength/volume. 
Having a manual operation of ASA search also limits one to an exhaustive list of keywords and brands often miss out on keyword learnings that can be amplified 100x. With limited insights into competitive keywords and how they are bid against, your share of voice (SoV) can significantly reduce.
How MAAS Advantage Automates ASA to Scale Your Campaign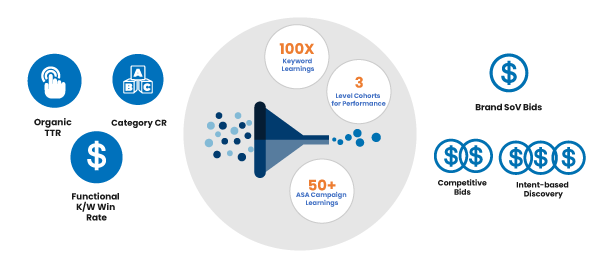 Visibility on performance metrics and conversions
When an advertiser is working on ASA in-house it is likely they have limited visibility into the category conversions and/or organic tap-through-rate (TTRs). For eg, in each vertical such as travel, entertainment or gaming, the category conversions would differ. When managing ASA in-house, advertisers can struggle to know how these rates can differ and would end up wasting ad dollars. 
MAAS ASA advantage puts insights into the center of ASA campaigns on the back of running other performance campaigns across verticals and markets. Advertisers are better informed about the conversion rates that can affect the end ROAS.
An automated keyword bidding algorithm
What really sets apart the MAAS ASA Advantage over in-house basic ASA is the unique AI-driven automated keyword bidding algorithm that can scale up the ASA efforts. The platform tracks category conversion data that gives advertisers insights into how players in their fields are performing, and most importantly what is benchmark to target in each conversion phase. 
The managed platform combines human experience with a deep data pool derived from the platform's other features like mDMP to give an exhaustive list of keywords for optimal functionality.
Data insights for full-funnel view 
A functional keyword is only as good as its mapping. MAAS ASA advantage gives advertisers a full-funnel view of the keyword's conversion journey with data-laden insights. The platform's competitive keyword bidding recommendations benefit advertisers to make informed decisions that are geared towards improving Share of Voice (SoV) in the App Store and acquisition of high Lifetime Value (LTV) Users.
Granular reporting for Share of Voice
There's a lot of data available for your ASA campaigns – now what? A key factor differentiating MAAS ASA advantage is the granular reporting of campaign performance on an intuitive dashboard. Keyword performance is quantified in scores with clear recommendations to scale, cap or reduce bidding. Additionally, the platform's Share of Voice (SoV) reports across multiple KPIs and link to MMP attribution data combine to provide a holistic insight to the advertiser to make informed decisions on the budget distribution as and when the campaign is live. 
Click to Download Full Battlecard.
Interested in adding ASA with MAAS Advantage to your 2023 media mix? Get in touch with our team today to schedule a demo and learn more about how you can automate and scale your ASA efforts!