How EdTech Apps in India Can Score an A+ in User Acquisition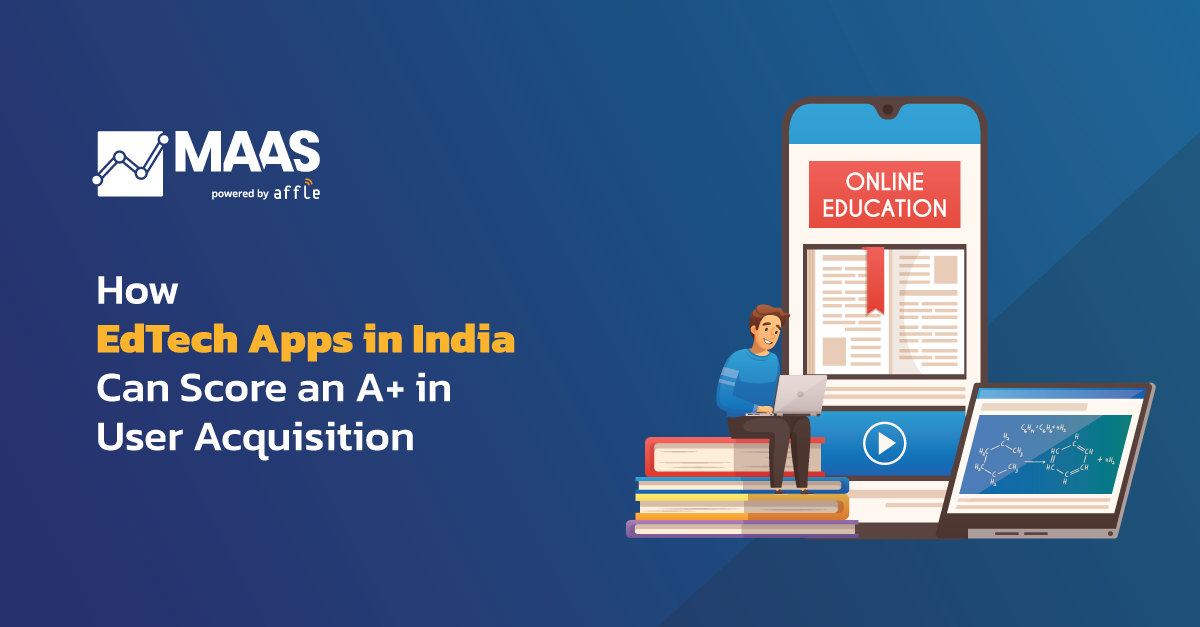 The ongoing COVID-19 pandemic has pushed the world in various different directions. One would have never thought of a world where students would be locked inside and all the learning would move to remote channels. And yet, here we are – a year and a half since the pandemic, in a New Normal that has given a boost to India's EdTech landscape. 
The demand for digital learning has been increasing for some years now in the country, led by online test preparation portals. In the last 12 months of the pandemic, the EdTech sector has seen massive user growth, as well as incredible amounts of VC funding. The sector has also seen a huge boost coming from the K-12 segment as schools have adopted a remote learning method. The EdTech space has undergone a transformation where more personalized experiences are being offered through AI-based feedback and learning to provide live, high-quality educational experiences that go beyond just curriculum learning. 
We sat down with Vipul Kedia, Chief Data & Platform Officer and Head – MAAS India, to have a chat about the marketing of EdTech apps. Edited excerpts: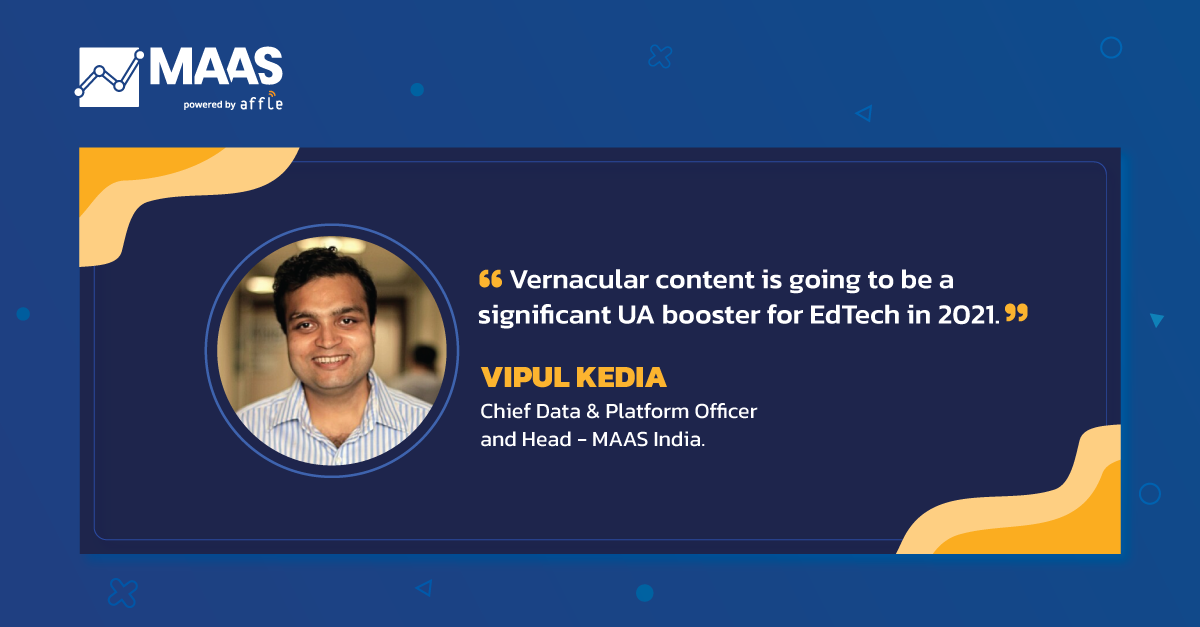 Team MAAS: How do you think the UA for Edtech has evolved in the past year?
Vipul: The COVID lockdown was definitely the boost Edtech apps needed to get a foothold in the market. While they were quite popular for certification courses or skill developments even prior to the pandemic, schools and colleges shutting down brought them to mainstream usage. Also, the unpredictability overshadowing the re-opening of educational institutes urged students to look for alternative education sources so as not to lose out in the highly competitive Indian education system. Suddenly we saw increased activity from EdTech startups to acquire new businesses in order to cater to a growing market. There has also been an increase in the marketing dollars being spent on UA for this segment amid rising competition. Advertisers realize their users are not just limited to Tier-1 and Metro cities but also in newer areas of Tier-2 and Tier-3 cities, which was missing before.
MAAS: You work with many different types of EdTech apps. What are some of the common pain points of advertisers?

Vipul: Retention is the evergreen challenge. Once users are onboarded, it is important to ensure they stay back with the app. App marketers in this category have to constantly focus on down-the-funnel metrics to nurture the users and convert them into paid users – subscriptions, sign-ups, in-app purchases/transactions, and the ROI after app installation are significant markers of success for the Edtech UA strategy.
MAAS: And how are you addressing those on MAAS?

Vipul: We offer a holistic UA approach on MAAS by addressing the common challenges app marketers face. App marketers have access to quality audiences through diverse channels – direct programmatic exchanges on our DSP layered with our DMP data, OEM inventories, and other large utility apps. The unified platform takes away the hassle to juggle multiple networks and DSPs with real-time tracking and actionable insights by each channel. Running campaigns, therefore, becomes more efficient and yields higher ROI. At the same time, our focus on ad-fraud mitigation and provision of analyzing lower-funnel metrics ensures optimization of ad spends resulting in higher ROAS.
MAAS: How important will be vernacular content in user growth for the EdTech category?

Vipul: A leading Edtech player had found from their research that 50-65% of students reside outside the top 10 cities of the country where English is not the lingua franca. Vernacular content is going to be a significant UA booster for Edtech. Digitization of education and affordable smartphones has made education accessible. All you need is a data pack and good connectivity. Relatability to a brand increases with vernacular content. There is now a certain degree of freedom in how learners want to consume educational content and vernacular is going to be the option of choice for many. Advertisers working with MAAS have the flexibility and freedom to go deep within the vernacular market and run vernacular campaigns and ads targeting the relevant region/ audiences in their language of choice.

MAAS: What do you think Edtech app marketers should keep in mind to continue the 2020 growth momentum?

Vipul: A marketing strategy focusing on in-app growth categories. 2020 was a great year for learning. 2021 is the year where one needs to focus on the learnings and implement them. Overall funnel improvement, a greater focus on lower-funnel metrics, diversifying UA strategy across multiple channels, choosing the right ad publishers, using resources for quality inventory should be some of the major items to keep in mind to continue with the 2020 momentum.
Want to dig deeper into the EdTech landscape in India? Check out our infographic below: