INSEA's Golden Age of FinTech : Top User Behavior Trends Catapulting FinTech Growth in FY23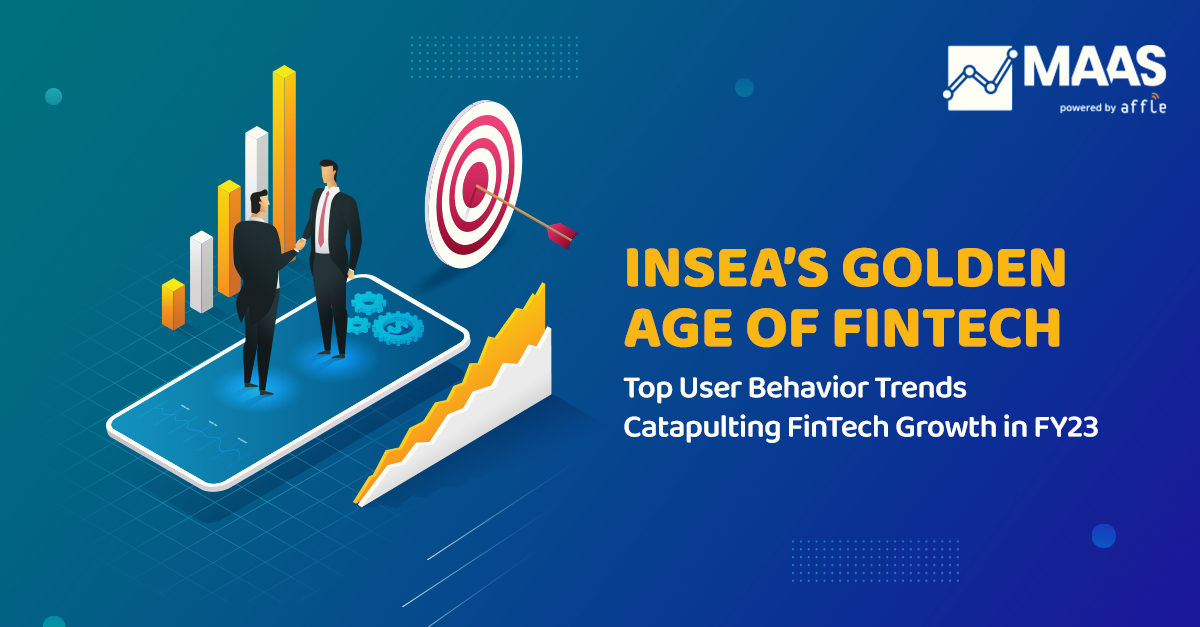 In a region marked by a high underbanked population, thriving MSMEs and migrant workforce, FinTech has become the technological torchbearer of increased financial fairness and inclusiveness. India and southeast Asia, dubbed as the FinTech hub, have steadily evolved into educated users with high app adoption rates over the course of the pandemic. MAAS, partnered with Adjust, to study users' behaviors towards each FinTech subvertical in the INSEA region in the recently published industry report – Decrypting the FinTech Gold Rush of the New Normal.
Here's a quick overview of some of the interesting metrics the teams derived from their respective internal datasets.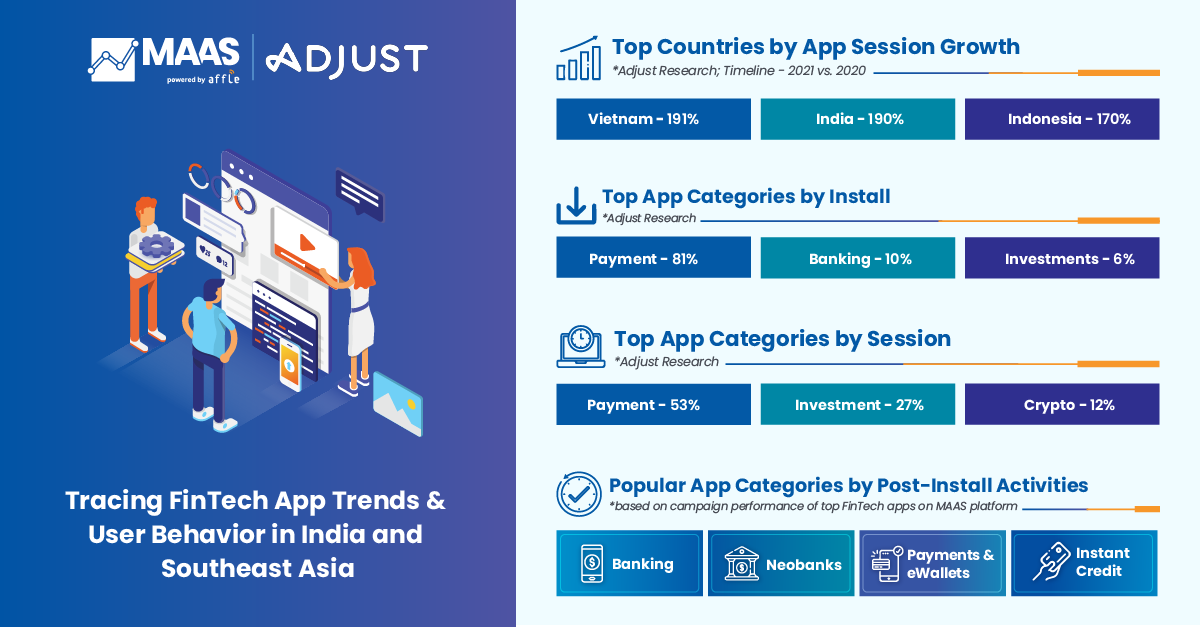 The Talk of the Town : New-Age FinTech Models
Lack of physical infrastructure in remote locations, higher smartphone penetration, millenial and genZ's requirement to get things done on the go has primed the region to experiment with new models of finance management – payments, credits or even investments. Neobanks, especially in southeast Asia, are going head to head with traditional banking apps in terms of acquiring users and keeping them engaged. We noticed a considerable difference in Daily Active Users (DAU) and Monthly Active Users (MAU) when observing the campaign roadmaps of traditional banking apps versus neobanking apps. Neobanks recorded approximately 3X DAU and 4X MAU as compared to conventional banking apps. India, on the other hand, interestingly showed equal acceptance for both the models.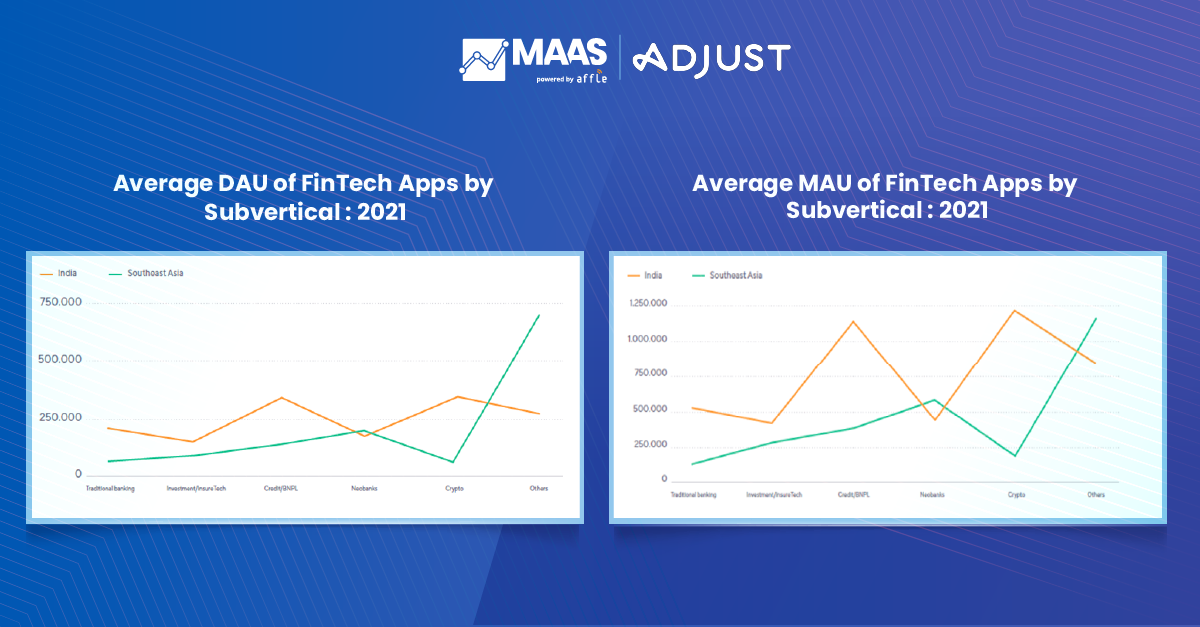 Payments, eWallets Among User Favorites : Cashless is Here!
User adoption for cashless transactions are at an all time high in the region. The audience has matured over the couple of years in terms of awareness and habitability of digital payments. Keeping cash, carrying wallets, tracking expenses on notebooks/ledgers are well in the past. The migrant working population of India and southeast Asia have found a blessing in FinTech when it comes to sending remittances to friends and family. Peer to peer payment apps like GCash have set trends, replacing traditional transaction nomenclature – "GCash mo na lang 'yan!" ("just GCash it!").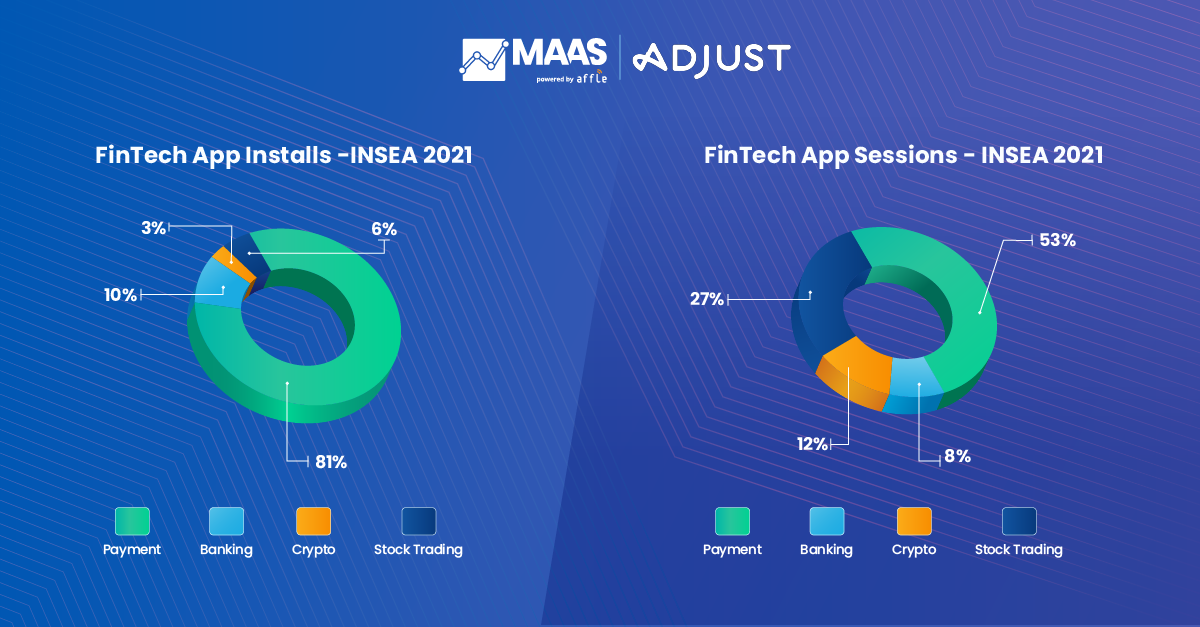 User Education a Priority for First Frontier Conversions
New markets often struggle with an initial lack of audience awareness. As hinted by the data in our latest report, new financial models are still somewhat behind at the first step of user adoption – the installs. Post the installation, users are hooked to exploring a new model that offers them better ROI.
App marketers can map the new age wealth management models and take it to the masses.
Check your user journey across the funnel

Be clear about the Geo's you want to target

Younger brands are more scale-driven

Ad networks are a good channel to pursue scale

Programmatic powered channels to pursue quality

Track KPIs that help in judging your ROI

Activate your pilot campaigns once you set the marketing objectives, channels and KPIs
Personalization Key to Users' Hearts
The eagerness to simplify wealth management, and offer innovative new solutions to a tech-savvy generation will challenge the FinTech brands in the upcoming years to target the right audience for the right product. Hence, a data-oriented marketing plan will be crucial to crafting a successful FinTech growth story in FY23.
App marketers need to revisit strategies to bring them closer to their audience.
Spend time on KPI-oriented growth plans

Deep dive into click analysis while looking at install metrics and ad performances

Use AI and ML to separate the audience into cohorts based on their affinity to convert

Craft personalized engagement messages to boost retention
Our latest FinTech report covers detailed analysis of numbers that matter and gets together field experts in the industry analyzing the trends to decipher what the state of the industry is set to be in FY 2022 – 2023 and what should app marketers be prepared for in terms of scaling their user acquisition. You can download your free copy of the report right here.
If you are looking for a complimentary audit of your FinTech app's UA strategy, get in touch with us to understand where you can plug the gaps and the options you have to drive incremental scale with better ROI.