A Beginner's Guide to App Localization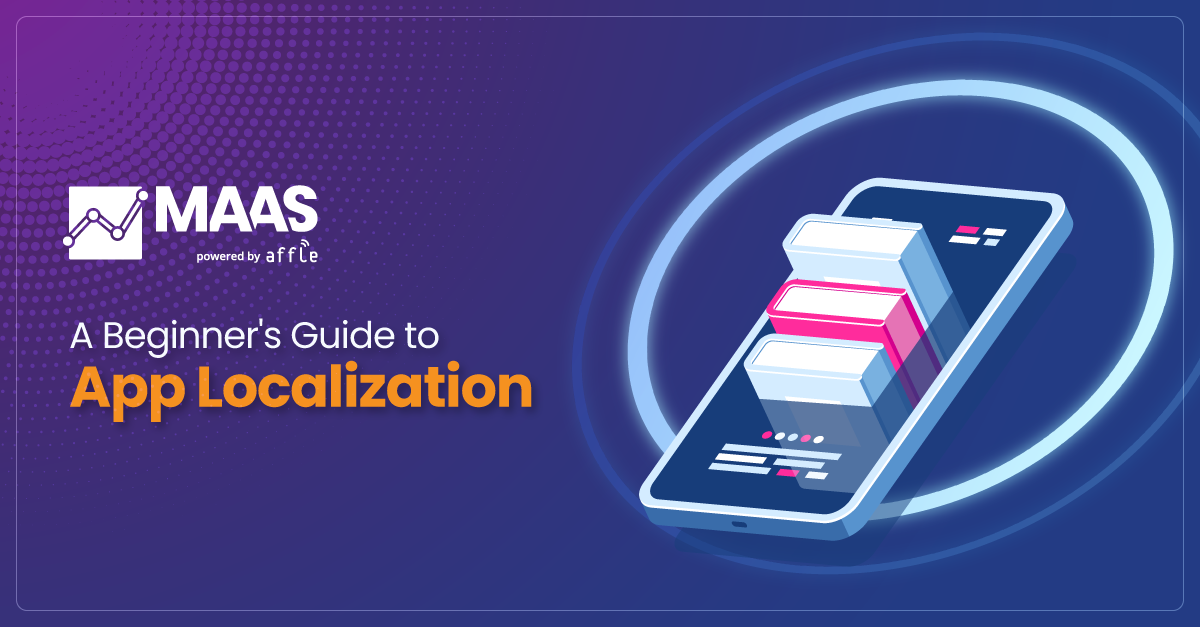 When you develop and launch an app into the market, your team spends all their time ensuring that they get the app's features and functionalities in place. Most apps are developed in one default language and continue to support it. A couple of years down the line when you have a set of loyal users for your app, you might think of scaling and introducing the app in new markets. Now, how do you do that? This is where the role of language becomes essential.
Unfortunately, in most cases, app localization is a second thought – something that the team works on after they are done setting up the app's foundation and acquiring a considerable number of users. However, localizing your app for multiple languages and associated international markets must be a priority for you.
In this article, I aim to answer some common questions that may come to mind when you think of localizing your app. Keep reading and find out why app localization is worth your time, effort, and money.
But First, What is App Localization?
Today, there are thousands of apps competing for the users' attention in your industry. How do you ensure that your potential users easily find and use your app? Answer: app localization. It is the process of personalising the entire app experience for a language, along with its associated region and culture. For instance, if you know that your app can meet users' demands in China, localization will help you personalise your app's user-interface (UI) to suit the habits, behaviour, and preferences of Chinese citizens.
App localization isn't just limited to text translation. It involves tweaking all the visual and functional aspects of the app – right from icons and symbols to payment methods. When you're done localizing, you are left with an app that feels like it was made keeping the users of that language, culture, and region in mind. While that sounds amazing from a user's perspective, how does that help you?
Why Should You Localize Your App?
1. Increase your app's reach
Your team may put a lot of effort into marketing your app. However, their marketing efforts won't be fruitful unless you make it easy for potential users to find and use your app. The simplest way of doing that is localizing your app for their language.
Did you know that almost half of the app downloads and revenue made by the iOS Apple Store come from non-English speaking countries? Add to that the fact that, apps which had the highest revenue on Google Play store had 80% of non-English speaking users. These numbers should tell you that you have a big pool of potential users out there who have needs that can be met by your app. They need to find and access your app in the most effortless manner – in their native language.
2. Increase app downloads
In a 2012 research, Distimo reported that localizing an app increased its app by 128% for every country. Additionally, the companies saw a 26% increase in their revenue when they invested in localizing their apps. As localizing, the app increases its reach, its downloads and revenue increase too.
When users access your app in their native language, it's more likely that they'll spend more time on your app. This ease of access helps your team deal with issues like cart abandonment, app bounces, less engagement, etc.
3. Penetrate international markets
Given the large population of people with access to a good internet connection and a device, it is relatively easy for an app to attract users from different parts of the world. One major roadblock that restricts apps from entering into international markets is language support. Users feel more comfortable using apps in their native languages, and therefore, they don't warm to apps accessible in one default language (like English) only. Having a localized version of the app for your target market will help you reach out to international users, thereby preparing your app for a global launch.
What to Localize in an App?
Now that we agree that app localization is an essential step towards scaling and aiming for global reach let's discuss the various elements of an app that your localization team must pay close attention to. The list of elements may vary depending on the kind of app. For instance, an eCommerce app will have product photos and descriptions but a fitness app will have interactive features like step count, heart rate, etc.
1. Text: Translating an app's content is quite different from translating long-form content, like articles. App translation will require one to write short, concise copy that matches the context of the app. Also, all localized versions of the app must follow a consistent brand tone. For instance, if a dating app has a fun, playful tone, the translator should replicate it for the target language.
2. Icons, symbols, and fonts: It's always wise to refer to Unicode and use universally recognised icons and symbols. Incorporating visuals that are too specific to a group of people, culture, or region will discourage others from accessing your app.
3. Images and videos: The visuals you use in your app help you provide a personalised experience to your users. For instance, a Korean eCommerce app has pictures of Korean models that showcase their range of clothing. If they launch their app in the UK with the same images, their UK users will not feel like they are a part of an app experience made especially for them. LinkedIn, the popular professional networking platform, has images specific to the user's region. So, if you're accessing the app from India, you'll see Indians in all their advertising and marketing images. This 'relativity' factor plays a crucial role in building a loyal user base for the app.
4. User-interface: For any user, the ease-of-use of an app is the ONE thing that decides whether he/she subscribes to it or uninstalls it. Every app in the market either aims to solve a challenge or meet demand. A user must be able to do this effortlessly. The app's design and user-interface (UI) is an integral part of the user journey.
5. Payment methods: App companies usually see users bouncing off their apps just before making the payment. Ever wondered why is that? Users in different parts of the world use digital money differently – credit cards, debit cards, online wallets, online banking, etc. If your app has Indian users, you must ensure that your app supports PhonePe, Google Pay, PayTM, and other online wallet apps popular in India. Similarly, the app must support transactions in the currency of that region.  For instance, now many eCommerce apps in India have added an extra element to their design to mention the "country of origin" for each product listed on their app. This step made it easier for the Indian users to make a buying decision – rather than them having to look for whether the product was made in India.
6. Other app-related information: Just localizing the app will not be enough to help you achieve desired results. All app-related information like descriptions and images in the iOS app store and Google Play Store, help section, etc. must be available in all the languages that the app supports.
Conclusion
While localizing an app might seem like a challenging project, choosing the ideal localization partner is half the battle won. Your partner must be able to handle your app localization project end-to-end – right from translation text to incorporating localized elements into the design and quality testing. You must ensure that they tick all the boxes – fulfil all your needs at a competitive cost. Plus, you should check for certifications, so you get quality localization that meets international quality standards.
Ideally, the localization strategy for an app should be well thought before it is launched. This proactive step helps you create a flexible design and user-interface that can be easily adapted for various languages. Additionally, conducting proper research about user behaviour will help you provide a personalised experience to users.