4 Trends Overheard at ad:tech India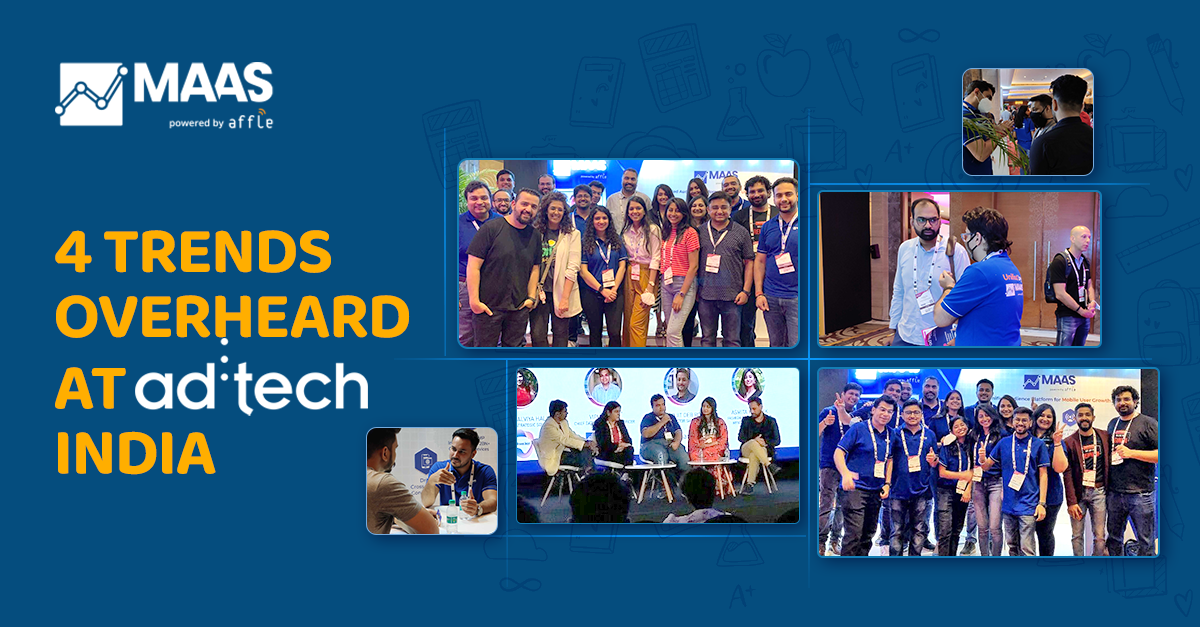 The MAAS team recently attended ad:tech India, one of the first offline industry events that was a breath of fresh air for app marketers. The action-packed days were highlighted with meeting old and new associates, sharing and learning industry insights on the overall app economy and the rapid pace of advancement in mobile marketing. We came back energized, enlightened, and enriched with food for thought! Here's sharing a few interesting conversation highlights from the event that stayed with us long after the event – 
Audio is the New In-Thing in Advertising
At least one audio-based app is a must-have for every smartphone user. Today millennials and genZ are living their lives to customized soundtracks, always running in the background. Be it during exercising, gaming, cooking or focusing at work. In October 2021, audio entertainment like podcasts recorded 2.5 billion minutes of listening time in India. (Psst, did you know we have our own podcast too? Check out Mic'd up with MAAS on Spotify) The country is projected to be the fastest growing market for consumption of audio formats. DIY social audio platforms like Clubhouse, Twitter Spaces, Spotify's Greenroom are creating a new channel for app marketers to explore relationship building opportunities with their existing and prospect users. At MAAS, we always encourage our advertiser partners to go for diversified ad formats to create a user friendly brand image and keep audiences engaged with their story.
Content Democratization
Content is king – the truth of that statement only gets stronger with every passing year. In less than two years, content formats have evolved to accommodate every category of content consumer out there. Short and simple content formats – reels, audiograms, gifs, app based short videos – are how the user today is communicating on their social platforms. Users love a brand speaking their tongue, which is why a lot of our campaigns recognize vernacular and OEM stores. A country like India offers a variety of consumer personas for the same product, but with drastic behavioral differences. Existing content apps have brought forth the unique preferences of our multiple diaspora into mainstream conversations. Ease of content creation and distribution holds potential for app marketers to hyper personalize their messaging to cater to their target audience's specific inclinations.
Adding Creator Economy to the Marketing Arsenal
Not so long ago, creating and distributing content required a certain set of high level technical skills, quite a few equipment and a reasonably good budget. Today, all one needs is boundless imagination, a smartphone camera and a data pack. Content creators are the new popstars of social media generating viral trends, creating demands and kick starting conversations on issues that were traditionally ignored. The spurt in the creator economy is valuable for brands looking to humanize their image. About 70% consumers associate with brands that reflect their own values and principles. Partnering with relevant content creators is instrumental for brands to figure out the right note of values and principles that work for their audience.
Socials Continue to Lead Charge of Brand Discoverability
Social media presence to connect to your audiences has been a must do for marketers for a while now. What's evolving is the way they use social media to drive purchases on their apps. eCommerce has been leading the charge of redefining the use of socials this past year. With the introduction of social commerce and live commerce, the vertical has made others in the app industry sit up and take notice of these new social trends. On an average, Indians spend 2.36 hours daily on social media. The introduction of these new trends, help reduce a customer's buying journey, fast tracking conversions. Even at MAAS, we have noticed an increased inclination from advertisers across all verticals to add socials in their media mix. 
At MAAS we are always on the journey to try new innovations and ad:tech India was just the perfect opportunity for us to gather new insights and show our partners all the new things we are building. If you would like to be our partner in this growth journey, talk to us right here.