Mic'd Up With MAAS Episode 14 – Cracking the New Age FinTech UA Code in Southeast Asia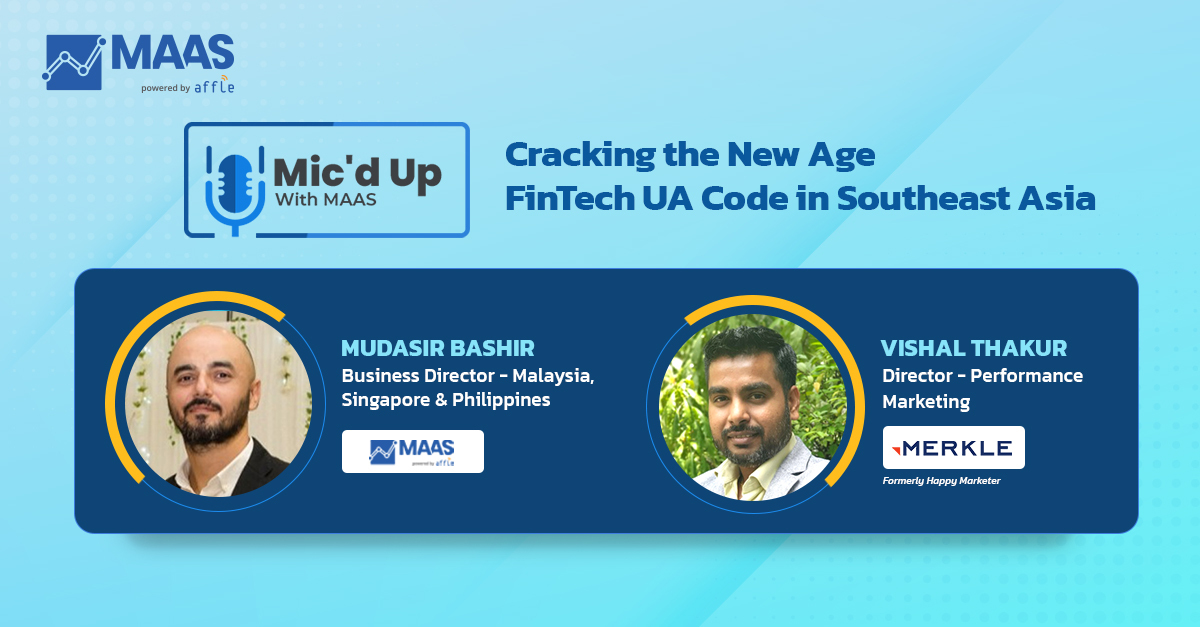 On one hand, almost 50% of southeast Asians are underbanked. On the other side, the region is also home to one of the most tech savvy young generations. For the new financial year, the FinTech industry in the area is all set to reduce the gap of financial inclusion through a digital revolution of new age FinTech models. Mudasir Bashir, Business Director – MAAS (Singapore, Malaysia, Philippines) catches up with Vishal Thakur, Director – Performance Marketing, Merkle Singapore (formerly Happy Marketer) to get some answers on what focal areas app marketers should pay attention to grow their FinTech business in the region.
Here are the edited excerpts from the conversation.
Mudasir : Do you see FinTech encouraging increased financial inclusivity among the underbanked in southeast Asia this year?
Vishal : I think FinTech has become an alternative and for some, a primary way of using banking facilities in most of the SEA markets. For example, if I talk about the Philippines, apart from Metro Manila and Cebu metro localities, there are a lot of province areas where there are a lot of opportunities to serve the underbanked. That's where brands like GCash and others have tapped into that opportunity from day one. So we have this saying at work, which is – yesterday's underbanked are today's growth audience and tomorrow's customers.
Mudasir : Traditional finance models like banks, investments, insurance are quickly entering the app ecosystem. In terms of user behavior, how do you see the old stacking up against the new age app based finance models like crypto, neobanks, eWallets, etc.?
Vishal : Crypto companies are putting in a lot of education behind acquiring users. And it is quite important because it's a new thing for people to invest in. Also that's how the behavior change about investments will happen. Neobanking and online traditional banking are quite interesting. The younger demographic is tech savvy but the older generation are just learning. They have concerns that make them very cautious. And the banking apps are doing a commendable job in making app usage easy. Similarly, familiarity of investments like stocks will still garner more interest than crypto, which users still have to understand more and take into account government regulations before investing.

Another aspect is the personalization of the traditional models. This has been a way of life for most of us for a long time. So that is definitely going to be missed in tech-oriented models. However, the evolving technologies, blockchain, and AI are all paving the way for a better financial future. And right now, that is the need of the market here.
Mudasir : What are some of the stark differences you see in the way millennials and genZ use finance apps compared to older generations? Do you also see any noticeable user behavior differences among male and female users?
Vishal : Millennials grew up as technology developed and they adopted it as part of their lives. But genZ was born into this smartphone world or the internet world. App usage among genZ is definitely on the higher side. I see genZ is more practical from their investment perspective while millennials are more cautious. There is one noticeable trend though – genZ is definitely influenced by millennials in terms of their financial decisions. They seek advice/ recommendations and approach it from their perspective. Among male and female users, I have not seen much difference to be very honest. Brands are however, more focused on genZ and they target them as early as they can. They want to get them started on that investment or savings mindset. The family finance conversation today is coming to the dining room, where elders advice and the younger ones use technology to implement the finance management suggestions. Another trend I have noticed among genZ is the inclination to use PropTech or property tech. Like earlier, if I was considering buying a property I would call up 10 agents to find out more details. But today if genZ has to do that, they don't have to call up anyone. They can just download a property app on their phone and get all this information on their end and then make a decision.
Mudasir : In a privacy-first ecosystem, contextual ads are gaining a lot of popularity. What do you think are the 3-4 key suggestions you would give on creating and measuring a good contextual ad strategy?
Vishal : I think it's a new beginning of the web where everything is very privacy focused. We have already seen a glimpse of what iOS 14.5 has done in the market already. A simple and short answer to navigate this is going back to the old way of doing marketing – the way we used to do earlier – booming out the whole social network coming and focusing heavily on the whole contextual targeting aspect. We used to be able to get into the micro metrics because that information was readily available but as the users are taking control, it's very important for brands, agencies, partners to understand the macro metrics. So it needs to have that high level approach from the marketing perspective where you categorize targets into different cohorts and then look at particular types of audiences. With cookies also being phased out, it's time to put a solution process in place. Like a DMP solution perhaps that helps in predictability of insights to create your campaigns. Also put in a model in place where you can identify the audience in different categorizations to help understand if you are reaching out to this particular type of audience correctly. Education on efficient use of first-party data is significant now to drive marketing success. 
Listen to the full podcast on Apple Podcasts, Spotify, and Google Podcasts!
Want to rev up your app's user acquisition campaign? Get in touch with our team of experts today.