How Cryptocurrency Apps in India Can Acquire Users and Make it Big on Mobile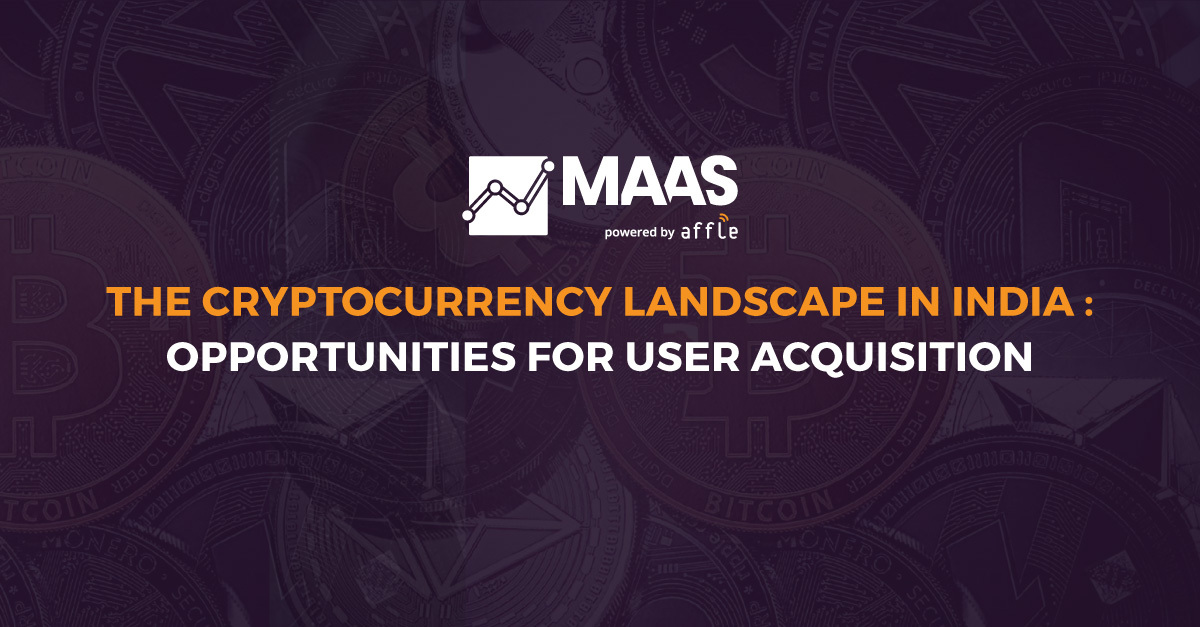 Who would have thought that a light-hearted meme would be all that it takes to reignite interest in the cryptocurrency phenomenon! India – and the world – has gone gaga over the capitalization of the cryptocurrency market after a recent testimony by the ex-MD of Goldman Sachs who quit the company after making millions from Dogecoin, which is apparently the favorite cryptocurrency of Tesla's chief, Elon Musk! As a result, the Indian cryptocurrency exchanges have witnessed record-breaking trading volumes of Dogecoin.
While the financial experts may be divided on the real value of Dogecoin, one cannot ignore the rise of cryptocurrencies around the world. India, too, has been a ripe market for cryptocurrency and sits at a prime spot to attract further growth – both from businesses and users.
Current Cryptocurrency Landscape in India
Investing in cryptocurrency is not illegal in India, but currently, there is no legal framework governing the country's crypto landscape. Despite this, the interest in this sector has been increasing and India is now witnessing a massive boom in the cryptocurrency market. Led by an interest by the younger generation, who view crypto as an attractive alternative to traditional investment options, one in every 10 bitcoin purchases in the world in 2018 were from India. The pandemic, too, may have contributed to an increased interest in trading in cryptocurrencies. According to a report, one of India's largest crypto exchanges has seen a 3x user count growth since March 2020. 
Just as people invest in the stock market or buy gold, more and more Indian consumers are getting confident about investing in cryptocurrencies, giving a fresh impetus to the FinTech startups sprouting across the country.
Opportunities and Challenges
According to a recent survey, bitcoins are considered to have 130% returns as opposed to 30% of gold this year. As promising as it sounds, cryptocurrencies carry with them challenges that still refrain people from investing. According to the latest findings, 68% of the participants (in a survey) earning more than INR 10 Lakhs per annum quoted lack of regulatory clarity as one of the major turn-offs while weighing up the investment parameters in cryptocurrencies. On the flip side, 60% of the participants earning less than INR 5 Lakhs per annum found investments in cryptocurrencies a daunting process pertaining to the less availability of feasible options. In addition to this, confusion around the regulatory ban as well as resistance in crypto payments adds to the industry challenges in growing. 
Despite the challenges, various cryptocurrency exchanges or apps such as WazirX, CoinDCX, CoinSwitch Kuber, have registered a significant hike in the numbers of users across the country. According to a report, the transactions on bitcoins and other cryptocurrencies have increased to about 30% in 2020-2021. WazirX is one of the country's largest exchanges and the app has over 100,000 downloads on the Google Play Store, while others like Zebpay (which relaunched in India in January 2020) claims to have 3 million users worldwide. 
As user interest in this segment grows, it is the right time for advertisers in this category to acquire users and scale for growth. The transactions on these cryptocurrencies can be magnified if the mobile advertisers pitch the app to its target audiences and to the audiences who are interested but clouded with skepticism. But how do advertisers acquire their audiences or users on a big scale?
How to Strategize User Acquisition for Your Cryptocurrency App?
Acquiring users for a niche app such as a cryptocurrency vertical can be challenging because of the targeted audience group your app needs. One needs to be careful while setting up user acquisition campaigns keeping in mind both scale and LTV of the user, which can have a long-term impact on the success of your app. Since many of the apps in this category are fairly new, it helps to start with the below tips to strategize for user acquisition:
Recognize your target audience and choose your channels
The success rate of your campaigns is directly proportional to pitching your apps to the right users. Once it targets the right audience, the probability of recording conversions gets easier. Your ad partner here plays a crucial role as they have the right tools in their armor to create a winning strategy for you. Invest in an ad partner who can not only provide intelligent targeting tools but also create targeting using probabilistic data and appographic targeting for creating specific FinTech-savvy audiences – especially the ones already engaging with investment apps. Once you have identified the right set of users, finding the right discovery channels becomes easier. As a new app, you might find it difficult to navigate the AdTech maze. A unified platform like MAAS takes the guesswork out of your advertising strategy by unifying all channels, allowing you to reach massive audiences across direct premium publishers, top programmatic exchanges, and third-party app stores and devices.
Once you have your target audience and channels defined according to the KPIs, you need to start thinking about the creatives. The right set of creatives can impact your campaign success immensely. Every channel delivers a different performance based on the kind of formats used. Apart from the format, it's crucial to stress the tone of language as per the target audience. It is preferred to use simple and clear language, especially when it's cryptocurrency where the users already deal with ambiguous information all around.
Find the right budget and optimize for performance 
While choosing to promote your app through paid solutions on various channels, it can get tricky to see if the allocated budget gives the expected returns. Create a test campaign with measurable goals and budget distribution across various channels. Work closely with your ad partner to analyze all your campaign performance data that offers real-time reporting and actionable insights. 
It is not enough to have data insights – what you do with that data also impacts your campaign performance and subsequent success. Understand the behavior of your users with the conversion phenomenon such as the number of users checking out the app, installing and using it. With the new apps, it's recommended to focus on user acquisition first, followed by retargeting, tracking clicks and impressions as the app matures. 
Gain competitive insights for first-mover advantage
With the crypto space getting quickly populated by new players, it is important for marketers to move fast and first to gain users at scale and make them keep coming back to the app. For this, gaining competitive insights can help. App marketers can simplify this process by investing and working with a unified platform that focuses on real-time reporting on a unified dashboard that not only helps advertisers to get a drill down on their insights to the level of year, months, and days but also gives a slice-and-dice approach to gain a competitive advantage over the market with trends for your competition. Gaining collective insights using various tools available in the market through a single point of access can help you to make decisions quickly, move budgets and understand how relevant users in the space interact with other players.
Want more insights into what the current cryptocurrency landscape in India looks like? Download our latest infographic where we map out the key players, downloads and engagement trends, as well as share exclusive tips on how to navigate UA for this app category: