Mic'd Up With MAAS Episode 4: The Changing Landscape of Fantasy Gaming in India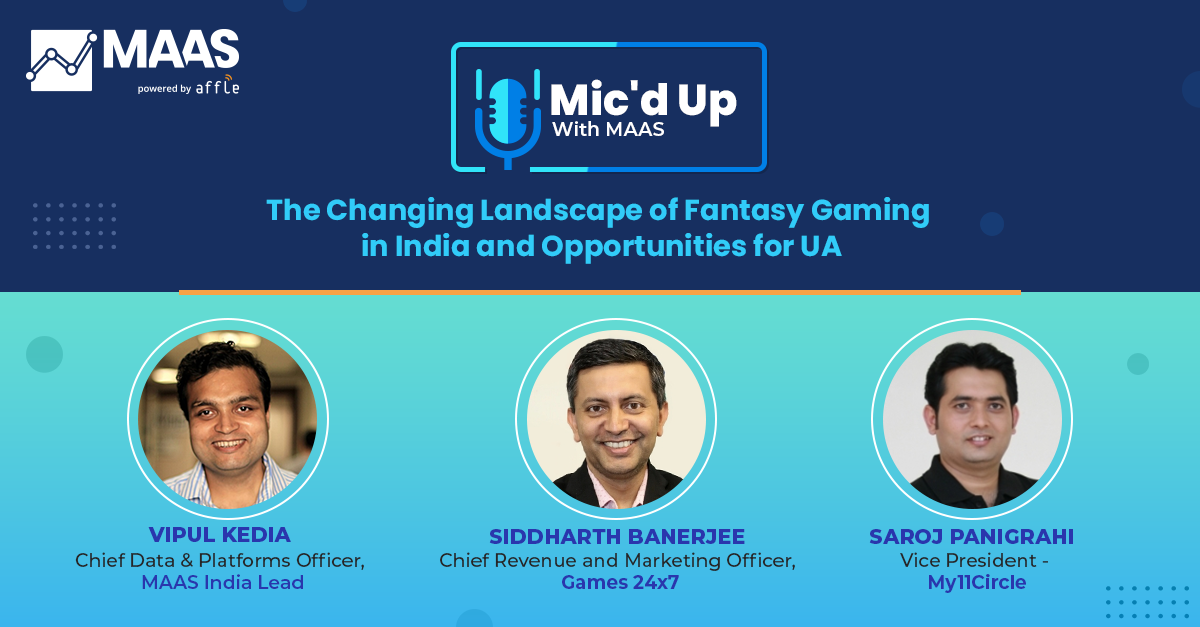 Cricket. This one word is enough to bring out millions of emotions in this country of billion-plus cricket fans! Cricket's huge impact on our psyche was felt last year when the tournaments resumed after the global lockdown. Cricketing seasons had record viewership both on TV and OTT. And one of the huge movers and shakers in this space is the fantasy gaming category that has quickly captured user's attention.
Episode 4 of Mic'd Up With MAAS features Siddharth Banerjee, Chief Revenue & Marketing Officer, Games24x7 and Saroj Panigrahi, VP, My11Circle, fantasy sports platform of Games24x7,  as they join us to discuss the changing landscape of fantasy gaming in India and the opportunities it presents for UA. Leading this conversation is Vipul Kedia, Chief Data and Platforms Officer, at Affle, and MAAS India Lead.
Here are the edited excerpts from the conversation. You can listen to the full episode on Mic'd Up with MAAS podcast on Apple Podcasts, Spotify, and Google Podcasts!
Vipul: The experience of watching live matches changed in 2020 but it also cemented the space for fantasy sports in India. What were the challenges and new opportunities you came across as a business with the pandemic?
Siddharth: 2020 was challenging for all of us as humanity, and as businesses across categories. Some of those challenges continue into 2021 as well. For fantasy sports in particular the first challenge was that for the first couple of months of 2020 there was no live cricket or no live sports. For a rather long period of time, consumers did not have any entertainment to watch on their screens. Then in the second half of the year came the opportunity, which was in the form of the festive season and also of the IPL. That was a big moment for all fantasy sports brands in India, watching IPL after such a long time was an experience in itself. That enabled fantasy brands to fill that need in the lives of consumers. In a way, therefore cricket fantasy platforms became mainstream. So if you look at IPL last year you'll see a lot of us becoming sponsors being on IPL in a big way on television. So it was in that sense, a big breakout year for the industry. Overall, the second challenge that I'd like to talk about was keeping our fantasy users engaged when there was either no live sports last year or the lack of live sports in terms of intensity.
And that was an opportunity for us at My11Circle to keep innovating. Whether it was in terms of newer content, like flashback fantasy, which is old matches for pure engagement, quizzes, picture puzzles, etc. So it allowed us to get consumers coming back on our platforms.
Vipul: How do you define an average fantasy sports user for yourselves? And did you see any change in that typical profile of a fantasy sports user or the consumer behavior and app engagements during the pandemic? 
Siddharth: In India, it's very hard for us to give you an angular answer in terms of saying, you know, this is the exact user profile because, with a hundred million-plus people playing fantasy sports, the fantasy user cuts across all age brackets, income groups across geographies in India. For example, one of our winners is this young 21 year old from a remote village in West Bengal. Another winner, same contest, was a civil engineer in his mid-forties from Kolkata. So it's now mainstream in the sense that different age brackets, incumbent geographies are using our fantasy cricket forms.
So while the core user is still young, 25 plus, the game has gained a massive following during, especially the big tournament, like the IPL, the World Cup. So if you, if you were to kind of take the universe of mobile phone users in India with data activated, which is, you know, between 550 – 600 million, one in six, you'll find that there's a good chance that he or she is a fantasy user.
Another interesting trend we've seen is the encouraging growth of female players on our platform as well. 
Fantasy gaming has fostered a love for learning of the game. With rising cricket viewership, more users are tracking live matches to perfect their knowledge of the game and to draft winning fantasy teams. This whole integration of live sports with fantasy has overall helped create what we'd like to call a healthy sports ecosystem.
Vipul: Saroj, do you think these trends will stick now that vaccines are out or new behaviors will emerge?
Saroj: Any pandemic of such a long duration is bound to have some behavioral change in the human race. There's no getting away from that. This pandemic certainly has accelerated and put gaming as a new form of entertainment for Indians. And that trend is hard to go by. We always find time to get entertained. Even with the vaccine, people would go back to work. People would go back to their normal life, but I believe basically they would find time from their life to engage with this new snackable content, which is now gaming.
So that trend of gaming being the new form of entertainment is here to stay right in India for a long period of time. We at Games24X7 continue to invest in our data science, artificial intelligence to find out user behavior and personalize the experience for the user.
Vipul: Coming to user acquisition, how do you think the UA approach and measurement metrics have changed for the fantasy sports category? 
Saroj: Traditionally, if you see there were two kinds of marketing: performance marketing and brand marketing. Brand marketing was more mainly done on mediums like TV, print, radio, hoardings, etc. And performance marketing was mainly driven by ads on Facebook, Google, or other platforms. But in the last few years with cheap internet and mobile phone, the consumption of video in India has gone up massively. A medium like Facebook, which was traditionally known as basically performance marketing medium, but more than 60% of consumption is happening on videos on Facebook.
Video as a medium has taken up massively in the last few years. And if you want to draw a good user acquisition strategy, you can't keep away from making a strategy around good videos to build your brand value. In terms of measurement,  I think with the help of data science now newer models are getting drawn to measure very accurately for fantasy platforms.
At My11Circle, we look at two measurement metrics – one our user goal (how quickly we are growing) and second, once we have a user on our platform, how we can keep him engaged for a longer period of time.
Vipul: You are a mobile-first brand and there has also been a big brand advertising push during the cricket season with TV commercials. Are the lines between performance and brand marketing converging for you?
Saroj: I think both performance marketing and brand marketing have roles to play in an overall marketing campaign strategy for a long tournament like IPL. I'm a strong believer in a well-rounded 360-degree campaign strategy.
In the last  IPL, our proposition was "play with champions," where a user tests skills against the champions of the game. So our TV commercial helped us to create brand awareness and recall at a massive scale, while the performance advertisement played the role of last-mile convergence.
You can say that the performance and traditional marketing are converging in a way that your performance marketing is now becoming more and more capable of also driving your market, your brand values. Your performance marketing is not now just a banner ad. It's much more than that. It's a combined impact of your performance marketing and brand marketing, which is driving your brand.
Vipul: from a brand perspective, how did sports marketing change in 2020? Did you have to rethink how you communicated with existing and potential customers as a brand?
Siddharth: If you look at the way sports platforms sponsorship opportunities have been used, there has been a large mainstreaming of it. I remember from my time at Vodafone, how we were one of the early adopters as one of the associate sponsors for the IPL. And yet you didn't have so many brands as you have today vying for a piece of the TRP pie. I think people have recognized how unifying sports has become for consumers in general. So brands have naturally figured out where consumer attention is and have taken the route to associate themselves with properties and sponsorships like these.
With the help of our ambassadors, Sourav Ganguly Rashid Khan, we were able to talk about fantasy cricket in engaging ways and in innovative ways under the proposition of "play with champions." And in 2020, when we actually went out of our way in IPL we could see that consumers were responding very positively to our marketing and to our campaign efforts for My11Circle.
So that's, that's been one big validation for us in terms of our IPL campaign strategy for My11Circle. The second has been that over the last two years since we've been in existence as My11Circle, we've always tried to create an innovative product idea on which we build the campaign for each big tournament that we take forward. And that has enabled My11Circle to be among the top three fantasy platforms within a few quarters of our launch. And we are very delighted with that kind of consumer love and consumer acceptance. 
Vipul: How do you see the fantasy sports landscape evolving in India for cricket-based apps with regulatory restrictions?
Siddharth: Fantasy sports in India is defined as a game of skill. So in a game of fantasy, players typically use an area of data and information which includes player, statistics, pitch, details, etc. And they use this information to draft their own teams based on real-life players in live sporting events.
By exercising skill and caution there is a great deal of thought that kind of goes in. When we look at global studies that have been done with institutes like MIT, researchers have analyzed over time wins loss records of thousands of fantasy players over multiple seasons. In fact, there's a very interesting report in 2018 that they published, which concludes in a sense that fantasy is inherently a contest, that rewards skill. So that's one part of it. The second part of it is that the popularity of fantasy cricket in terms of participation and awareness has increased as access has increased.
Similarly, consumer engagement has also increased globally. So we believe that the rising popularity of skill-based games in India can actually position India as a global gaming hub. And that the next big gaming success story globally could come out of India.
Want to find out how you can hit a six this cricketing season? Check out our latest infographic on opportunities in fantasy cricket sports in India and get in touch with our team at gaming@affle.com to boost your UA campaigns this cricket season!