Webinar Recap : The Dawn of the New-Age Consumer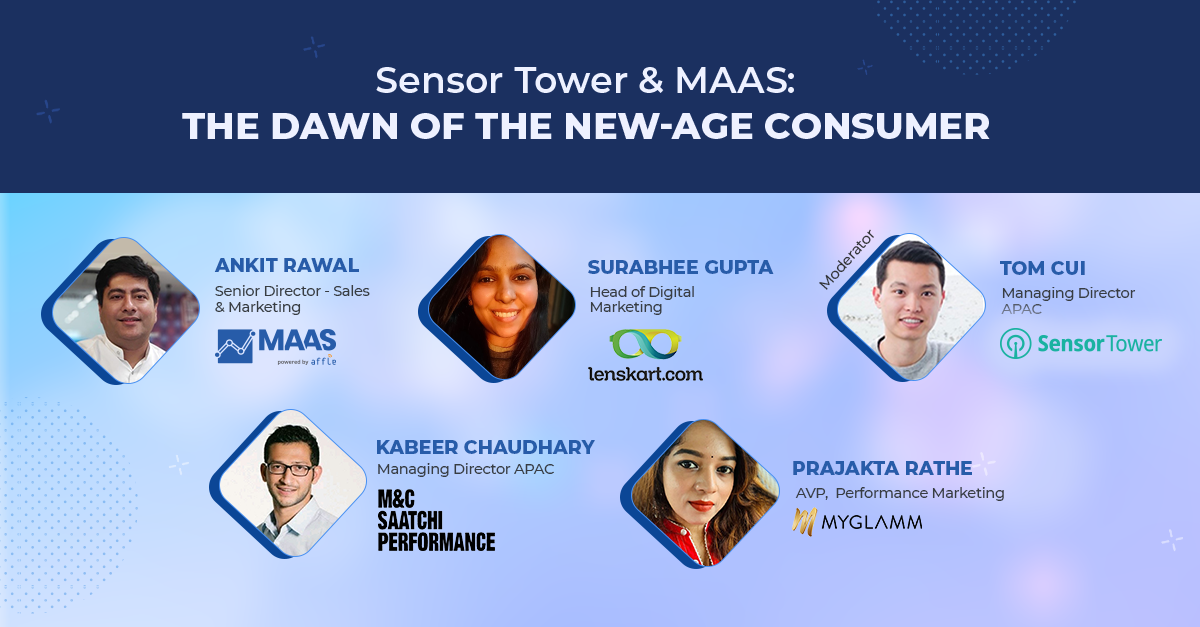 The last eighteen months have been a game changer for the eCommerce industry globally, notably in India and southeast Asia. The vertical has seen a holistic growth – development of DTC brands, category growth to include items like make-up, pharmaceuticals, and an evolution of the eCommerce format. In our latest industry report in partnership with Sensor Tower, The Dawn of the New-Age Shopper in the New Normal, we trace the evolution of the eCommerce landscape across India and southeast Asia. Based on user behavior insights, the report maps some key trends that will drive the future growth of the market in the region. Continuing the discussion on the front, MAAS and Sensor Tower hosted an interactive webinar, The Dawn of the New-Age Consumers bringing in field experts from eCommerce and mobile marketing to understand expectations of the landscape in the days ahead and how mobile will be a central theme in growth marketing strategies.
Webinar Summary – Key Points
Getting closer to the consumer
The past eighteen to twenty-four months have accelerated digital adoption by about half a decade. The momentous rate of mobile penetration in India and southeast Asia has equipped a vast consumer base who prefers a mobile-first approach in their daily lives. Riding on the mobile-first preference wave, manufacturers are connecting directly with consumers. Innovative models like Direct to Consumer, Buy Now Pay Later, Curb-side Pick-up allows brands more control over their customer experience and satisfaction. The growth of niche eCommerce brands like make-up, pharmaceuticals, fashion, organic produce shows a strong category growth in the landscape. Increasing popularity of concepts like social commerce and live commerce indicate a consumer behavior that is experimental in their online shopping. Greater demand for quick commerce like delivery apps (groceries, packages, etc.) has brought in new levels of expectations on reaching the consumer.
Growth of a new user demography
With movement restrictions in every nook and corner, consumers got the opportunity to explore the varying spectrum of eCommerce apps. There has been a significant increase in eCommerce app adoption among the non-metro regions, with transaction sizes at par with urban metro users. The market has extended beyond the 3M – Millennials, Metro, Males to record a high user activity among older generations, women, non-urban and rural demographics. eCommerce apps have witnessed record surge in traffic with high conversion rates and high cart values.
Mobile marketing opportunity in the landscape
With hopes of a pandemic free world in the coming year, eCommerce app marketers are faced with the challenge of holding on to consumer attention. With negligible movement restrictions, brands are mulling the blending of the offline and online experience. Exploring off-beat channels like Snapchat, implementing augmented or virtual reality to provide an in-store experience, personalized in-app recommendations/messages are common strategy elements to appeal to the new-age shopper. App store optimizations, creating audience look-alikes, circumventing the iOS 14.5 impact to better understand the user will be key elements to the growth of eCommerce brands. Strategic content placement without causing ad fatigue will be significant to scaling user acquisition. User generated content, playable ads, theme based creatives, regional content are a few content formats receiving higher engagement among eCommerce prospects.
Seasonality is an impactful factor in the growth of eCommerce apps. Festivals, wedding seasons, virtual events like 11/11, 12/12, Black Friday, Cyber Monday skyrocket activities and transactions on eCommerce apps. Therefore advanced planning is a prerequisite. The festival, holiday and new year quarters extending between late Q2 to early Q4 witness highest shopping spends. Analysis of user's shopping and post install behaviors give insight to optimize inventory pockets for a satisfactory shopping experience. 
If you are looking to grow your eCommerce business across India and SEA, contact our Solutions Experts right here.