5 Reasons Why Apple Search Ads Must Feature in Your Holiday Season Marketing Campaigns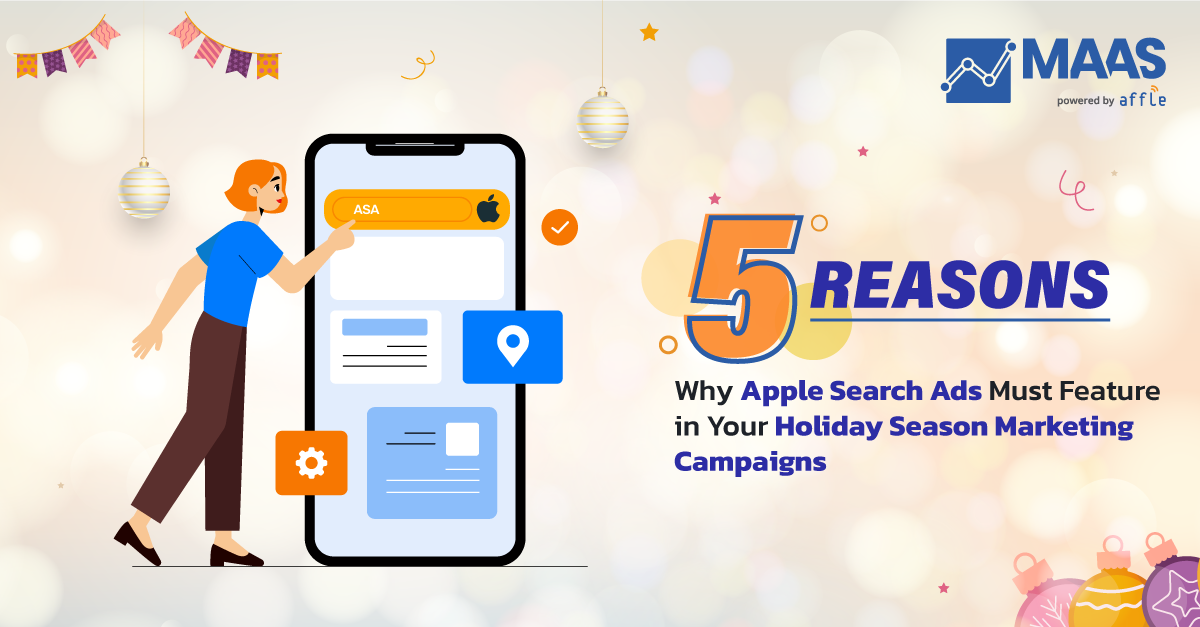 The end-of-the-year holiday season unravels new opportunities for app marketers. As consumers prepare for the holidays, there's a surge in mobile-first purchase behavior that offers plenty of opportunities for app marketers to plan holiday season marketing campaigns that can increase their app search, downloads, and conversions. To advance your holiday season marketing campaigns, one of the most coveted channels to look at this year is Apple Search Ads (ASA).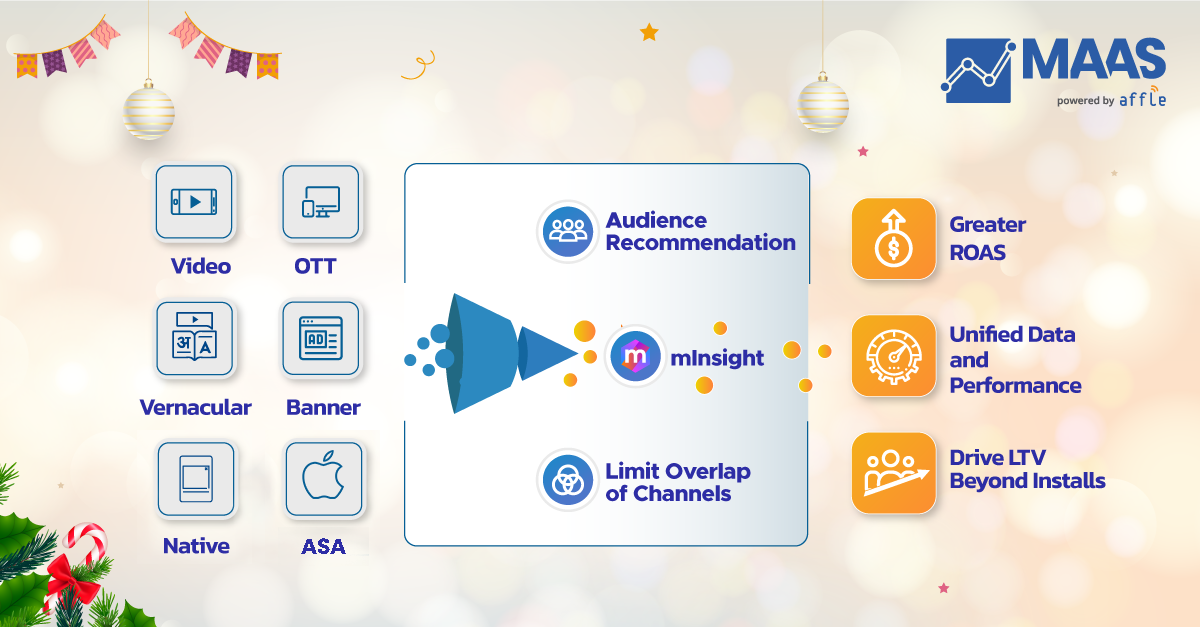 One cannot deny the importance of having the right mix of media, data, and creative strategies for holiday app marketing success. The right media mix with careful planning to avoid overlap of channels has many benefits – greater ROAS, unified performance, and driving LTV beyond installs. Post the changes to Apple's ecosystem and iOS14, spending on ASA grew 75% compared to budgets in 2021, making it one of the most sought-after formats for app installs on iOS.
Why Apple Search Ads for Holiday Season Marketing

User interest in online shopping starts peaking as Black Friday and Cyber Monday approach and continues to stay high till the end of the year with Christmas and New Year. 
Over 70% of Apple App Store visitors use the search tab to discover and download new apps. With Christmas and New Year, marketers are looking at high user intent and Apple Search Ads can be key for discovery during these moments.
Let's look at 5 key reasons why Apple Search Ads are a must in your 2022 holiday season marketing mix: 
1. Leverage Discoverability for Apps on New Devices Unboxed
The discovery of apps using Apple Search Ads is quite similar to how pages get discovered on search engines. Placing the right search word can help advertisers be discovered by the relevant users. Since a majority of app downloads on the Apple App Store happen after the user's intent, if your app is able to be there in the moment of discovery, it is highly likely it will install and convert. 
The holiday season is also a time when new devices are bought. The Discovery of apps during this time becomes more important as new devices are unboxed and apps are installed. With ASA, marketers can not only bid on keywords for a particular brand name/exact match but also leverage broad matches based on user intent, as well as get ahead of the competition.
2. Benefit from Apple's New Ad Placements to Expand Your Holiday Deal Reach
Until now, Apple's App Store had ad inventory limited to two ad slots. Advertisers could advertise on the main Search results page and the Search Tab. But now, Apple has announced expanding its ad space to bring in new ad placement on the "Today" homepage as well as a sponsored unit on the app product pages under the banner "You Might Also Like." 
With the holiday season's battle for visibility in front of potential consumers, expansion of app ad placement inventory can open up new pathways to increase reach.

3. Automation for Keyword Bidding for Holiday Season Scale 
Keyword search and share of voice (SoV) are significant metrics when running an ASA campaign. When running holiday season marketing campaigns, a higher share of voice equips you to stay ahead of the competition and benefit from the surge in user interest. Your share of voice on ASA can be hugely impacted by the right keyword bids. Because many advertisers deploy ASA in-house, they struggle with a highly manual process of keyword research and bidding that not only limits the reach of the bids but also makes it hard to figure out the right keywords to bid on. Performance managers running ASA in-house also have limited/to no visibility on the bid strength/volume. 
But this can be amplified 100x when running ASA with an ad partner who can automate the keyword bidding algorithm using AI-ML-driven technology to scale up the ASA efforts. Having the right partner who can manage the ASA campaign by combining the human experience with a deep data tool can empower you with an exhaustive list of keywords for optimal functionality, giving you a competitive advantage on the keywords.
4. Keyword Performance to Get Ahead of Competition's SoV 
How your bidding affects SoV can affect your app's position during the holiday season. For this, it's not just important to bid on the right keywords but also leverage the right insights to stay on top of the competition. Running an advanced ASA with your experienced ad partner that also provides real-time data insights and reports can give a full-funnel view of the keyword's conversion journey to make informed decisions that are geared towards further improving the SoV. 
A key factor differentiating MAAS ASA Advantage is the granular reporting of campaign performance – keyword performance is quantified in scores with clear recommendations to scale, cap, or reduce bidding. This report is linked to the MMP's attribution data to provide 360 insights to bid on trending keywords during the holiday season. The automated optimization also helps to save time in the ever-crucial season to leave a lasting impact on potential consumers.
5. Use ASA to Increase LTV Users That Go Beyond Install
With an advanced ASA campaign with an experienced ad partner, you can make the holiday season count and map downstream events around registrations, orders, or transactions. Marketers also get a deeper insight into how the Tap Through Rates (TTRs) would differ for each vertical such as travel, or gaming so that ad dollars can be optimally allocated. 
With an ad partner who has legacy experience in running other performance campaigns across verticals and markets, an AI-driven automated keyword bidding algorithm can help not only grow scale during the crucial holiday sales but also track category conversion data that can give insights that go beyond this time and nurture the high-paying LTV users.
Apple Search Ads on Your Mind? Get Started with MAAS for ASA Advantage 
Learn how MAAS ASA Advantage gives you the edge over the competition with this battlecard.
Get in touch with our team today to schedule a demo and learn more about how you can automate and scale your ASA efforts!