What's in Users' Cart This Prime Day? Looking Back at eCommerce Habits in the U.S.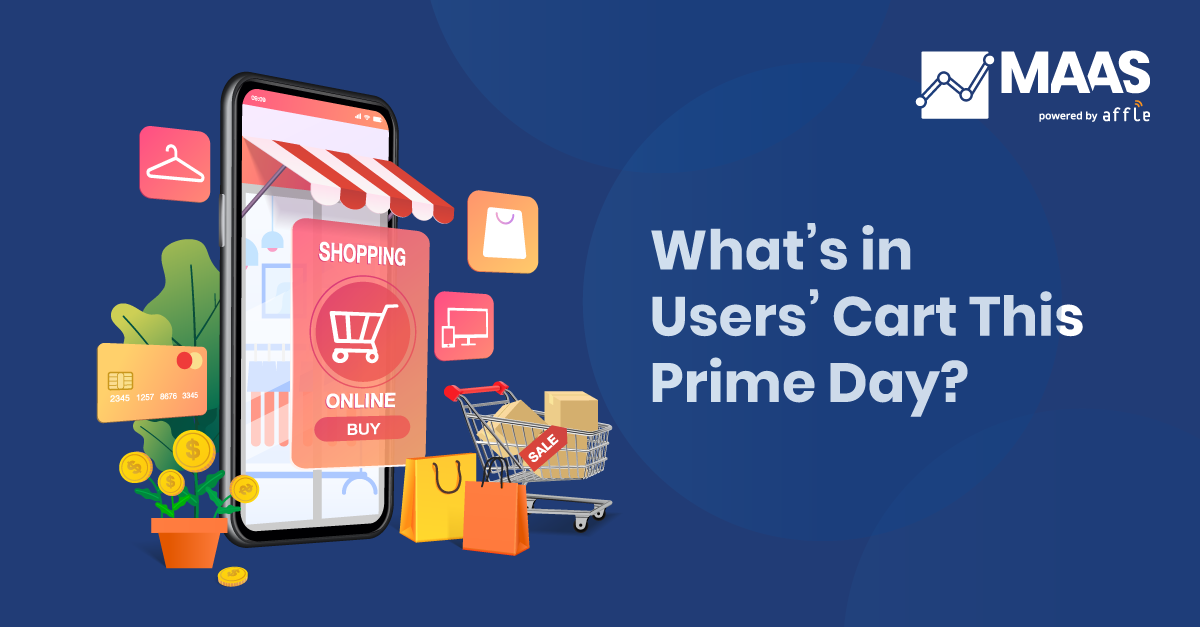 With vaccination drives going ahead at full speed, 2021 saw the USA relaxing its pandemic movement restrictions. 20 American states witnessed a shrinking of positive cases with restrictions being lifted in places like Ohio, Texas, Tennessee, Virginia, Wyoming, and others. With life gradually but surely moving back to pre-pandemic normal, eCommerce gurus around the globe sat in wait to check out the performance of Amazon Prime Day in 2021.
On the positive side, the grand eCommerce online event was shifted back to its original summer occurrence as opposed to its delayed occurrence in October 2020, owing to the pandemic's effects. However, the company still moved the dates up keeping in mind two important factors – July is usually a favored time for vacation for the American resident, and uncertainty over the supply and delivery logistics owing to pandemic-related restrictions.
Team MAAS looks back on the retail trends that emerged in the last two Prime Days, 2021-2022, and what it tells us about the shopping behavior in the New Normal:
Most Online Sales in the First 24 Hours
It is no secret that the pandemic hit the job market hard. 1 out of 3 Americans were either experiencing pay cuts or were without a viable source of income for over 24 weeks. Despite shoppers being wary of making new or expensive purchases, it was quite surprising to see Day 1 driving record sales. The event clocked in a total online retail sale worth $ 5.6 billion, up by 5.5% as compared to the event in October 2020.
Day 2 sales added in another $ 5.4 billion taking the tally up to $ 11 billion in 48 hours. Surpassing Cyber Monday 2020 and 2020 Thanksgiving Day online sales, Prime Day's performance is an indicator of buyers itching to get back to life as usual. It is also an indication that the economy is reopening and eCommerce momentum will remain strong.
Described as the "biggest Prime Day ever", 2022 sales across US eCommerce rose to $12 billion. The two days of Prime Day 2022, recorded an approximate increase of 141% in online sales compared to an average day last month. eCommerce players in other regions yet to host Prime Day can take note of this trend to double down on their last minute D-day preparations. Worldwide, shoppers were purchasing 100,000 items per minute during the two day sale bonanza.
Household & Back-to-School Purchases Dominated the Event 
The 2021 Prime Day Event witnessed sales of approximately 255 million products as opposed to 240 million in 2020 making it one of the biggest Prime Days ever, despite a slower growth rate.
As the back-to-school season comes up, stationery items and other school supplies topped the list of best-selling products. The pandemic had contributed to slower back-to-school sales last year, but this year's Amazon Prime Day recorded purchases of 600,000 backpacks, 1 million laptops, 1 million headphones, 240,000 notebooks, 40,000 calculators, and 220,000 Crayola products worldwide. The potential return to in-person learning has also spurred an increase in back-to-school sales that were displayed prominently on Prime Day. 
Category preferences for Prime Day 2022 brought in a cute surprise – newborn and baby essentials were a top favorite along with the back-to-school purchases. Other categories that witnessed consumer interest were fashion and beauty, home automation, everyday essentials and household gadgets. Dental hygiene products were another interesting addition to the favorites list.
Stable Spending and Buying Habits
Notwithstanding the pandemic blues, Prime Day 2021 maintained its order size and unit rate as compared to 2020 and 2019. 62% of households who participated in this mega sale ordered 2+ products. The typical Prime Day 2021 shopper was high-income suburban women aged between 35 – 44. About 31% of Prime Day shoppers spent more this year as compared to last year, showing an improving buying trend. About 2 in 5 buyers of Smart Home and Consumer Electronics products agreed they wouldn't have made the purchase if not for Prime Day.
The other top categories included tools, beauty, nutrition, electronics, apparel, and household products. 32% of consumers did face out-of-stock notifications highlighting their craving to return to pre-pandemic normalcy. Amazon devices (Kindle, Alexa, Fire Stick), beauty products, automotive/power sports, health/personal care were the biggest out-of-stock categories. 
With users going back to socializing, the purchase of beauty and wellness products on Prime Day 2021 was on the rise. 
Average per order spend during Prime Day 2022 was $52.26, up from $44.75 of last year. Concerns over inflation did show in shopping behavior – while some users waited to buy a necessity till Prime Day discounts, a sizable segment decided to pass on good deals. This user behavior also coincides with the shadows of the pandemic finally ebbing away after 2 years. About 21% of the households that participated in Prime Day 2022, spent above $200 on purchases. About 35% of regular Prime Day shoppers spent more this year.
The Prime Day Halo Effect is Here to Stay
Prime Day 2021 was a battle of eCommerce giants. While Amazon still maintains its dominance, other big-box retailers such as Walmart, Target, BestBuy, Kohl came up with their versions of a mega sale to compete. About 20% of Prime Day browsers compared Amazon offers with other retailers and preferred other players. For Prime Day 2022, the number increased to 22%.
Large retailers with an annual turnover of $ 1 billion recorded a 29% increase in sales during Prime Day. Smaller retailers with an annual turnover of $ 10 million logged in a hike of 21% in sales as compared to an average June day.
The effect spilled over to local retailers with toys and electronic items still marked down by 12% and 5% respectively through the Prime Day hours.
Amazon has also planned to bring the global Prime Day event to India later this month. The company hopes to empower SMBs amidst the pandemic and the economic disruption from India's devastating second wave of Covid-19, as well as boost the shopping experience of the Indian shoppers and Prime members. While customers can expect heavy deals on smartphones and electronics similar to the categories seen in the U.S., many D2C brands are also likely to launch new products.
Are you an eCommerce app trying to find the right scale for user growth? Get in touch with us at maasmarketing@affle.com to find how our solutions can help you grow in the end-of-the-year shopping season!