Webinar Recap : Reminiscing User Acquisition in 2021 & the Path Ahead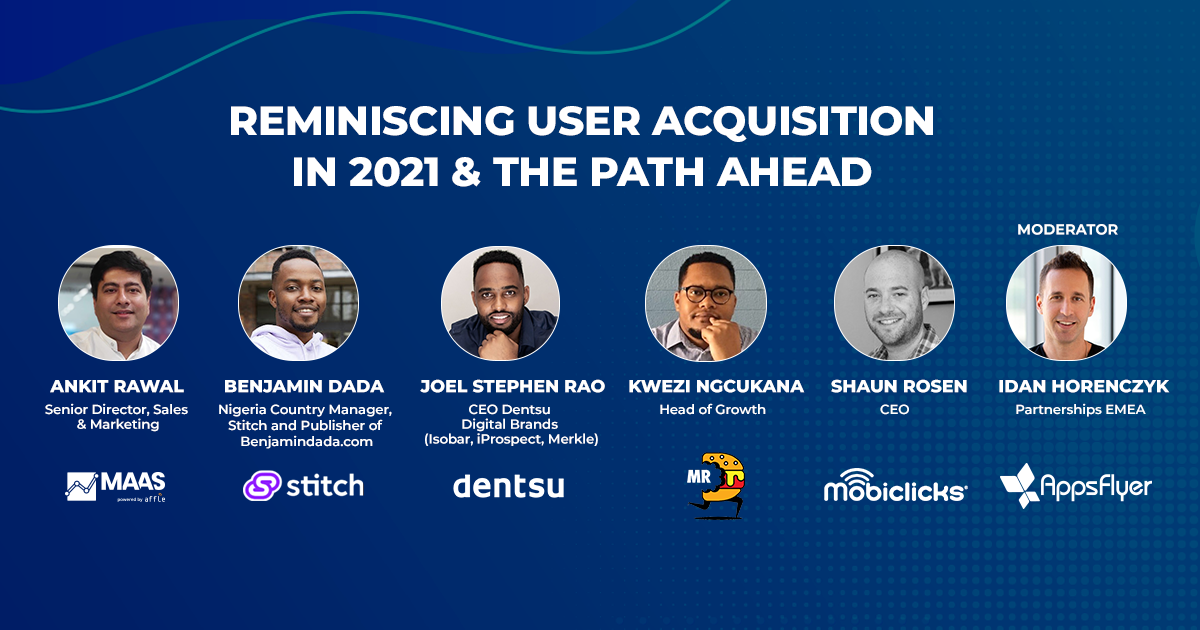 When you think of Africa, what pops in your mind? Is it the grandiose forests and the intimidating Mount Kilimanjaro all wrapped up in a Lion King vibe? That's how we have all been raised to imagine this underrated continent – forests, volcanos, the wilderness. All this while, the region has been slowly and gradually emerging as a powerhouse of app economy and mobile marketing. In our latest webinar, Reminiscing User Acquisition in 2021 & the Path Ahead, hosted in partnership with Appsflyer, industry leaders Ankit Rawal, Benjamin Dada, Joel Rao, Kwezi Ngcukana, Shaun Rosen and Idan Horeczyk came together to understand the disruptive trends of Africa's app economy and what's set to be the highlights of 2022.
Webinar Summary : Key Takeaways
We are Talking SuperApps
There's an app for everything – food, fashion, groceries, medicines – you name it and the Play Store or App Store has an app for it. As the number of apps for each human requirement flood the app stores, users face the problem of plenty and decreasing phone memory. A one stop solution becomes the natural progression for scalability. Africa's users are showing heavy inclination towards apps that offer them a variety of services under one umbrella app – ride hailing, payments, shopping, food deliveries – the possibilities of combinations required to build a sticky superapp is endless. While the concept of the superapp has always been a common discussion in the APAC side of the world, it is absolutely exciting to see the talk crossing borders and taking up quite a lot of attention in a market like Africa, where demography division in terms of culture and preferences is so vast and varied. 
The Age of Category Expansion 
Not long ago, categories like eCommerce and FinTech were spread across horizontally with very little variety to offer. The accelerated digitization at a global level due to the pandemic has generated demand for categories to become more inclusive and the industry has delivered. Today, when the average user thinks eCommerce, they think beyond casual shopping. They think in terms of accessing essentials with a click – groceries, hyperlocal, quick commerce, pharmaceuticals, digital supermarkets – everything that one requires in day to day life. Looking at FinTech, the category has expanded to accommodate the demand of the new age, tech savvy population. Simple integrations with eCommerce apps, being just a payment facilitator or simple P2P payments aren't enough for the FinTech category anymore. The young African audience today, like their global counterparts, are looking for faster and easier methods of wealth management. In just a few years, FinTech has expanded to include credit apps, crypto, trading, neobanking and more. And this category expansion is here to stay going forward and upward. 
The Category Rulers & Challengers
FinTech as a category ruler is no big secret. However, what is interesting is the rise of EdTech. Finance and education have for a long time been governed on the basis of old fashioned policies, thereby restricting access. Tech's here to save the day promoting financial and educational inclusion and create a more equal community as a whole. FinTech and EdTech have both made it easy to avail important, life changing services from the remotest of locations; where establishing physical infrastructure often becomes a challenge. 
While FinTech and EdTech are here to provide a better quality of life to their users, the region is seeing the rise of HealthTech as a strong challenger. The Millennial and GenZ populace, exposed to the vast resources on health via the internet, demand better fitness, better accessibility to mental and physical health services and apps are here to provide what the heart desires. 2022 is going to be an interesting year chalking out the future path of HealthTech and how they fit in the larger discussion of the app economy.
The Future is Mobile Marketing and Programmatic
When was the last time you spent considerable time on a search engine? Hard to pin, right? Today's Africa is glued to their handsets. The bulk of their time spent online is spent engaging with apps – gaming apps, food apps, shopping apps, social apps, entertainment apps. Their discussion on lifestyle is centered around apps. Their recommendations to friends and families about various topics again go back to apps. And advertisers have to consider reaching their users where they are spending the majority of their time. Mobile marketing and programmatic advertising are set to be the next phase of growth for the app marketer in Africa not just for user acquisition but also retention, engagement and fostering brand loyalty.

To know more in detail about how these takeaways will impact your app marketing strategy in 2022, check out the full webinar here.
If conquering the African app market is in your plans for the year ahead, our team of experts will be happy to talk to you and help create a high performing, impactful, customized mobile UA plan.