Webinar Recap: The Changing Face of Festive Season 2022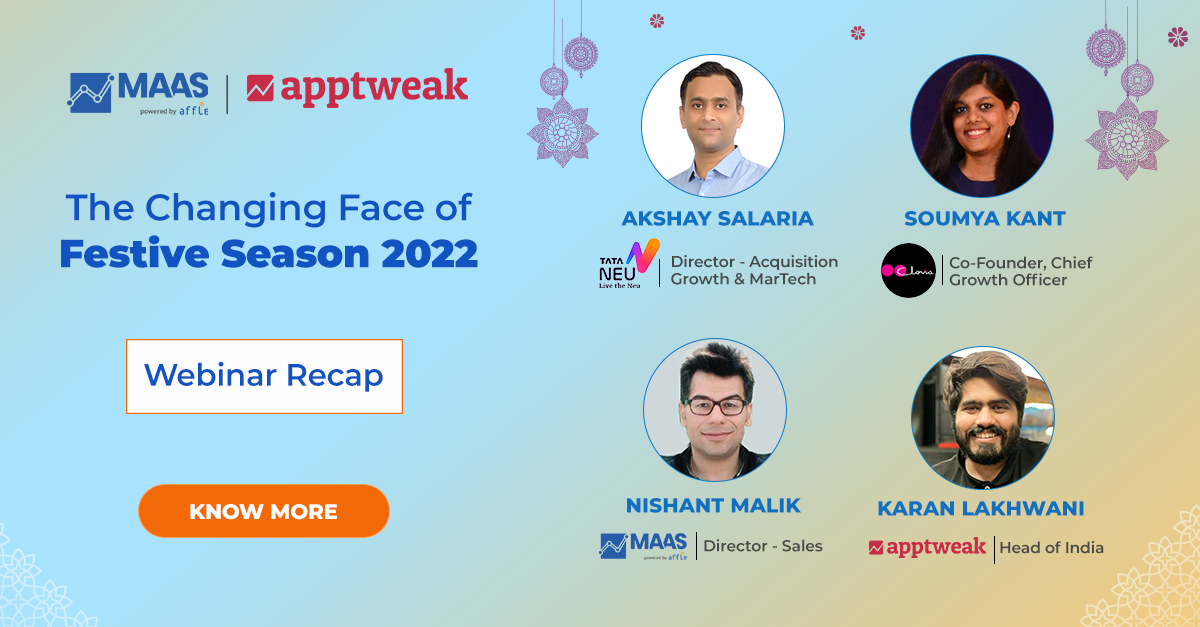 Can you feel the festivities in the air? We are all eagerly looking forward to the upcoming festive week of euphoria, celebration, and togetherness. 
Team MAAS kickstarted the festive fever with a power packed panel discussion, in partnership with AppTweak. The panel, moderated by AppTweak's Head of India Karan Lakhwani,  hosted eCommerce field experts, Akshay Salaria, Director – Acquisition Growth & MarTech, Tata Neu and Soumya Kant, Co-Founder & Chief Growth Officer, Clovia, to share first-hand insights into the new-age shopper. Also joining the panel was Nishant Malik, Director – Sales, MAAS (India) providing interesting sneak peeks into the major verticals of growth for the upcoming months.
Key Webinar Highlights :
Shopping is Omnichannel
Soumya stresses on the importance of omnichannel in scaling eCommerce UA and for good measure. Shopping is traditionally a social event and consumers have yearned to go back to the pre-pandemic shopping trips. However, the forced movement restrictions and mobile-first behaviors, have accelerated the maturity of the average Indian digital shopper. The buying intent shows long before with in-app browsing, making wishlists, adding items to cart, or researching a specific product online. This digital behavior will impact how shoppers navigate around their purchase decisions on an actual shop floor. Additionally, panelists suggest studying online buying intent behavior closely for the festive season to predict user behaviors for Q3 and Q4 2022.
The Next 100 Million Users from Bharat
The metros have for long been the bread and butter of app brands. And the trend is rapidly changing. Penetration of faster networks and improvement in last-mile delivery system, has online shopping, digital transactions, gaming trending in the non-metroes. Nishant suggested a three pronged approach to acquire non-metro audience :
Vernacular

Data-led Targeting

Balanced Channel Mix
At MAAS platform, leveraging the power of mDMP, mAmplify, mKr8 and mInsight, UA campaigns identify high-affinity audience segments and the right media mix to create and target cohorts based on location, language, online behaviors, time and demography, maximizing unique user reach and scale quality conversions.
Watch Out for the FinTech & Gaming Rush
What's Diwali without a little bit of cards? The entertainment gods have smiled big for India this year – the Super 12 World Cup excitement coincides with Diwali week. The overall vibe of indulgence heralds need for increased fast and cashless transactions. FinTech and gaming apps, especially fantasy and card-based games, are set to be hot favorites among millennials and genZ who are determined to blend the physical and digital to have an all rounded gala celebration.
Tracking Diversified Spending Habits
With offline shopping resuming, eCommerce brands especially will benefit from tracking spending habits of users across diverse touch points like website, app, third-party platform and shop floors. Understanding how users interact with the various conversion touchpoints of your brand's offerings, will go a long way in the coming quarters to streamline your marketing focus and budgets.
If you are looking to make the most of the UA opportunities in Q3 and Q4 2022-23, feel free to talk to us about the various categories we cater to and how we systematically customize our offerings to be your one-stop UA destination.