The Love Affair of Food and Tech : An Interview With Hungry Hub and MAAS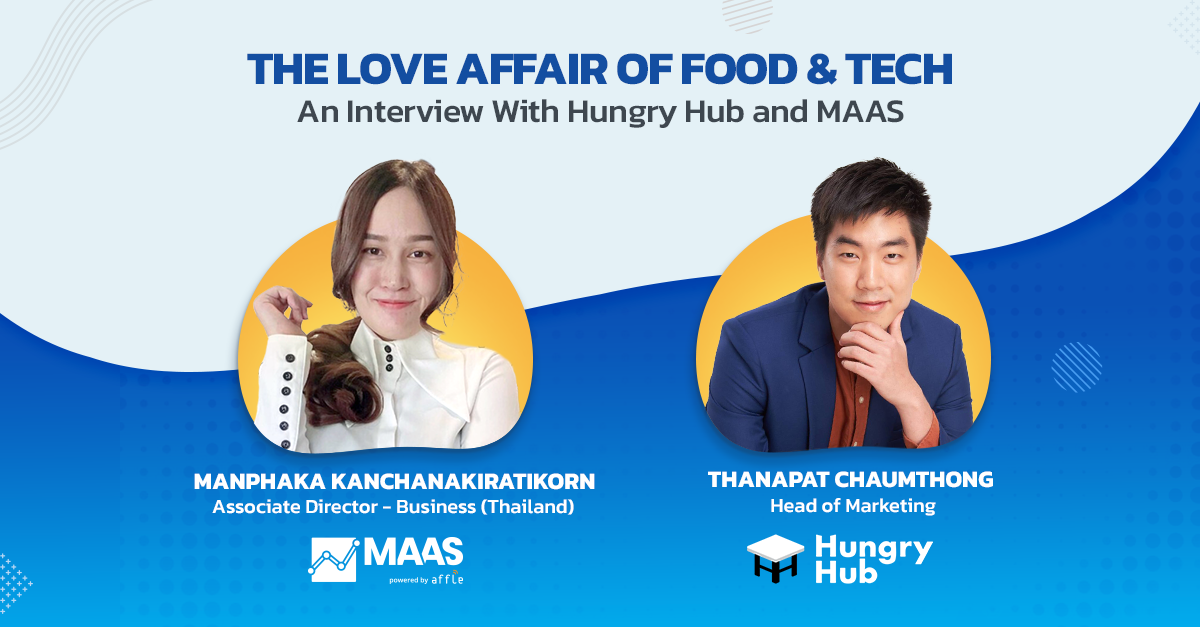 Clear blue skies, glassy green seas, lush mountains and a scintillating aroma of tom, yam, tam and gaeng  – that is the quintessential picture the very mention of Thailand paints in our imagination. The cities of Bangkok, Phuket, Chiang Mai rank as some of the most popular tourist destinations of southeast Asia and an important attraction factor is definitely the food. Thailand's restaurants and street stalls are a haven for the gourmand. By 2020, over five hundred thousand restaurants operated across the country, generating approximate sales worth $ 4.3 billion. 
The booming food industry of Thailand is receiving a lot of attention from the government and investors alike. The food industry alone contributes approximately 20% to the country's GDP. The pandemic accelerated the use of online channels for restaurants to expand their reach. This has given a boost to the scope of FoodTech in Thailand. What is the future of FoodTech in Thailand? Manphaka Kanchanakiratikorn (known to us as Gejaa), Associate Director – Business (Thailand), MAAS gets on a chat with Thanapat Chaumthong, Head – Marketing, Hungry Hub to understand how the FoodTech story is set to pan out in the Land of White Elephant .
Gejaa : Before we get started, could you please tell us a little about Hungry Hub and what is the problem the brand is looking to solve in the food space?
Thanapat : When you are planning to eat out there are two things you are usually uncertain about – will there be seat availability and what will the final bill come up to. Even when the food is amazing, these two uncertainties can often dampen the experience for the consumer. Hungry Hub was envisioned to improve the diner's experience with a 360 degree approach – with the help of the app they can book a restaurant, select a meal package that is suitable for their expectations and also get a clear view into their bill. By the time the consumer reaches the restaurant, they are already aware of what to expect and the element of surprise in the entire experience is quite minimal. We have partnered with some of the finest restaurants of Thailand for buffet experiences. These restaurants usually offer an à la carte menu so the buffet type or all you-can-eat packages are something exclusive that is available to our users. Additionally, app users also get access to other Hungry Hub offers that are not available to walk-ins or customers who reserve via phone.
Gejaa : All that talk of food offers is rather tempting but let's carry on. How do you think the pandemic affected the user behaviour of food apps?
Thanapat : Considering the pandemic forced people to stay locked in and there were a lot of health and safety concerns, the FoodTech industry did notice a greater adoption rate. So Rakuten Insight conducted a survey in June last year with over 12,000 people and they found that about 58% of respondents had been using food apps to get all their food related requirements. Now this is a very interesting data because you get to understand that the pandemic got people to get acquainted with this category of apps. And once you have installed the app and made your first order or booking on it and got your desired result, you are going to come back to it again and again. The consumer has understood that the food experience can be both digital and physical with the availability of a variety of such apps. And I believe this trend is only set to continue even when we are declared pandemic free.
Gejaa : Accelerated digital adoption – this has indeed brought about a new revolution in automation across all industries. On that line, how do you see the FoodTech industry panning out in Thailand?
Thanapat : Oh I think it's an interesting time for FoodTech here. Thailand is attracting a lot of foreign interest in terms of being an economic hub and FoodTech and AgriTech are important categories that investors are looking at. Over 50 FoodTech start-ups are already functioning in the market and that gives you an idea about the kind of demand available for this category, that it gives all of us a space to thrive. The top 10 start-ups in this space have already garnered quite a sizable funding from various well known investors like Spark, Plan B Media, 500 Tuk Tuks, etc. And like you said, a revolution of automation – we are seeing that happening in the food industry. Booking, billing, reservation management, restaurant recommendations, diner queue management, inventory and kitchen management – the list for implementing automation is just endless and that's where each of us are picking our specializations and simplifying them.
Gejaa : It's actually quite fascinating to know how a predominantly physical industry is also finding scope to blend in the digital. Expanding on that, what do you feel is the expectation of the Thailand user from the FoodTech industry?
Thanapat : I think I would say balance. You are absolutely right when you say that the food industry is quite physical – you know preparing the meal, or being greeted by the restaurant staff or even the core dining experience cannot be digitized. So I think users expect the FoodTech space to mitigate the glitches that are the inevitable outcome of a physical industry. So a negligible waiting time once you reach the restaurant, reducing chances of errors in executing orders, assisting the restaurant to provide a personalized experience to the diner, doing away with billing discrepancies, efficient crowd management during peak hours, speeding up service time – these are some of the logistical items that can be greatly improved upon with FoodTech and that's exactly what the users are looking up to us for.
Gejaa : I am quite excited to see how tech improves our dining experience in the coming years. We have almost reached the end of the interview, but before we stop – what would be some of your thoughts about exploring the Thailand market?
Thanapat : Thailand is a potpourri of culture. Being a popular tourist destination, the country is always brimming with people with starkly different cultural values and expectations. Creating a buyer persona keeping the cosmopolitan spirit is very important for any business looking to make a mark in the Thai market. Mobile penetration is also pretty high in the region – almost over 75%, so it makes sense to keep a mobile marketing element in your business growth plan. Apart from that, when building your creative strategy, make it bright, inclusive, humorous and something that tugs at your heartstrings. 
Hungry Hub is a 4.8 star rated Thailand-based restaurant booking app available both on Android and iOS. 
If you are looking to explore the Thailand market or understand how to woo the Thai audience, drop in a hello to Manphaka Kanchanakiratikorn (Gejaa) at manphaka.k@affle.com or you can also contact us here.