MAAS Platform Wins Gold at MMA Smarties India 2022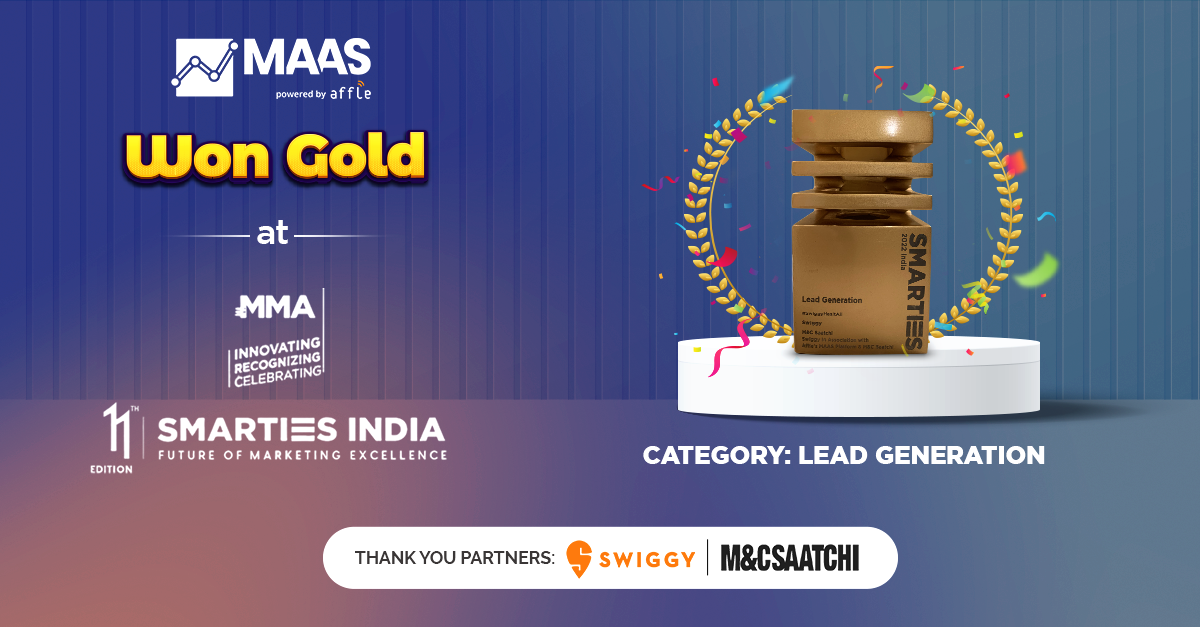 The festive quarter has kickstarted with accolades for MAAS platform's UA campaigns pouring in from multiple avenues. The one that has the team glowing in excitement is the recent Gold Honor for Lead Generation bestowed on MAAS' UA campaign with Swiggy at the 11th edition of MMA Smarties India, hosted by Mobile Marketing Association.
MAAS crafted a unique campaign, #SwiggyHasItAll to sum up the work done for Swiggy's convenience delivery segment in association with M&C Saatchi.
#SwiggyHasItAll
Winning Category : Lead Generation
Swiggy has long established itself as a leader in the category of on-demand convenience delivery. With the crisis of the pandemic looming, the brand dedicated their resources to amplify last mile delivery in Tier 2 and 3 locations ensuring the safety of their patrons. However, low awareness posed a challenging roadblock to achieve their UA goals. 
MAAS platform teamed up with Swiggy to maximize the reach of their creative communications leading to higher conversions. The platform leveraged mDMP's AI/ML based audience recommendation to identify high quality cohorts. With a multichannel approach powered by dayparting and location based targeting, MAAS' unified audience platform was able to scale Swiggy's campaign increasing monthly first orders by approximately 3X.
Commenting on the win, Awant Bhagat, General Manager – Marketing, Swiggy says, "We would like to thank each member of the jury for recognizing our campaigns. MAAS platform has been the perfect partner for us with their innovative approach and their experience in helping us make this campaign a success. We look forward to more such future wins and continued collaboration with the MAAS platform."
Vipul Kedia, Chief Data and Platforms Officer & Head, MAAS (India), says,"At MAAS Platform, we have been continuously working hard to create a distinguished unified platform that can change the way advertisers approach their campaigns. Today's wins are a testament to our efforts to provide the best-in-class technology and service to our clients to make an impact. I would like to thank the jury for recognizing us with these prestigious awards. We are grateful to our partners for entrusting us with their award-winning campaigns."
MAAS platform has been consistently recognized at MMA Smarties and other industry honors for their out-of-box approach to resolving unique app UA challenges. The platform has regularly won in impactful categories like Ad Platform of the Year, Best Omnichannel Marketing Strategy, Best Cross-Platform Campaign, Best Execution of Performance Campaign, Best Lead Generation Campaign through Mobile and more. 
#MMAThrowback
India's short video boom catapulted talented content creators across the country into overnight fame. Leading the charge of boosting Bharat's creator economy, MX Takatak teamed up with MAAS platform for creative UA campaigns. The short video platform's core audience resided beyond the metros. Vernacular was the medium of choice to form connections. MAAS' unified audience platform delivered in four major phases :
Audience Recommendation :

Using

mDMP

, identified pan-India audience cohorts inclined to create, share and enjoy vernacular content.
Targeting :

MAAS'

mAmplify

recommended suitable media mix to target audience across programmatic, eMail/SMS, direct publishers, OEM/Native App Store recommendations to maximize reach and conversion touchpoints.
Engagement :

To increase the effectiveness of a vernacular communication strategy,

MKr8

provided insights into creative efficiency across multiple ad formats.
Conversions :

MAAS' unified and intuitive dashboard,

mInsight

provided real-time granular analysis to improve campaign scale and quality.
For the campaign duration, MX Takatak showed a 42% increase in retention rates among other KPI achievements.
This edition of MMA Smarties India also witnessed Affle being recognized as Enabling Technology Platform of the Year fourth time in a row with 8 campaigns bagging significant gold, silver and bronze honors. Read more for details on the winning campaigns. 
If you are looking to create UA campaigns that impact beyond numbers, look no further. MAAS' Unified Audience Platform has been carefully crafted to be a one stop shop for all app marketing UA needs. Feel free to talk to our experts and schedule a demo.