Strategizing a UA Campaign for Your Gaming App
In a guest post by Adjust, we looked at the promising trend of app economy in APAC. The region displayed a high mobile penetration rate and an even higher rate of engagement with apps. As the blog states: "Globally, the total time spent in-app roughly doubles between day 0 and day 1, from 10 to 20 minutes for each 24-hour period. In APAC however, between day 0 and day 1, this increase is from 11 minutes to 27." One of the significant verticals behind the increased time spent is gaming. In this blog, we look at how the current industry trends can be leveraged for your gaming app UA.
By 2025, the gaming segment in APAC is set to drive an ARPU of $67 with a combined projected revenue of $100 billion. Among the countries, Vietnam is leading the charge at present with a 37% year on year growth in the segment. Following up close is Indonesia and India at 34% and 33% increase respectively. In 2021, the hyper casual gaming segment in India grew by 61%. The country is at the forefront to be recognized as a gaming powerhouse in the region with an expected player base of 370 million by 2022 driving in revenues close to $6-7 billion by 2025.
What are Gamers Playing in APAC?
India and China show similarities in terms of category preferences. These regions show deep inclination towards Strategy and Action, with games like Romance of the Three Kingdoms, PubG Mobile and Garena Free Fire featuring regularly in the list of top gaming apps. Other favorite categories of these regions include Casual and Hyper Casual games. Southeast Asia's and Japan's gamers have higher inclinations to Role Playing Games followed by the Action, Adventure and Strategy genres. Here's a quick look at the category penetrations in the region: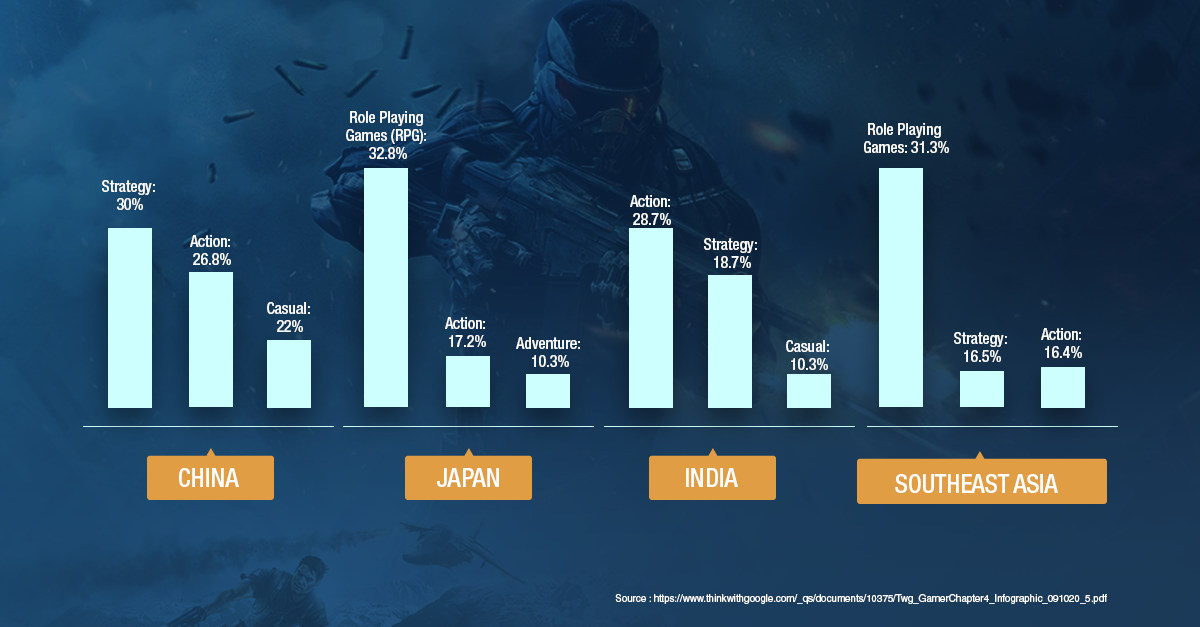 Going by the top games in India, China and southeast Asia, gamers in these regions are likely to lean towards games that: are localized in terms of content; have social, multiplayer and competitive components; and encourage esports. Indian mobile gamers often use phones with lower specs making lite games a popular hit. Japan's favored games draw heavily from anime, manga and pop culture. 
Reaching Out to Mobile Gamers in APAC
For any app to scale, a mobile marketing component is an essential factor and gaming apps are no different. Adjust's Partner Benchmarks : A Closer Look records APAC as the region with the highest UA spends at 64% contrasted to the global gaming ad spends of roughly 50%. When starting out to unravel the UA puzzle around gaming apps, it is important to get a few basics sorted out. 
Getting the North Star KPIs Just Right
The north star KPIs of gaming apps differ from genre to genre and also from stage to stage. Total number of installs is a good KPI to start with. To dive deeper into the metric, looking at install source, contribution of each source to total install, CPIs, CPMs and CPCs can provide a more granular picture. However, to make sure your gaming app is 'sticky', looking at post-install metrics is vital. Registrations, first deposits (in the case of Real Money Games), first gameplay, Day 1 retention, and in-app purchases are informative metrics for regular campaign tracking.
Choose Wisely – Channel Mix Matters
There are three common challenges gaming app marketers face while navigating the UA puzzle: what are the best channels to use, how to decide the right channel for the current app phase, and how to distribute budget for the UA campaign. 
When starting out, getting the brand name out there is of utmost priority. In the launch phase, allocating a higher budget to branding compared to performance is a good practice. A 70-30 ratio can be followed. As the app is popularized and enters the growth and maturity phases, the budget distribution between branding and performance can respectively scale to 50-50 and finally 30-70.
At the start, direct app inventories can be a good channel to get the word out. Placing simple banner ads or playable ads in similar gaming, keyboard, entertainment and utility apps is a good place to start. If the gaming app comes under real money gaming or targets an older audience (40-60) then OEM recommendations, native ads, emails and SMSes make an exhaustive channel bouquet. For games targeting die hard gamers or gamers inclined to multiplayer platforms, influencer marketing is a great option. 
Once a gaming app has reached a sizable user base (~5-10 lacs), programmatic based channels can help further optimize the mobile UA campaign, bringing in higher quality gamers. Precision targeting is significant to optimize UA spends of any mobile marketing campaign. Based on desired KPIs, creating cohorts of users who show high affinity to making gaming purchases or spending time playing regularly helps to reach out to the right prospects who show a desire to convert. Capitalized well and with whitelistings taken care of, social channels like Facebook can be an asset in your UA arsenal.
Social Gaming is a Big Deal
In India alone, the top gaming influencers boast of a combined subscriber base of approximately 80 million. The gaming chatter on Twitter shows an 18% month-on-month increase after it shot up by 75% since 2019. Understanding the social dynamics is crucial for gaming app marketers to bond with their users. The gaming community across YouTube, Twitch, Reddit and Discord are constantly attempting to make multi-player gaming environments safer for non-traditional users. Encouraging inclusivity in terms of player demography (age, gender, sexual orientations) is another popular conversation apart from the usual news and updates about various games. For the longest time, the gaming community was stereotyped as "weird introverts". However, with increased gamers, the stereotypes are breaking fast. Marketers are recognizing the scope of cross brand promotions to court the community. Analyzing the social aspect of the gamer personas provide valuable insights to strategize your content and partnerships. A few key trends dominating the gaming social community – sub gaming communities tend to bond over similarities other than gaming like electronics, fashion, technology, inclusivity; product how-tos are a popular content choice for almost 70% YouTube gamers; about 80% of game streamers prefer brands who engage on live streams with them.
Why Should Mobile Game Developers Focus on APAC?
When the Olympic Council of Asia announced the debut of esports at the Asian Games 2022, it answered this question. The image of a gamer – an introvert just cooped up in their room playing alone – is a myth in the New Normal. The pandemic highlighted the scope of gaming as a viable mainstream entertainment option. The gamer demography in APAC is diverse, with a higher percentage of female players and higher popularity of gaming apps among an older generation all pointing to a steady adoption of gaming as a regular lifestyle choice. Games are the answer to the question of how to fill time, be it for de-stressing or needing a distraction in between routines or for seeking thrills. Mobile games are providing an interesting entertainment choice beyond movies and travel. The rising popularity of esports with lucrative prize pools propelled gaming in APAC as a viable career option. The region is primed for the sunrise sector to bloom and thrive.

If you are looking to create a stellar UA campaign for your gaming app, our Solutions Experts will be happy to help create a custom growth plan for you. Talk to Us anytime.