U.S. Vacation Rental and Airline App Installs Rise as Summer 2021 Travel Trends Emerge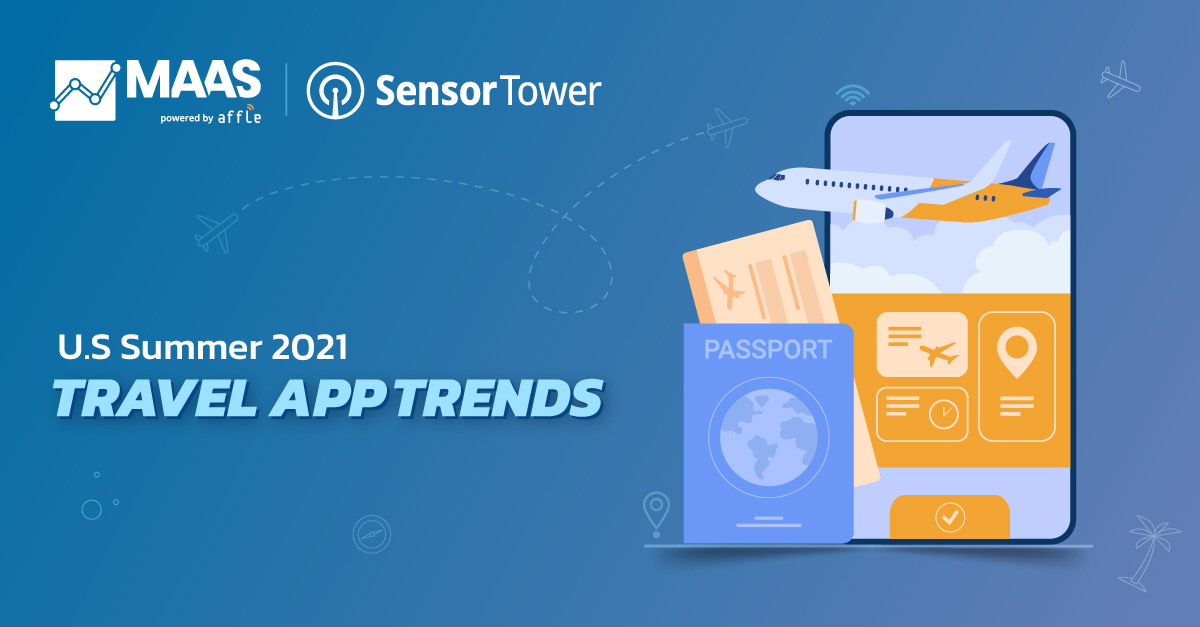 As the rollout of multiple COVID-19 vaccines has given consumers in the United States the opportunity to cautiously resume their summer celebrations, travel has also made a return after more than a year in lockdown. According to the Centers for Disease Control and Prevention, approximately 176 million U.S. consumers, roughly 53 percent of the country's total population, are now fully vaccinated against COVID-19. However, halfway through summer, the rise of the new Delta variant posed concerns for the travel industry—a slight dip in the downloads and usage of Travel category mobile apps indicates that the sector hasn't returned to pre-COVID activity just yet.
Today we're using data from Sensor Tower's Store Intelligence platform to understand how this year's summer travel trends impacted vacation stay, airline, navigation, and rideshare apps across Apple's App Store and Google Play in the U.S. and how this behavior may affect travel apps going forward. We examined a series of long weekends in the period between Mother's Day and Labor Day, as consumers finally cleared their calendars and set time for not only one, but potentially several vacations for the summer despite the pandemic.
Extended Vacations Settle In
As remote work rose and the need to be in a single location fell, U.S. consumers played catch-up by scheduling frequent and longer trips this summer—a major opportunity for vacation rental apps that could manage lengthier stays. Sensor Tower data shows that top vacation rental apps, including Airbnb and Vrbo, saw a 60 percent year-over-year increase in downloads in Q2 2021 compared to Q2 2019.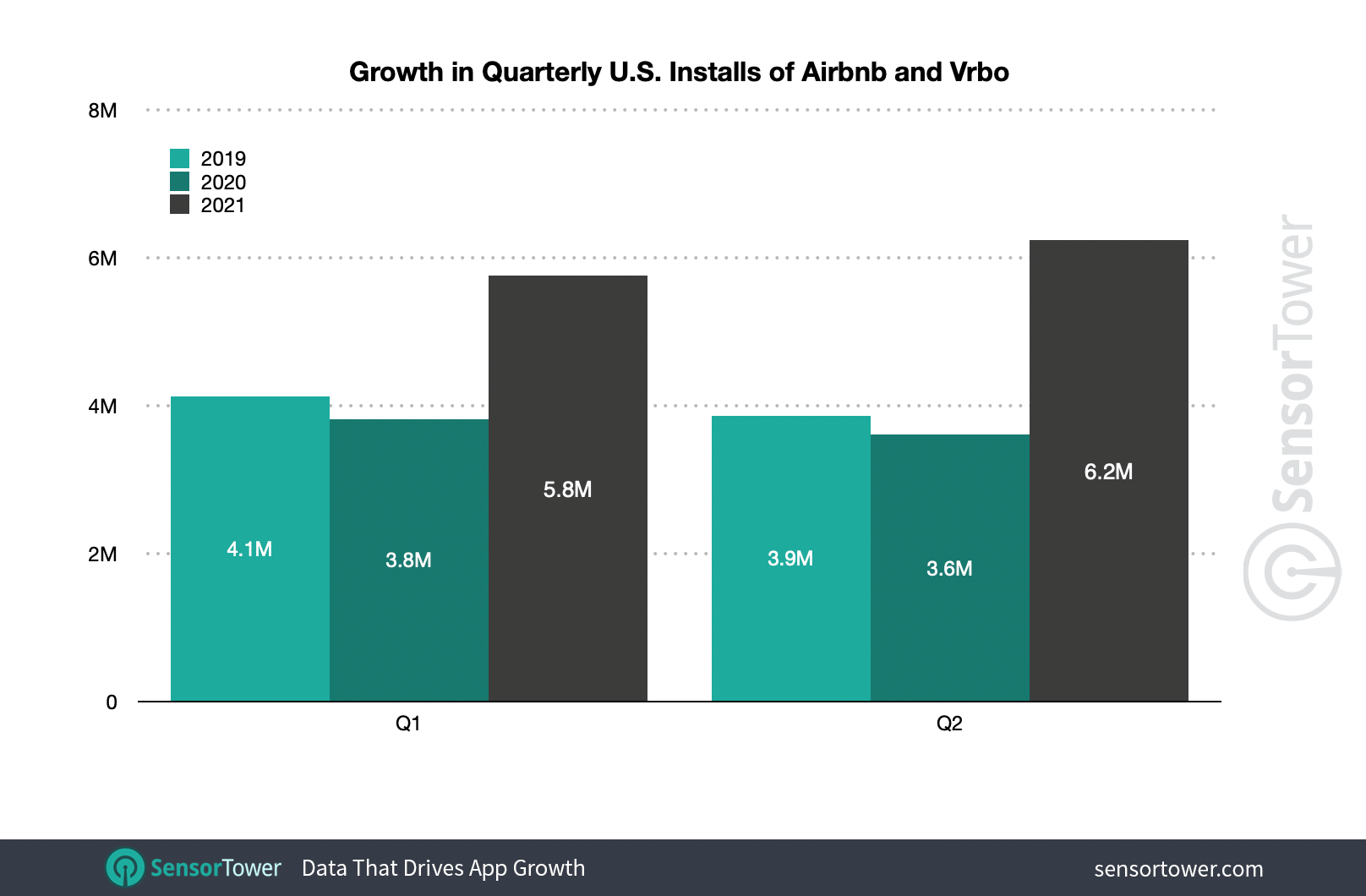 In 2Q21, Airbnb installs were up by 15 percent compared to 2Q19 and Vrbo saw a 113 percent increase in downloads when comparing the same periods. Airbnb's 2Q21 financial results state that long-term stays (of at least 28 nights) remained its fastest-growing category and that they expect the trend to continue well into the next quarter. Because vacation rental apps like Airbnb and Vrbo provide travelers the flexibility to vacation privately and away from other guests, they saw a huge recovery advantage.
Going Contactless
Another travel trend that has emerged during the ongoing COVID pandemic is the implementation of contactless methods to reduce touch points, which has increased the usage of airline and digital identification apps. Within these apps, users can book flights, check in, and access boarding passes, as well as show vaccination records and negative COVID test results. These offer airline travelers a quicker, safer alternative to using physical airport kiosks.
Sensor Tower data shows that the top five most downloaded airline apps in the U.S.—including American Airlines, Delta, United, Southwest, and Spirit—saw their installs collectively grow 314 percent year-over-year in 2Q21 from 2Q20. These airline apps also saw their monthly active users grow 70 percent year-over-year in 2Q21 compared to 2Q20. Monthly active users were close to reaching pre-COVID levels as the vaccine rolled out to the general public in May 2021, although the numbers remained down 6 percent when compared to 2Q19.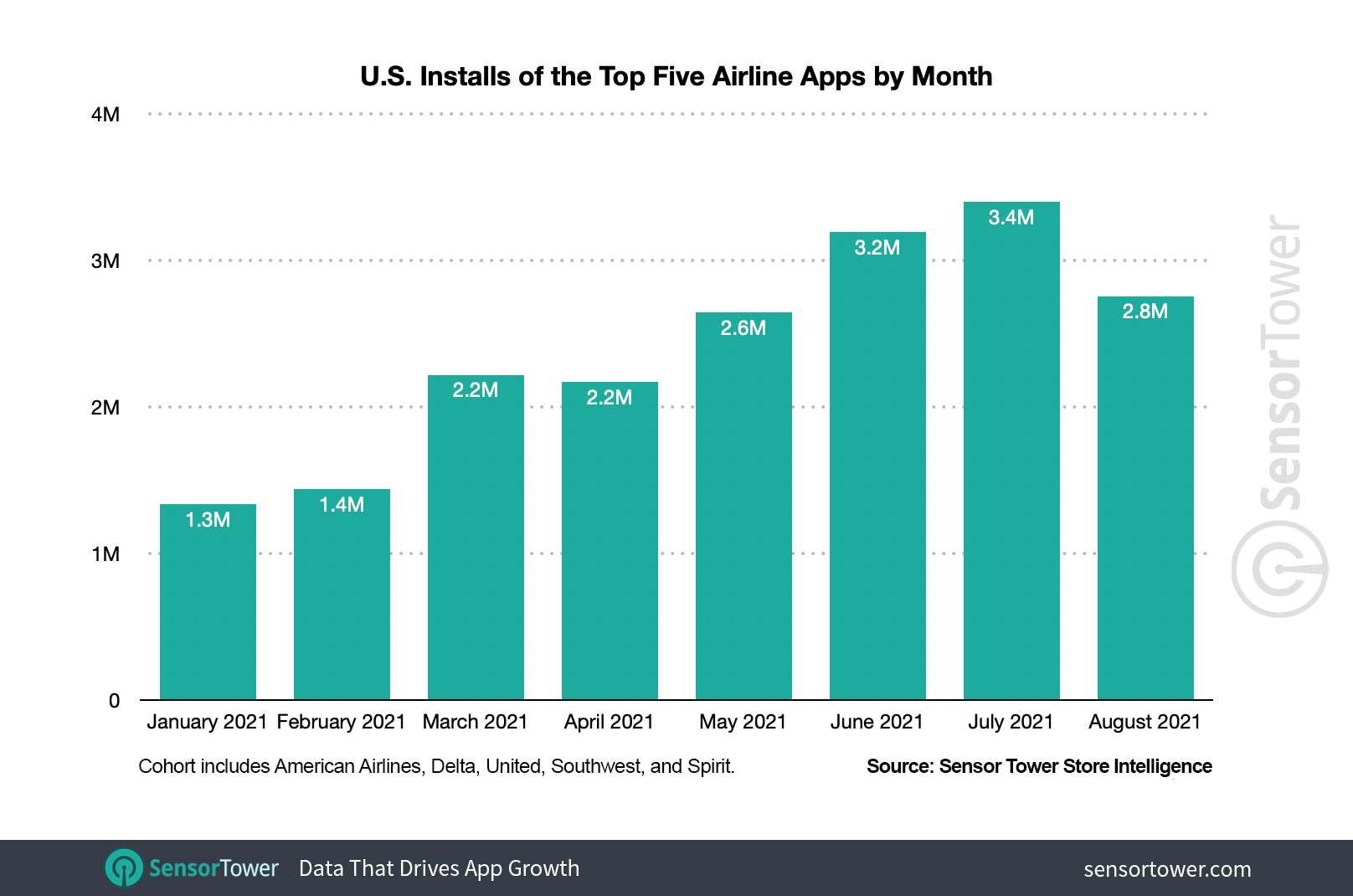 With added safety measures in place, airports saw around 1.9 million TSA checkpoint crossings on Memorial Day according to the agency, a six-times increase from Memorial Day 2020. However, this number is down 30 percent from Memorial Day 2019 before the onset of the pandemic. Digital identification and health pass apps, such as Clear and VeriFLY, which have been traditionally seen as luxury services, gained attention due to their COVID-safe features that can be used at TSA checkpoint crossings.
On April 13, 2021, Clear announced that users were able to add their vaccination records to the app. By mid-June, Clear released a feature that allowed users to create a digital vaccine card if they received a vaccine from any Walmart location in the U.S. As the need for having digital vaccine cards grew, so did Clear installs: The app's downloads climbed 73 percent month-over-month from June to July as users prepared for Independence Day weekend travel.
On the Road Again: Google Maps, Uber, and Lyft
According to the Federal Highway Administration, travel on all roads and streets decreased by 13 percent in June 2020 compared to the year prior. As most states reopened by June 2021, road travel increased by 14.5 percent compared to June 2020—leading to an uptick in the downloads of hard-hit navigation apps. Google Maps and Waze, the Travel category's top two navigation apps, saw downloads grow 28 percent year-over-year in 2Q21 from 2Q20. Yet, installs were down 12 percent compared to 2Q19.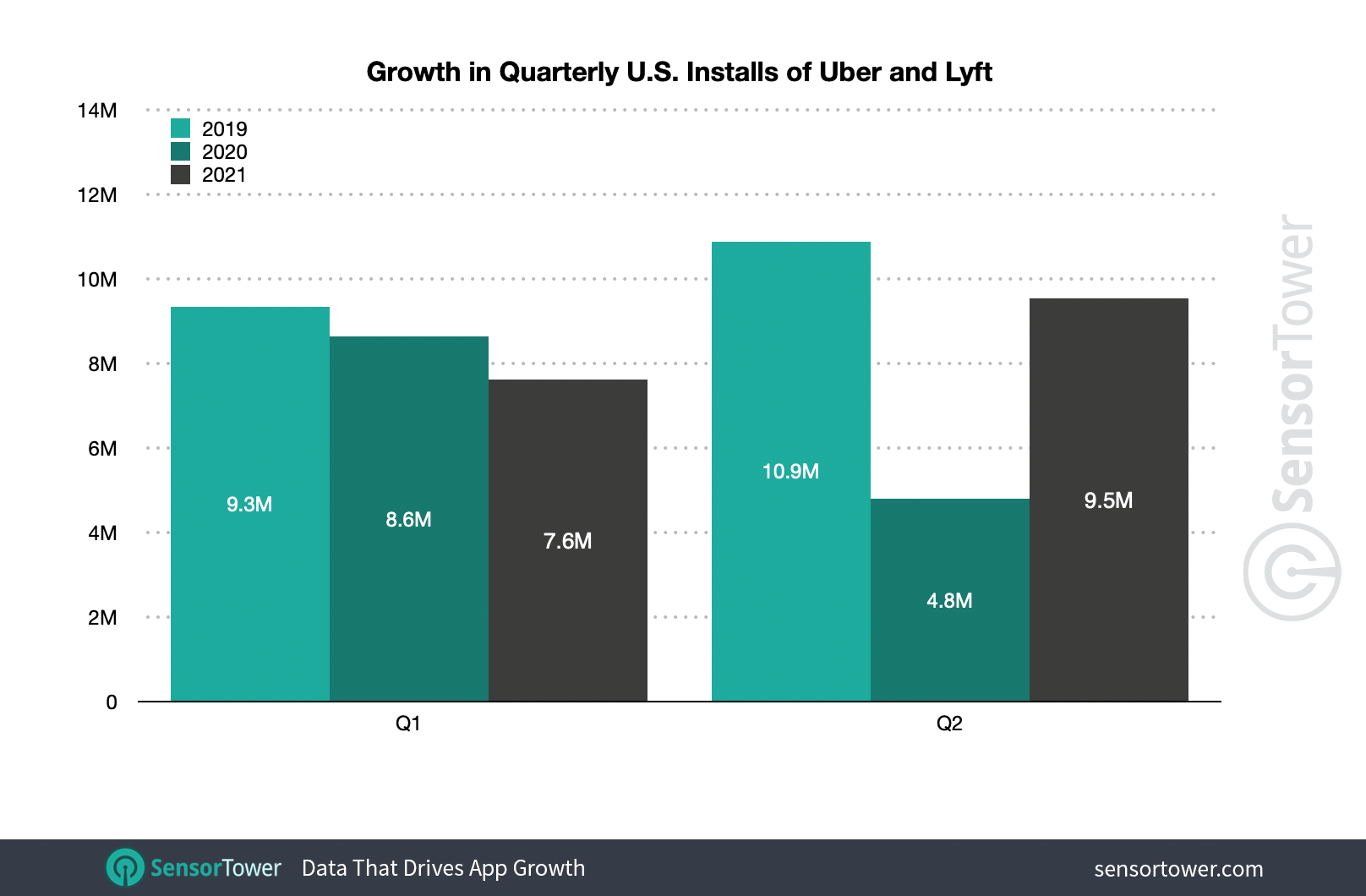 Long-haul road trips aren't the only travel trend: Sensor Tower Store Intelligence shows that Uber and Lyft were the top two rideshare apps based on installs. Between 2Q21 and the current quarter, Uber's monthly active users have so far jumped by 22 percent as demand for local travel was high. However, possibly due to consumers experiencing difficulties getting to their destinations from a shortage of drivers and long wait times, downloads for both Uber and Lyft were still down 15 percent in 2Q21 when compared to 2Q19. Our forecast predicts that both Uber and Lyft installs will trend below their 2019 levels for the rest of the quarter.
A Look Into the New Year
While traveler counts have taken flight and travel app subcategories like vacation rentals saw a huge recovery advantage between 2020's lockdown and the country's ongoing reopening that began in the first half of 2021, other travel subcategories such as airlines and rideshare are still playing catch-up. The Delta variant has surely influenced the decline of installs and monthly active users so far this year. Going into the autumn and winter, the Q4 holidays, specifically Thanksgiving and Christmas, typically see the largest number of travelers passing through TSA checkpoints. By then, COVID vaccine booster shots may help these consumers feel safer to travel again and travel apps could see an uptick in installs and usage by the end of Q1 2022.
Get ahead with your travel app marketing plan ahead of the Holidays 2021! Connect with MAAS' growth experts at maasmarketing@affle.com