Mic'd Up With MAAS Episode 8: A Lot Can Happen Over Cachaças
August 12, 2021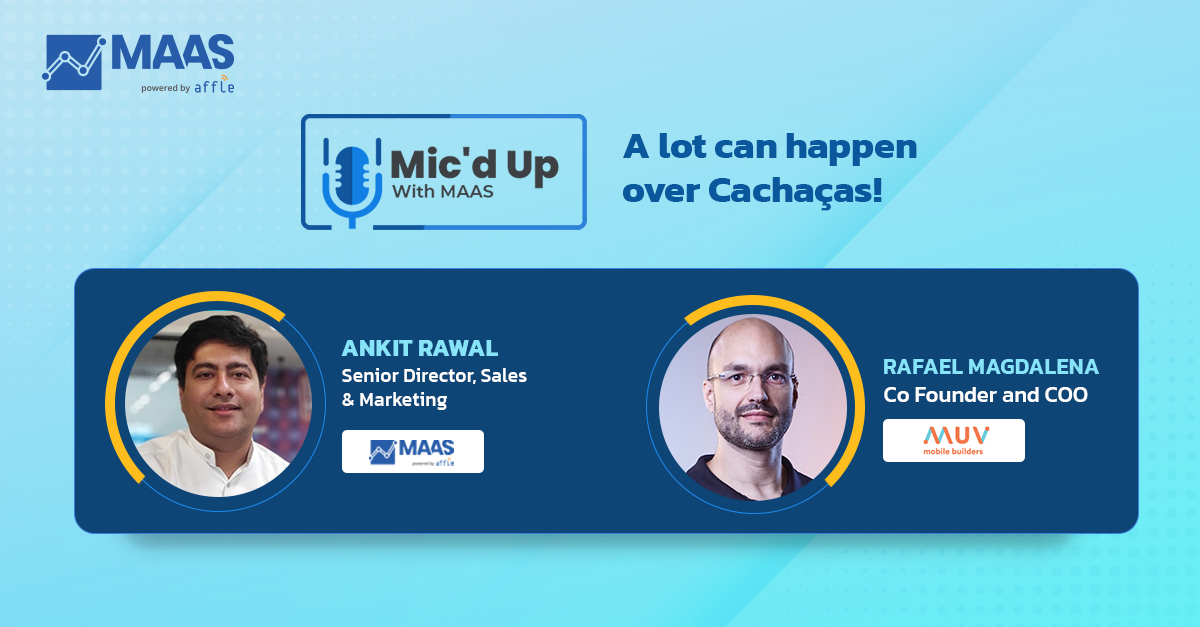 Ankit Rawal, Senior Director Sales & Marketing – MAAS, and Rafael Magdalena,  co-founder and CEO of MUV, catch up over Cachaças to talk about what's brewing in Latin American mobile advertising market.
Here are the edited excerpts from the conversation.
Ankit: Latin America is a fast-growing mobile advertising market. How would you trace the journey of the mobile advertising landscape with your diverse experience in the market?
Rafael: Most important thing about the last year in Latin America is that we are growing a lot at a fast pace. Brazil has a little bit more than 200 million people and we have 220 215 million connected lines. So we have 60% of connected, but we have a density of more than a hundred. This is more or less the same in other big countries like Argentina. 
Another thing is the affordability of handsets. When we started using mobile phones, the UX and UI were not so good. Now you have a better user experience and better consumer experience. So it's very easy now to do shopping. It's very easy now to do other things using your phone.
The competition here in Latin America is high.  I think that we are in the early stage of the startup ecosystem, we have to have better regulations, laws, taxations.
Ankit: Increasingly, we have noticed that brand and performance marketing lines are blurring. Do you see a similar trend for advertisers in Latin America?
Rafael: We still have in some places that have to have a team to do a branding campaign and you have to do a campaign for performance campaign. And we are seeing now that it's one thing: you have to deliver a consumer experience. You have to deliver a good experience to your user. My opinion is that this is changing mainly because people are not buying things the way that they used to buy a long time ago.
Because if you think about 20-25 years ago, you had to construct your brand. You have to do a lot of branding campaigns to have a brand on top of mind, to sell your product because the decision normally was made on your point of sales. Now the consumption is way easier. So you can choose between or among a lot of products. The delivery of the campaigns need to  mix it between branding and performance, mainly because if you are doing only performance and don't have brand awareness, it's very complicated to perform well. 
So I think now, probably in the next few years, we're going to see this changing in terms of the naming of what is branding and what is performance.
Ankit: A lot of digital changes and trends have really opened up. From your vantage point in Brazil and the rest of Latin America, do you think this trend will stick? Is it a fad and it will get over or is it here forever?
Rafael: I think it's here and this will stick. My personal opinion and my understanding of the market here is that what is happening now it's only an acceleration of the process. It's not a change of the process is not a change in the behavior of the people. I think it's only an acceleration. If you think that we have younger people changing the behavior for a long time about using cars. For example, rides with Uber and other companies, they are not buying so many cars as we used to do. Or take food deliveries… We have a lot of food deliveries startups. So I think that is a matter of acceleration. I don't think that it will go back to the stage that we had in 2019.
Ankit: Give us an inside view of what could be a good GTM for someone who wants to build a mobile-first business in Latin America? 
Rafael: Brazil is definitely the country here in the region. But for some companies, it's complicated to start only in Brazil because of the language. So my opinion is that if you want to come to the region, you need to understand mainly two things: the language barrier and the language that we have here, because if you do a global campaign and use the same creatives here in the region, probably would not be the good option.
You have everybody speaking Spanish, but with variations. So if you go to Mexico, if you go to Venezuela, if you go to Columbia, if you go to Argentina, you're going to see that is not the same Spanish they talk. Even though it's not the same Spanish in Spain, for example. So you need to understand some places here in Latin America you're going to see a complicated understanding of the people to do business compared to other places.
Another thing about the economics here is that if you think about average Latin America, you think that is low-income people, but we have high-income people, although they are the lowest part of the population that is 1-3% only, and we have the lowest income people that are too high. So you have to understand where is the target that you have to get a better understanding of the people that you want to target.
Listen to the full podcast on Apple Podcasts, Spotify, and Google Podcasts!
Want to kickstart or ramp up your campaign in Latin America? Get in touch with our team of experts today!
Diksha Sahni
Diksha currently leads Communications & PR at Affle. With a passion for content marketing, she also takes the lead in crafting compelling narratives for the MAAS Platform. A journalist turned marketer, she has worked in the B2B and AdTech industries and writes on all things mobile on the MAAS Platform blog.