As America Goes Back-to-School, Will Marketers Score Big Too?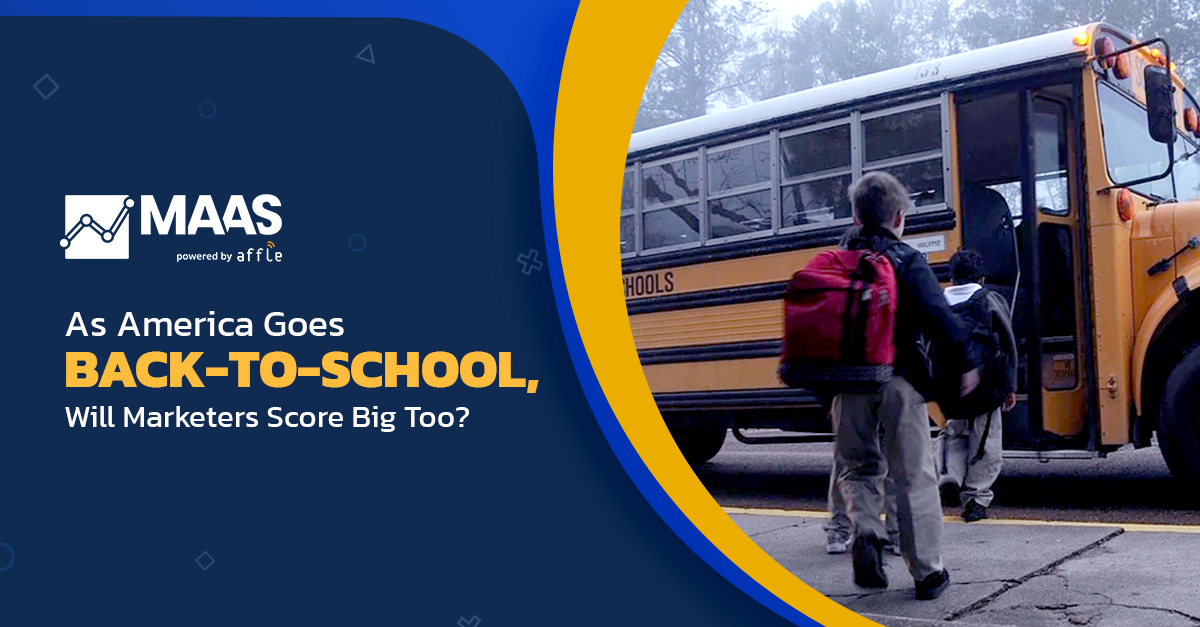 The back-to-school season in the U.S. is usually an exciting time for retailers in the country as shopping activity across verticals picks up. But 2021 is going to be different. Even as the Delta variant threatens the return to normalcy, many schools across the U.S. have given the option of in-person learning at schools. With students expected to finally return to classrooms  — after the pandemic restricted learning to remote — this year's back-to-school shopping trends are being keenly watched.
Much of the back-to-school shopping already picks up in June, but as many parents also start their shopping plans in July and August (and some do it at the last-minute waiting for offers and deals), it is the right time for brands and marketers to acquire new users as well as retain and re-engage existing customers.
Here's what brands need to know on how to approach their back-to-school marketing in the new normal: 
Understand That User Behavior Has Altered
The trend: As people stayed indoors, mobile not only emerged as central to the lives of people (whether it was to shop, study, work, or workout) but also a new user segment emerged as mobile-first and mobile-only. According to a study, 7 out of 10 customers who started mobile-based ordering during the pandemic are likely to continue with that behavior. 
The learning: While the world may be gradually opening up, the lasting effects of the pandemic will be felt for much longer. Marketers have already witnessed new user behavior emerge during this time and it is important to understand that such behaviors will remain. Plan your marketing keeping in mind that pre-covid user preferences will not stand. It can be tempting to start a paid user acquisition campaign for a wide audience, but it could prove counterproductive. Marketers need to better understand their consumer groups using AI-driven segmentation and personalize their messaging. Whether you are running direct publisher integrations or going the programmatic route, consider the right targeting on-device models, geographies, interests, and more. This will help you in keeping track of the customer behavior and thus spend your budget accordingly. 
Post-Pandemic Spending Trends Will Not Be Uniform
The trend: Much of consumer spending came to a halt in early 2020 as the uncertainty around the pandemic led people to conserve spending. With the vaccines and the opening up of economic activity, there is likely to be an increase in consumer confidence in spending and a lot of pent-up demand will drive retail. A KPMG study estimates that there is likely to be a 9% increase in back-to-school spending this year. 
But what's interesting to note is that while traditional popular back-to-school items such as footwear, apparel, stationery, and supplies topped the spending list of shoppers this Prime Day, there is also likely to be a shift in favor of digital and tech-related products as education moved to digital mediums in the pandemic. This means more people are favoring spending on computers, hardware, and other electronic gadgets in 2021 as compared to 2020. According to Deloitte, a new back-to-school spending behavior has thus emerged, where tech sales have increased 37% YOY. In addition to the parents doing most of the back-to-school shopping, it's also interesting to note that students are increasingly influencing spending decisions. 
The learning: Don't put your (marketing) eggs in one basket! Even as consumer sentiment picks up, it is wise not to make blanket marketing decisions. Have flexible marketing plans that include all demographics and age groups. Analyze and respond to user behavior based on detailed campaign reports. Diversify your marketing efforts by finding the right balance of channels for your acquisition and engagement efforts. Young shoppers expect more personalization and here channels such as social or influencer marketing can help you to deliver better results. With the popularity of short video platforms such as TikTok, young shoppers are spending more time engaging with such apps and it is worthwhile to include social media mix in your UA plans. Whereas for parents, safety is a prime concern when it comes to making purchase decisions for back-to-school. Deploy ad creatives that speak to different audience segments for increased conversions and continue to optimize. Detailed campaign reports from your ad and attribution partner can help you to dive into such key insights and uncover areas that deliver the highest ROI.
Integrate Offline and Online Marketing Efforts
The trend: Online shopping has been a key theme for major events since the pandemic. Even for back-to-school, online is going to dominate the spending trends and its penetration is expected to increase 30% from pre-covid levels. Another study suggests that as many as 65% of parents plan to shop online for back-to-school supplies. Almost half of the North American shoppers also are in favor of shopping via those stores that offer contactless shipping or other convenient services such as curbside pickup. 
The learning: We saw this trend dominate last year during Black Friday shopping as well where even though consumers are excited to go out and get back to their lives pre-covid, more and more consumer journeys between online and offline are blending. While convenience is a factor for consumers when shopping online, they also want the same personalized in-shopping experience as physical stores. Omnichannel marketing will play a bigger role to close the gap between online and offline experiences. This would also mean keeping a close tab on how ads are targeted, served, and measured to understand the incremental impact.
It's Not All eCommerce Only
The trend: Back-to-school shopping is a big event for retailers. But with hybrid learning models to continue, opportunities are also huge for apps beyond eCommerce. Whereas 62% of students are expected to return to in-person schooling, there's also a share of students who prefer either a hybrid model or completely virtual learning. This is likely to translate into increased demand for e-learning platforms, subscriptions for online courses, and educational tools, etc. 
The learning: App categories such as EdTech, FinTech (online payments), and Utility are likely to see continued engagement and in-app sessions. Taking the learnings of 2020, app marketers in these categories must diversify their UA strategy across multiple channels and focus on key KPIs. For EdTech, for instance, it would mean focusing on down-the-funnel metrics and nurturing users to convert them into paying customers.
Want to capture the last-minute shoppers? Get in touch with our expert team to find out how our solutions can help drive revenue for your marketing efforts!