Mic'd Up With MAAS Episode 13 – Talking Business & Tech Trends in Advertising – Part II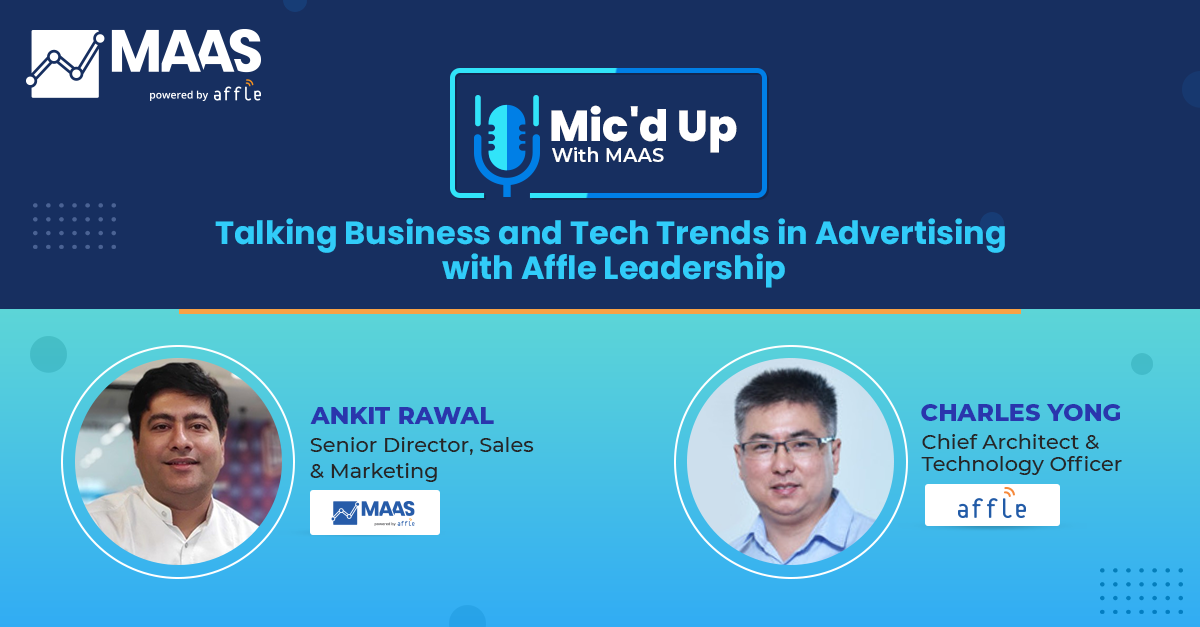 Privacy is set to be a key factor to consider for app marketers in 2022. Government regulations, updates to smartphone operating systems are increasingly focusing on the consumer's demand for data privacy. In the second part of this episode, Ankit Rawal, Senior Director – Sales & Marketing, MAAS catches up with Charles Yong, Chief Architect & Technology Officer, Affle to understand how technology is set to pave the way for impactful, personalized and privacy-oriented mobile marketing campaigns.
Here are the edited excerpts from the conversation
Ankit : We have stepped into the decade of tech revolutions across all verticals. What are some of the key tech trends of 2021 and how do you see them panning out in 2022?
Charles : For me, the buzzwords will be artificial intelligence, machine learning and connected devices. AI and ML continue to be the buzzwords and currently outpacing even Moore's law in terms of growth. This is because of three things – compute power algorithms, huge improvements in learning and combined knowledge. Multimodal AI, where you have more than one model running at the same time, is another trend to look at closely. 
Ankit : Now that the dust of the ATT framework has settled down, how do you see tech trends panning out for IDFA and other privacy controls in 2022 and beyond?

Charles : Speaking on the basis of the work we are doing at Affle, continued improvement in modeling for ATT in our AI and ML has been beneficial for privacy as well as other difficulties of ATT.  For example, doing ABN optimizations for the only hundred campaign ID limits that you can have for call backs from Apple or targeting our traffic analysis and ensuring that we can enable transfer learning when we have limited knowledge about the user. We're looking out for the next WWDC shortly this year. On other privacy concerns, like third party cookies that Google is deprecating at the end of next year, there are already browsers like Safari that have been doing this since almost 2020. There are only a few ways that cookie data can go. People are already doing work around by making it first-party. Of course you can also use scripts and pixel tracking.
Ankit : In an increasingly privacy-first world, how is Affle, MAAS and their products and services looking to reassess vis-a-vis privacy? 
Charles : Affle has always taken data seriously, especially privacy. Each year we undergo IT audits. We are also a three time IMDA accredited brand since 2017. IMDA provides an endorsement that our systems can go into a government environment where sensitive data is being handled. Moreover, Affle has acquired numerous entities over the years. Each one, adding a different governance and process styles and improving our ability to handle privacy, risk mitigation, risk treatment, and handling privacy storage as well. One such acquisition that we made is Mediasmart in 2020, headquartered in Spain and hence obviously handling GDPR regulations, which is one of the strictest in the world, even today. Affle in Singapore is also undergoing DPTM, which is stands for data protection trademark, which adds another level of privacy control and governance to Affle
Ankit : Can you share a little bit about the mFAAS solution which we use extensively at MAAS to weed out bad data and read ad fraud, which is rampant in this industry?

Charles : Removing non-human traffic is vital from our systems from several points of view. If we have bad data into our modelings, we will actually get bad predictions in the future. So this is a core interest of ours. And we do this through 25 reason codes. Most importantly, we look at behavioral analysis. We are constantly improving our systems through training and validating. If you get a lot of non-valuable users, we obviously question it and drill deeper down to actually find these patterns of non-human traffic. 
Ankit : What are the technologies you think we need to watch out for in 2022?

Charles : I think it's a toss up between VRs and NFTs. I think there's actually a symbiotic relationship with it as well. Obviously there's the Facebook Oculus HTC, Microsoft Sony all have their own VR devices out there. VR has always been at the top of the hype curve. But I think it's going to move into the mainstream. And I think Meta has announced this through Facebook, that we're going to see these metaverses coming up. Disney has also announced their own metaverse. NFTs is obviously an extension of this, and it will be nice to see how NFTs are going to look in the future.
Listen to the full podcast on Apple Podcasts, Spotify, and Google Podcasts!
Want to rev up your app's user acquisition campaign? Get in touch with our team of experts today.