Mobile Marketing Masterclass : Episode 1 Highlights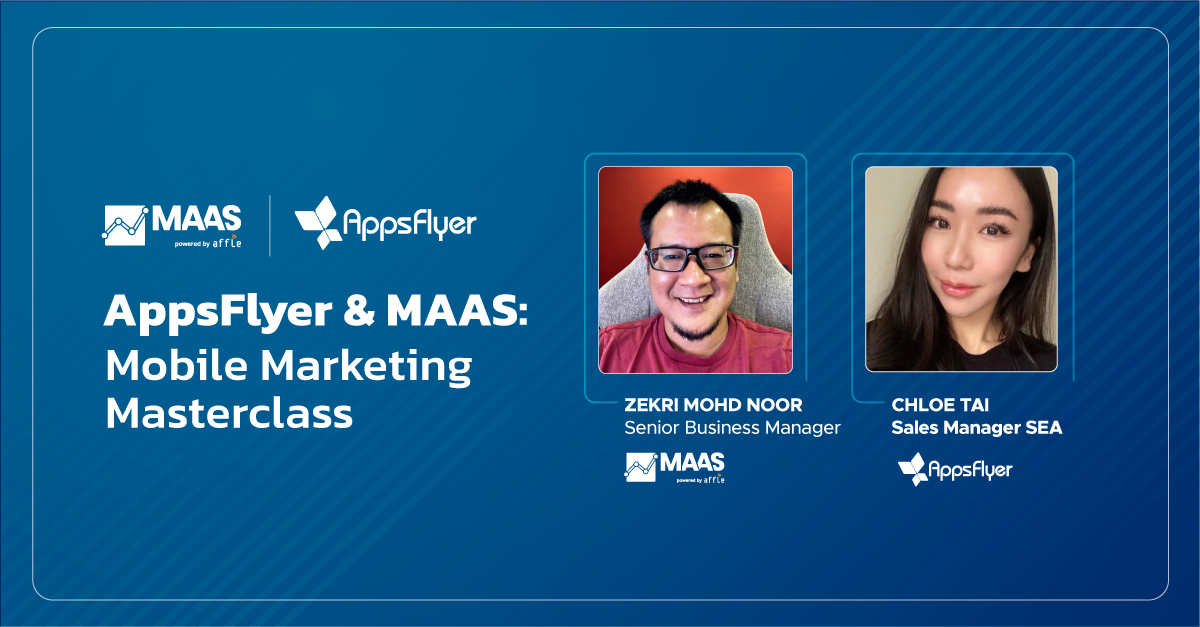 About 15% of all mobile marketing budgets are lost to frauds. The ecosystem being crowded only aggravates the situation of finding the right partners who can help mitigate such frauds while driving successful campaigns with maximum ROI. MAAS teamed up with Appsflyer to present the Mobile Marketing Masterclass series to simplify the AdTech maze.
In the launch episode of the series, Zekri Mohd. Noor, Senior Business Manager – MAAS and Chloe Tai, Sales Manager (SEA) – Appsflyer focuses on the importance of attribution to understand and optimize your app's install journey and how you can leverage a unified audience platform to generate more high quality leads for your app.



Click here to check out the full episode.
Episode Highlights
Attribution is key to optimizing install growth
There are several ways in which your user learns of your app and then proceeds to download it. A common flow these days is to target a user across multiple platforms to stay high on recall and eventually convince the user to download and install the app. However, for app marketers it is important to know the touchpoints that led to the final install. This information helps mobile marketers to optimize their budget distribution across multiple ad channels. It also provides insights into crafting suitable communication strategies that nurture prospects into moving down the funnel.
Another significance of attribution is to track the true performance of your mobile marketing partners. With the industry being crowded, app marketers often partner with multiple partners based on their specializations. In such an event, it gets difficult to track each partner's contribution to the overall campaign performance. This is where attribution partners play referee.
In the video, Chloe walks you through the attribution tech to help you understand how you can integrate it to your martech stack and what goes on behind the scenes to show you a granular performance report of your campaign.
The future of mobile marketing is consolidation
Smartphone users spend an average of four hours and upward on their mobile devices. It opens up the possibility of reaching your prospects across multiple channels – socials, direct apps, native app marketing channels, through influencers, etc. 
To be on top of your brand recall game, it is imperative to be part of your user's attention in as many platforms as possible. However, tracking the performance of different channels, losing out on precious marketing dollars on overlapping prospects, the challenge to weed out frauds can get unwieldy to handle for performance marketers.
Consolidation of channels help in profiling users to understand where they show higher likelihood to convert compared to other channels. It also helps app marketers to personalize their outreach plan with a blend of different channels targeting different user personas. Comparative tracking becomes easier leading to better optimization of campaign KPIs and budget.
Zekri walks you through the tech of a unified audience platform to help you understand how the channels work in a symphony with each other. He also helps you to understand how comparative channel performance tracking can also help optimize performances of all your chosen channels to help drive the maximum possible conversions.
Stay tuned for Episode Two!
To stay updated about the latest news in the mobile marketing ecosystem and to access resources on acing your mobile marketing strategy, follow MAAS and Appsflyer on our social pages.
If you are looking to know more about how a unified audience platform can contribute to your app's growth, feel free to talk to us and we will be happy to help you.