Mic'd Up With MAAS Episode 3: Debunking Myths of Mobile User Acquisition in Africa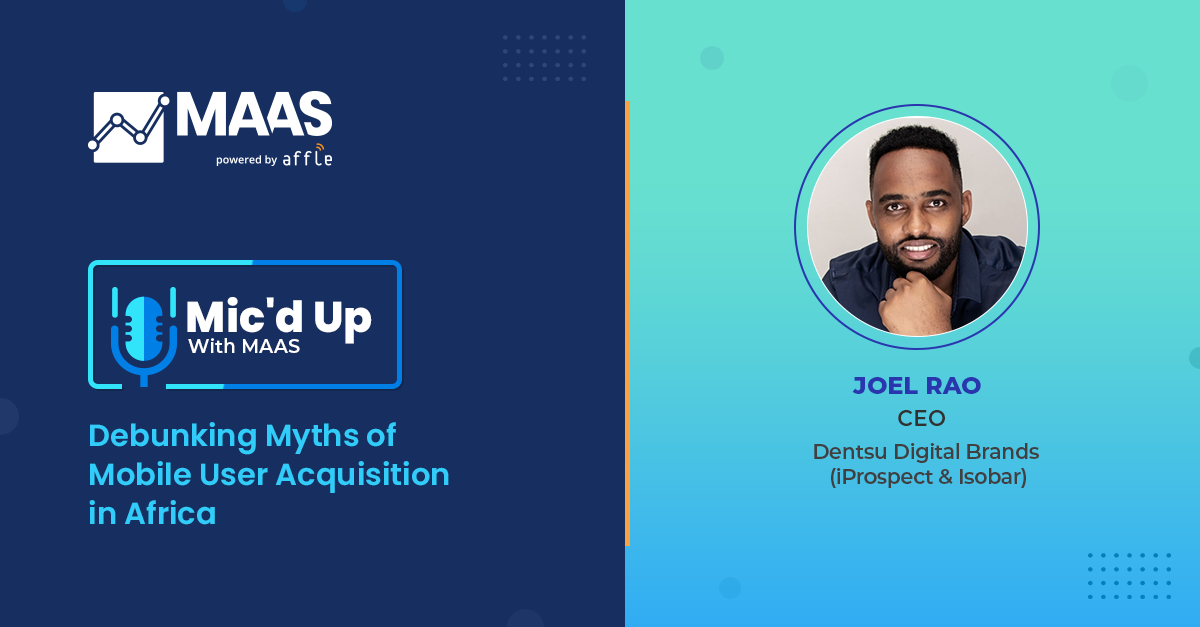 MAAS, powered by Affle, brings you "Mic'd Up With MAAS," a monthly podcast series that unlocks mobile user acquisition and the world of AdTech. Each episode features an interview with thought leaders and industry experts from across the globe who speak on the current industry landscape while sharing their learnings, challenges and successes in the mobile-first world. In today's episode, we want to throw the spotlight on Africa and debunk some common mobile UA myths. Joel Rao, CEO of Dentsu Digital Brands (iProspect & Isobar), a digital performance marketing agency, joins Ankit Rawal, Director of Business Development and Partnerships at Affle for a candid conversation.
Here are the edited excerpts from the conversation. You can listen to the full episode on Mic'd Up with MAAS podcast on Apple Podcasts, Spotify, and Google Podcasts!
Ankit: Why don't we start a little bit about your background and what work you're doing at Dentsu?
Joel: I have been in the digital space for the last 13 years now. I started off my career in Latin America, working very closely with an association called AIESEC in partnership with Telefonica to roll out their digital marketing across the different LATAM markets. And after that, I thought it would be great to dabble into the agency space, dealing with different brands. I later had the chance to work with WPP setting up Ogilvy here in Kenya which did quite well. I also set up my own company in partnership with a few like-minded individuals. I later joined a pure-play performance marketing company called Incubator. And that was when really my expertise in performance marketing was entrenched. And after about two years of, you know, getting to understand the practices, getting to, you know, look at setting up performance, marketing in different markets in Africa Dentsu being one of my clients thought it would be great for us to set up iProspect.
Ankit:  Way back in 2009 what really impressed me was how people in Africa were really leapfrogging to mobile technology, whether it was M-Pesa in Kenya or the Please call me service in South Africa. We'd really love to hear your perspectives and trends. What do you see panning out for Africa, particularly mobile and tech adoption in 2021 and beyond?
Joel: Mobile connectivity is growing in leaps and bounds. The inception of mobile money you know, close to 12, 13 years ago has really accelerated you know, usage of the device. I think for a very long time, the mobile device has been seen as the most ubiquitous medium on the continent. And in some markets, it's still is the only screen. 
Mpesa has now gotten into that app ecosystem because of the evolution and the penetration of smartphone usage on the continent that has really revolutionized the way people are looking at things. So suddenly M-PESA is now an app on its own. And we will begin to see trends like this going on.
I strongly see a very great adoption as far as eCommerce is concerned because the likes of Jumia have been in this space.
I think it's been a great journey for such players, but what's also interesting for them is that they're also getting into the FinTech space. So we're seeing a lot of FinTech players coming into, into, into this environment. And, and, and, you know, with the introduction of payment solutions like Jumia pay which is definitely going up.
Ankit: Africa is a big continent with 54 nations making the mobile African mobile ecosystem quite fragmented. What do you think are common misconceptions about mobile African users global companies have?
Joel: One misconception that I see is bucketing consumers on the continent as one massive block. The consumer is different and, and our model has always been to place the consumer at the center of the ecosystem we develop around them. Our consumer in Nigeria is very different from a consumer in Ghana. And these are two neighboring countries and the consumer in Kenya would be very different, say from a consumer in Tanzania yet they're two different countries and they're neighboring each other. You can't bucket them in the traditional ways that would bucket consumers say in North America or in APAC.
The other misconception that I tend to see a lot is amplified in the West that mobile connectivity has really grown. To be very honest, there are some countries that are not there yet. So for example, a market like Ethiopia is actually a perfect example. You have a massive economic opportunity in Ethiopia, but internet connectivity is not what you'd think it is.
Ankit: With that in mind, give us an inside view of what could be a good GTM for someone who wants to build a mobile-first business in Africa? 
Joel: Number one: just understanding your consumer. If you want, if you want to get it right, then you have to have a people-first mindset. Next, you probably want to look at the category in which you're operating and see what other players are doing in the continent. Because the way things are happening here is different.
Finally, ask what's your brand truth.  What are you trying to do? And if you can have those three aspects coming together, it's very easy for you to actually have a very clear guiding theme as to how you're going to actually launch your business. And, from a marketing standpoint, then what it is that you're going to actually communicate to consumers within the marketplace.
Ankit: Increasingly, we have noticed that brand and performance marketing lines are blurring. Do you see a similar trend for advertisers in Africa?
Joel: I think it's more of a convergence that's happening rather than a blurriness. So unlike another market where performance marketing has been there for the past, 10-15 years, in the big markets in Kenya, South Africa, Nigeria, it's only been existing for the past close to 5-7. When we were introducing performance marketing it seemed like a very foreign thing. 
What I've seen so far, especially in the eCommerce space is that if you don't do brand marketing, then any performance marketing efforts you have are going to be useless. The convergence that we're are seeing is branding and performance coming together and playing a very big role actually internally.
Ankit: We have seen a few super apps emerge from Egypt and South Africa. What does it take to be a super app in the continent?
Joel: There is a very big opportunity with the super app coming in to take on multiple apps there. That's the first thing. And then that combined with the fact that there has been systematic and banking or unbanked consumers it makes the continent a very prime location for emerging super app. The FinTech players are way ahead of the curve as far as this is concerned. So we're seeing Mpesa doing that right now.
The other thing that I have seen is cellular players have evolved into FinTech players.  Omnichannel conversation comes into play in South Africa. Vodafone has actually partnered with the Alibaba Group to be able to create a super app for ride-hailing for money transfer and financial services insurance. I think it's a very interesting opportunity for a lot of the players to actually come in and take part in that super app play.
Ankit: Finally, any parting thoughts for those who want to build a mobile-first business in Africa? 
Joel: The continent is the last frontier for anyone. To come in and create, not just generational wealth, but also generational changes in the global society. A lot of innovations are being birthed from within the continent, from a growing population that's under the age of 23. It's really interesting to see how much you can actually be able to get out of this population. And it's an educated population too. So if you want to come in, and be part of the untapped frontier where a lot of innovation is happening, then this is the place to be. This is the place where you can actually create generational wealth and not just generational wealth, but also creating a generational value to society at large.
Check out our latest series on the African mobile opportunity here!
And follow us on LinkedIn and Twitter for more exciting updates from our team!