Why APAC is the Place to be for Mobile App Developers and Marketers?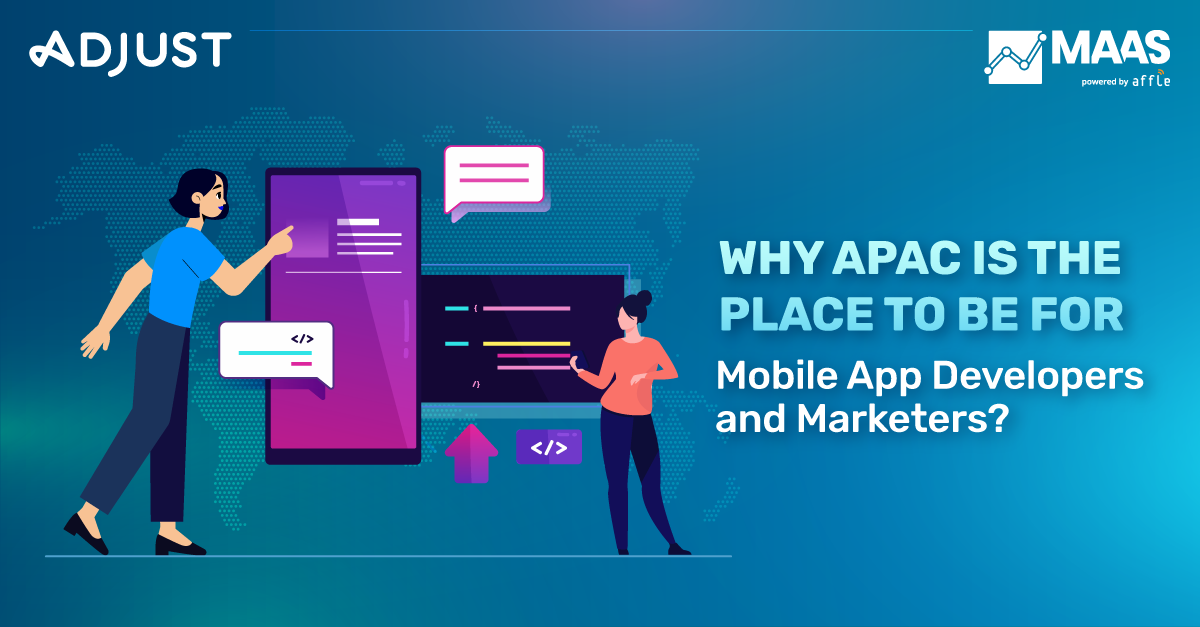 Users in the Asia Pacific (APAC) region are embracing mobile technology at an increasingly rapid pace. Asia has exploded as a mobile growth region and as technology and networks improve, more people than ever before have access to high-speed internet and smartphone devices. And this period of growth is not about to slow down — Google reports that 150 million people in APAC will turn 15 in the next 15 years, which is approximately 10 million people joining the "mobile age" every year. 
According to Adjust's Mobile App Trends: A Focus on APAC report, APAC users engage with apps more than any other region. In 2020 Q4, time spent in-app across all verticals in APAC was significantly higher than the global median. Globally, the total time spent in-app roughly doubles between day 0 and day 1, from 10 to 20 minutes for each 24-hour period. In APAC however, between day 0 and day 1, this increase is from 11 minutes to 27. 
Due to an  increasing demand for convenience, value, and accessibility to services, in particular for those who live in big cities, there has been an explosive growth in eCommerce and FinTech app usage. Companies like Grab, Lazada, Paytm, and PhonePe are a few of the big names leading the charge. The mobile gaming industry has also boomed in APAC over the last 18 months, fueled largely by COVID-19 related lockdowns. Asia is home to more mobile gamers than Europe and America combined, and revenues are projected to top $100B by 2025.
For mobile app marketers looking to scale their business and reach their target audience in the APAC market, the key is to develop a holistic strategy. By gaining a solid foothold in the region and tailoring strategies according to the unique trends and market requirements of each country, apps will have a better chance of succeeding.  
State of the app economy in APAC
Though app usage habits and trends have undergone drastic change throughout lockdowns, the APAC region specifically has seen a particularly large increase in installs, sessions, average session length, and average overall time spent in-app. Adjust's latest report focusing on the APAC region shows that installs and sessions in APAC grew by 31% and 54%, respectively from 2019 to 2020 and are continuing impressively in 2021 so far. This indicates that the industry is holding onto users acquired during lockdowns while attracting new ones.
India, for example, now has 451 million mobile internet users and accounts for 14% of global app installs. According to Adjust, Singapore and Vietnam have also experienced impressive installs growth in 2021, up 49% and 43%, respectively, compared to 2% and 27% in 2020.  
From the verticals we've examined, hyper casual games grew the most in both time periods (66% and 49%), followed by FinTech (36% and 18%) and eCommerce (27% and 8%). While not as explosive as hyper casual, non-hyper casual games still performed well at 23% and 4% install growth in 2020 and 2021, respectively.

Let's take a closer look at the region's top performing verticals: 
Gaming
Adjust data shows that the growth of both hyper casual and non-hyper casual gaming in 2020 was impressive in all APAC markets. Vietnam was the top performer, posting a boost of 37% YoY. Indonesia and India followed suit with an increase of 34% and 33%, respectively. So far in 2021, it's Singapore (80%), Vietnam (51%), and Japan (41%), which have emerged as growth leaders in gaming.
However, it is a different case for hyper casual games. There was growth in all markets, but the top contenders differed. In 2020, Singapore grew the most (112%), followed by Indonesia (101%) and Thailand (74%). This year, Indonesia (64%), India (61%), and Thailand (56%) showed the most growth. 
India is securing its position as a leading gaming economy. In 2021, India is expected to have 310 million active gamers in a market worth US$1 billion. User penetration is also expected to increase to 12.6% in 2021, reaching 16.1% by 2025. 
FinTech
More people than ever switched to mobile banking and payments in 2020, which led to a 36% increase in fintech app installs. With 100% and 97% increases respectively, Thailand and Vietnam had the highest growth rates, followed by Singapore with 72%. In 2021, Indonesia (89%), Singapore (70%), and South Korea (62%) have proven to be the three biggest markets in terms of installs growth.
India is one of the fastest-growing fintech markets in the world as well. Over the last four years, more than $10 million has been invested in fintech companies in India. This is due to a skilled workforce and a technological ecosystem that supports financial services. 
eCommerce
The performance of eCommerce installs in Japan and South Korea has been strong over the past 18 months. In APAC, the average growth rate was 27% from 2019 to 2020 and 8% from 2020 to H1 of 2021. In Japan, growth was considerably higher at 31% in 2020 and 9% in H1 2021. South Korea surpassed this in 2020, seeing the highest growth in the region at 45% — and has increased by another 2% in H1 of 2021. The e-commerce market also rapidly grew in India over the last year, with The Times of India reporting that mobile commerce increased by 800% in 2020.
How mobile app developers can win in APAC
The APAC region is full of opportunities for mobile app developers and marketers. Understanding the diversity of the market is vital for success — with 4.5 billion people and more than 2,300 languages spoken across the continent, the needs and trends differ vastly. That's why mobile app developers and marketers need to understand the cultural differences and nuances of the app verticals. By looking at granular data, marketers will be able to understand what users expect and how they can provide them with relevant products and optimize their in-app experiences. Developers and marketers need to be data-driven, UX-focused, and prepared to adapt to the ever-evolving mobile ecosystem.
To learn more about growth, trends and user habits on mobile in the APAC region, you can download Adjust's Mobile App Trends 2021: A focus on APAC here.
Are you looking to scale your app's user acquisition and retention rate? Talk to us and we will be happy to set up a personalized consultation for you.