App Marketing 2021: App Store and Google Play Store Updates
The Google Play Store and App Store are incorporating some significant changes this year that, as an app marketer, you need to look out for! The app stores are platforms that help users find apps, games, and mobile content. The stores' number one priority is to provide their customers with the most qualified apps for their use. So, as an app developer or an ASO Expert, staying ahead of trends and creating strategies around App Store and Google Play updates will prove fruitful for your app.
We at AppTweak have consolidated a blog to bring you the latest updates and developments in the app world!
App Store Updates (WWDC 2021 iOS 15):
During the World Wide Developer Conference 2021, Apple announced significant product-related updates that will directly affect ASO and be incorporated starting from September 2021. These App Store updates will help to answer questions that app developers have been patiently waiting for and raise more questions regarding their execution.
1. The ASO Update: A/B Testing
A/B testing is a feature that helps determine whether a change in metadata will increase an app's visibility and/or drive downloads. If there is a rapid increase in the number of downloads, then the test is considered beneficial. Apple announced that developers can now "try up to three different treatments to see which element or piece of metadata gets the best results." A/B testing, a feature already available on Google Play, allows developers to test only their creatives, including icons, screenshots, and app previews.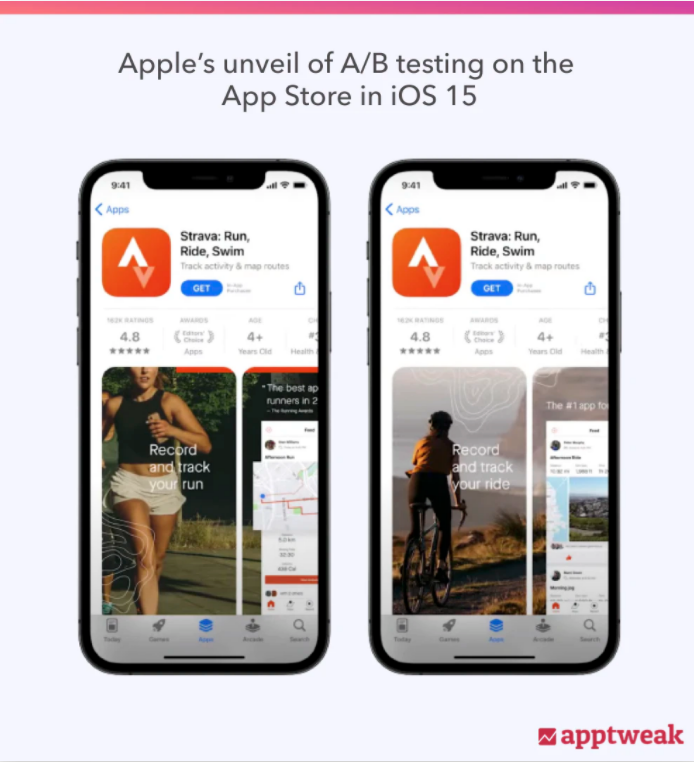 While all tested assets will have to be submitted for Apple review, developers will be able to submit screenshots and app previews that they want to test independent of submitting your app for review.
The Questions:
The main questions around Apple's upcoming A/B testing solution concern simultaneous testing and the reliability of results:
How many tests will developers be allowed to run on the App Store at one time? On Android, Google Play Experiments allow a maximum of five local experiments or one global experiment per listing. It remains to be seen whether Apple may allow for additional simultaneous trials and how they will work with customized product pages.
Will the App Store do a better job than the Play Store in terms of reliability? Apple's new offering has the potential to deal a significant blow to Google Play Experiments if it can produce more consistent results. The 90 percent confidence interval in Google Play Experiments is notoriously low (a 95 percent confidence interval is regarded as the minimum for A/B testing).
If Apple proves to be more reliable, Google's response will undoubtedly be closely examined by users. However, things are still unclear; Apple stated that testing will be done using a Bayesian statistical technique but did not specify the level of reliability that developers may anticipate.
2. The ASO Update: Custom Product Pages
Another major App Store update announced by Apple was the introduction of custom store product pages. A product page A custom product page will allow marketers to change the product landing page based on the type of audience they wish to target. At the WWDC, they mentioned, "you can create additional versions of your App Store product page that showcase different features or content within your app […] to reach users who might be most interested in them." Not only should app product pages be designed for conversion, but also for discoverability.
The App Store has given room to create 35 unique custom product pages. These pages can include different promotional texts, screenshots, and app previews from the original landing page and will be accessible with a unique URL. So, if a user were to trigger an ad and click on it, they would be able to come across a product listing that would be customized to their liking. On the other hand, an organic search on the App Store will still show them the original product page.
The main objective behind this is to boost the performance of ad campaigns for marketers. The update indicates that users will be redirected to the product page via app and web referrer traffic. As a result, Apple's introduction of unique product pages is expected to put pressure on Facebook and Google, requiring marketers to supply a single store URL for all app installation campaigns.
The Questions:
 The questions that appear when considering Apple's custom product pages:
How will this new feature be factored in with ad networks like Facebook and Google? On paper, anyone should be able to access a custom product page. However, on Facebook and Google, a URL integration with an app page is not possible yet. Usually, Google and Facebook request your app ID when creating an advertisement for their platform while they are in charge of sending qualified leads to the app. If they continue to do so, the usage of a URL essentially becomes void.
When will Apple's custom pages feature be available? Trusted sources mention that this feature will probably not be released with other elements in September 2021 but will likely be available in early 2022.
How will Google react to this new feature? Apple's new custom pages allow up to 35 new custom pages, making the Play Store's 5 pages appear too low.
3. The ASO Update: In-App Events
Since many successful applications and games regularly deliver fresh and current material to keep their user bases engaged and to attract new consumers, Apple will follow Google's lead and allow developers to promote their events in the App Store. In their App Store Connect dashboard, developers will be able to build event cards and submit appropriate metadata to enable customers to locate an event card on the app's product page and in App Store search and Browse results.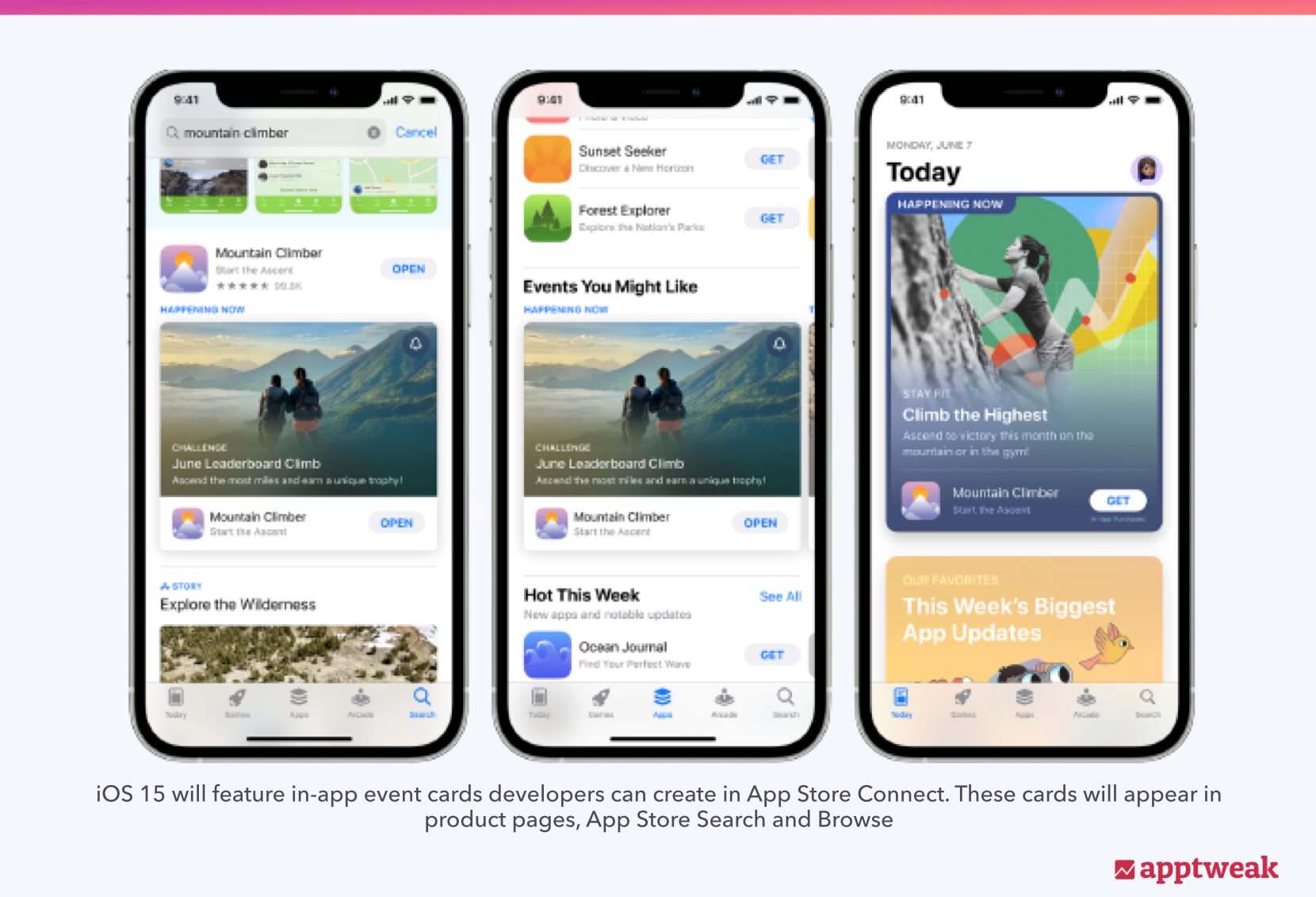 When uploading events, developers will need to define geographic availability, indicate if access to an event is conditional on an in-app purchase or subscription, and fill in the detailed event information, such as:
An event reference name will only be visible in App Store Connect and not in the App Store
An event badge (type) is chosen from the following list: challenge, competition, live event, major update, new season, premiere, special event
An event name, maximum 30 characters
A short description, maximum 50 characters
A long description with a maximum of 120 characters, which customers will only be able to read if they choose to expand the event card to learn more
An image or video no longer than 30 seconds with a poster frame
Another image or video (no longer than 30 seconds) for when users expand the card to find out more
Additionally, developers will be able to include optional information on the event card, like the event's start and end dates, a deep link that takes users directly to the event within the app, a mention of whether the event is targeted to a specific group of users (new users, active users, or lapsed users), and the event's priority in comparison to other events listed in App Store Connect (developers will be able to choose between a 'normal' and 'high' priority to determine which event is shown first, with events in each group sorted by start date).
Developers will be allowed to submit an event for Apple's approval without first submitting an app for review and will be given an event URL to promote the event outside of the store.
The Questions:
 Concerning in-app events, the main questions revolve around the featuring opportunities:
In terms of search, it seems reasonable to assume that some will use event cards' metadata as a new keyword placement to increase their search visibility. However, the precedent of in-app purchase package names should remind everyone that Apple's next algorithm update will determine whether such methods work.
In terms of features, it's worth noticing that some app collections have titles that seem similar to Apple's event badges (big update, special event). While Apple did not state so directly, factors indicate that frequently updating new events will enhance an app's chances of getting featured in such app collections or potentially other types of collections.
Additional Expected Changes:
 While the changes mentioned above are the main topics relevant to App Store Optimization, there are other additional developments regarding iOS 15. The inclusion of new metrics in App Store Connect for A/B testing, custom product pages, and in-app events will be the first and most logical update, which Apple stated will be supplemented by a few additional new metrics, including:
Re-downloads
Total downloads
Proceeds data
ARPPU: Average revenue per paying user
Pre-order
Updates
Another change will be the UI for store search results, which will feature in-app event cards and differ for users who have previously downloaded an app vs. those who have not. Hints of these changes appeared in the announcement of in-app events: "When users search for an app, the event card appears along with your app for users who have downloaded your app, while screenshots show for those who haven't downloaded your app."
Google Metadata Changes:
 A few months ago, Google revealed forthcoming improvements and "guidance to enhance your app quality and discovery on Google Play" (Android Developers). In summary, new standards and regulations will be implemented on the Play Store in the second half of 2021.
The first part of the announcement relates to a policy change that will affect app metadata:
Currently, the app name on the Play Store can be up to 50 characters. However, this will be shortened to only 30 characters (the same limit as app titles on the App Store).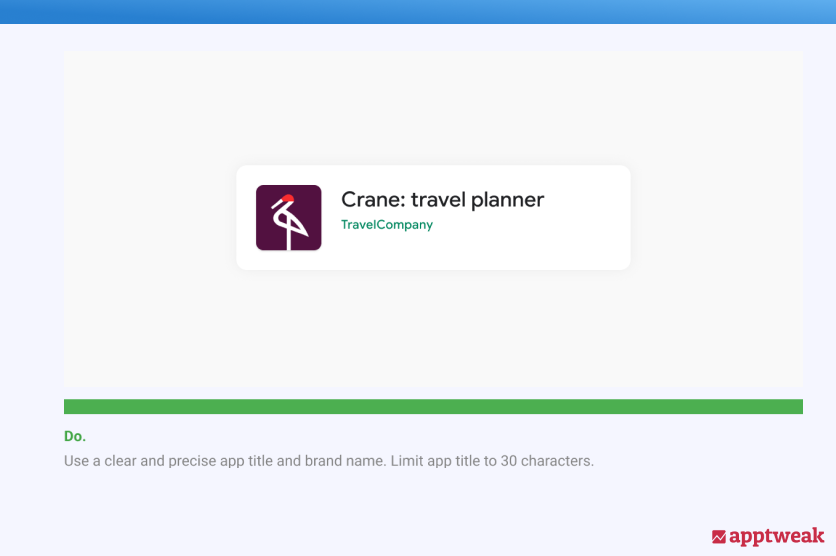 Additional changes include:
The prohibition of keywords that suggest store performance ("top", "best", "#1") from the title, icon, and developer name
The elimination of graphic elements that may mislead users in the app icon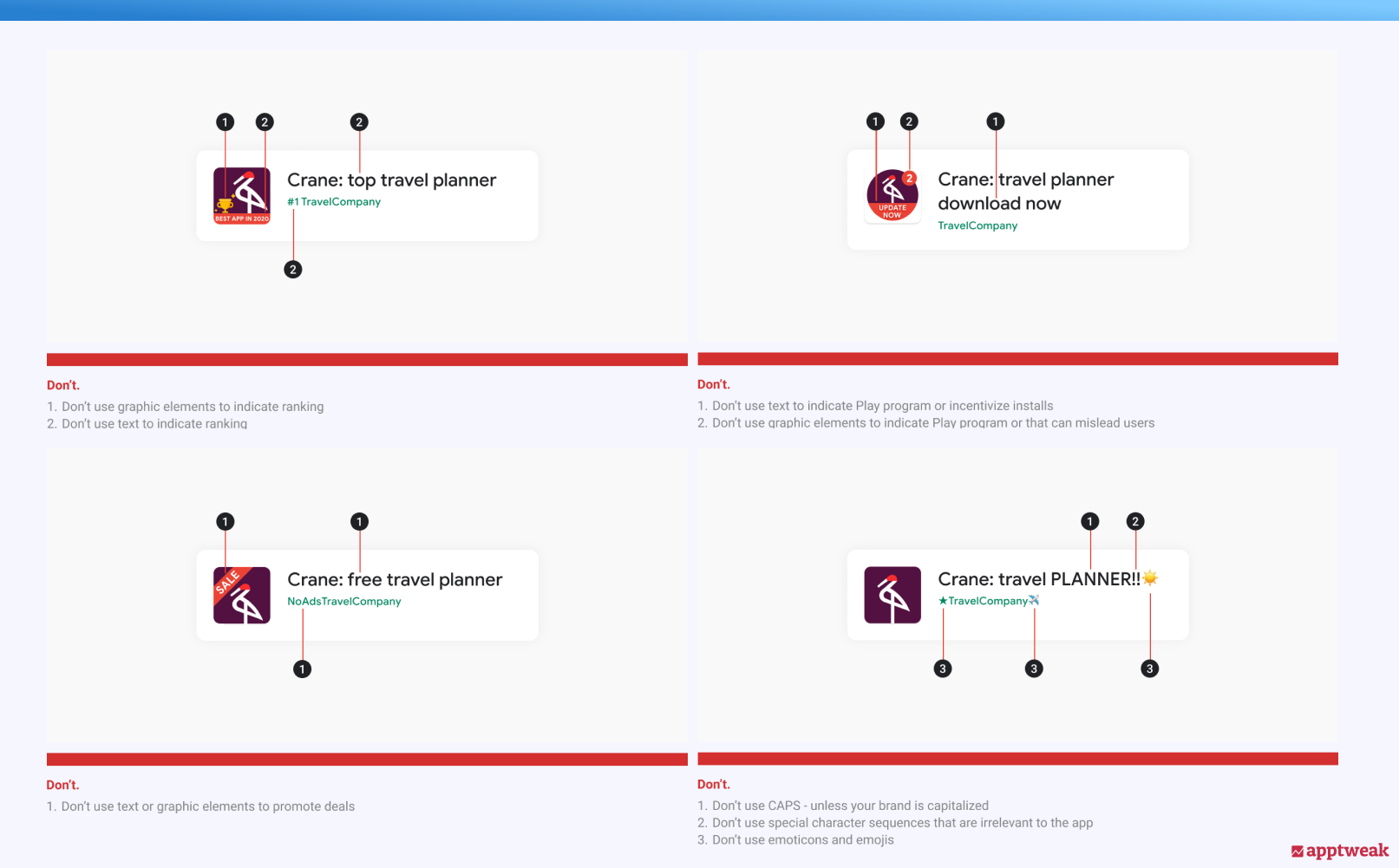 There are no further details yet on when these changes will be implemented, but "app title[s], icon[s] and developer name[s] that do not meet the upcoming policies will not be allowed on Google Play." In addition, other keywords which encourage users to take action, like "update now" in the icon or "download now" in the app name, are frowned upon. Emojis or emoticons, repeated punctuation, or all caps are additional examples of don'ts that could lead to your app being rejected.
Both the App Store and Google Play have recently come under fire for various tactics, such as fee collecting and scam apps with exorbitant subscription charges. Google's recent change is likely due to the company's desire to clean up the Play Store and make room for higher-quality applications and games.
Conclusion
A final run-through of all the upcoming updates for the App Store are:
A/B testing for up to 3 elements
An app can have up to 35 custom product pages
Incorporating in-app event cards to increase visibility
For the Google Play Store, the upcoming policy changes include:
Various prohibited keywords, such as "free", "best" and "#1" implying store performance, promotion in the icon, title, and developer name
Guidance for app icons and screenshots regarding misleading images and formatting
Shortened title space limit to 30-characters from the current 50-character field
Overall, there are plenty of new changes coming to the App Store and Google Play Store in 2021. While we are still waiting for Google to announce its updates, it's time to start strategizing around the existing context and prepare for success.