Affle's MAAS platform appoints Sushant Tomar as Senior Director – India and Sharadh Manian as Director – Supply Partnerships – medianews4u
MAAS Platform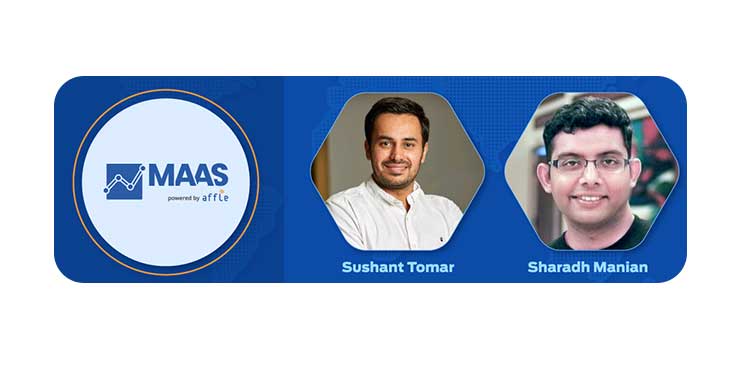 Affle's MAAS, the unified mobile user acquisition platform, announced the appointment of Sushant Tomar as Senior Director – India and Sharadh Manian as Director – Supply Partnerships to strengthen its leadership team. Sushant will lead the expansion of MAAS platform in India and help drive business growth for advertisers. Sharadh will lead global supply partnerships and drive strategic partnerships for MAAS.
Sushant Tomar joins MAAS with 12+ years' experience in driving and scaling high-growth businesses across Fintech, SaaS, AdTech, and e-commerce industries. He was a part of the leadership team at M&C Saatchi Performance and Merkle Sokrati amongst others. In his last stint as the Country Director of M&C Saatchi Performance, he played a key role in setting up and scaling the India business. Sushant actively enjoys contributing to the community through digital marketing events and publications. He holds an MBA from IBS Hyderabad and a B.Tech from Kurukshetra University.
Sharadh Manian joins MAAS with 14+ years of experience across SVG Media – A Dentsu Aegis Network Company, Bertelsmann and HT Media amongst others. In his last stint as the Director of Business Development at SVG Media – Dentsu, he was responsible for managing scaled up global supply partnerships in programmatic and performance marketing. He holds an MBA from Narsee Monjee Institute of Management, Mumbai and a B.Tech from IP University. When not at work, he can be found with a book and if not the pandemic, then travelling.
Vipul Kedia
Commenting on this development, Vipul Kedia, the Chief Data & Platforms Officer & Head of MAAS India said, "We welcome Sushant and Sharadh to our leadership team and wish them a successful journey at MAAS. Their cross-functional and relevant industry experience will enable us to drive further growth for our platform and strengthen our verticalized offerings for leading advertisers."
Commenting on his appointment, Sushant Tomar, the Senior Director of MAAS India said, "Digital advertising in India is at an exciting phase with strong tailwinds encouraging the app marketers to opt for a diverse mix of channels and consumer touchpoints to engage with their users. I am excited to be a part of this passionate team and look forward to onboarding new partners while growing the business with our existing partners."
Commenting on his appointment, Sharadh Manian, the Director – Supply Partnerships of MAAS said, "With an unprecedented surge in digital adoption across the globe, I can't imagine a more exciting time to join the MAAS team. I look forward to partnering with some of the leading in-app and digital advertising ecosystem players to drive business growth through new strategic initiatives, in India and beyond."