Reinventing Black Friday 2020: The Mobile Opportunity for User Acquisition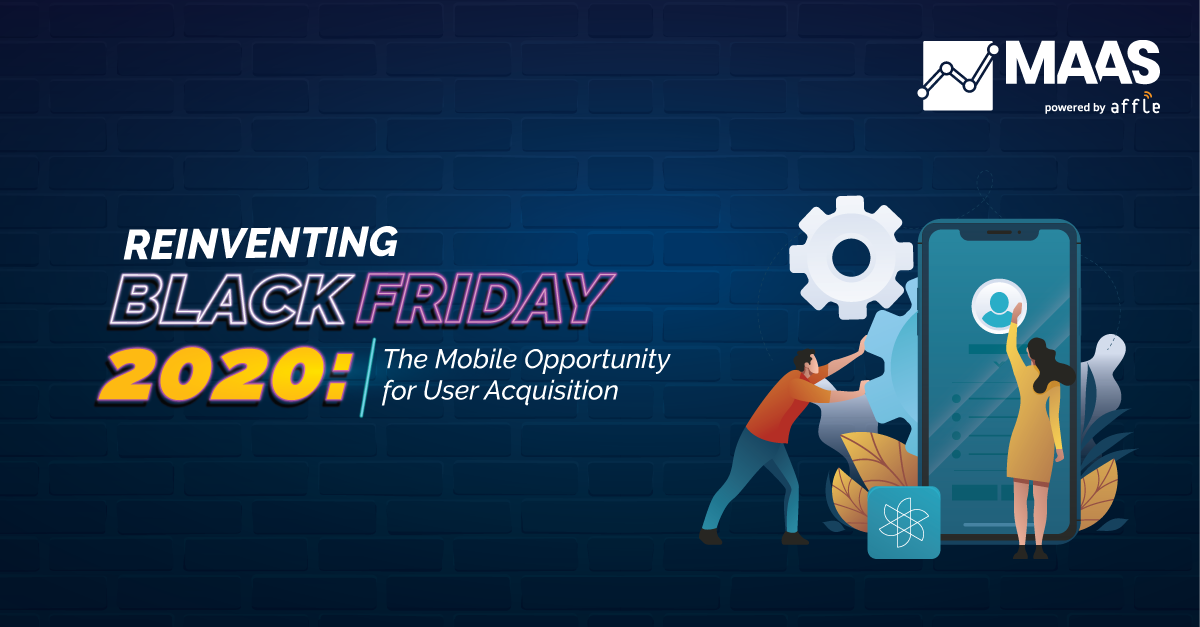 For consumers and advertisers, alike, Black Friday beckons the start of the Holiday festive shopping season. Last year, a record $7.4 billion was spent on online shopping. Each year retailers look to Black Friday and Cyber Monday to increase sales, but this year is particularly interesting as most sales are expected to move online. Many of the popular big-box retailers had already announced that they would keep their doors shut for offline stores amidst the Covid-19 pandemic while extending online deals for a longer period of time. 
Top 3 Black Friday and Cyber Monday shopping trends 
People are less inclined to shop this year. A combination of factors such as health and safety concerns regarding in-store shopping, pandemic-induced recession, and personal curbs on unnecessary spending to prepare for economic uncertainties are likely to impact the way people shop this season.
Shopping will move online. At least half of the consumers plan to buy online exclusively. There's also an increased shift towards Buy Online, Pick up in-store (BOPIS) to have a contactless shopping experience in the view of the pandemic.
Shopping categories are changing. While previous years, expensive electronics and toys topped the charts, this year, people are expected to purchase essential items, such as home appliances (air-fryer emerging as a must-have!) As many continue to stay and workout from home, wearable fitness gear, sportswear, and at-home fitness equipment are also likely to be added to the shopping carts this year. 
Mobile will play an important role in this year's festive shopping as new devices get purchased and apps are installed. It is, therefore, crucial for advertisers to attract new app users, convince those who haven't yet made a purchase, as well as continue the momentum with customers to return for repeat purchases around Christmas. Check out our infographic below which dives into exploring the festive mobile user acquisition opportunity. 

Want to catch the last-minute Black Friday users? Here are the top 5 tips for last-minute mobile marketing:
Come back to the basics: Encourage installs or purchase by update your App Store Optimization for organic growth. Use themes, creatives, text, and ads as well as update the app description. Your app icon is the first thing a user notices when they are ready to install the app, so make sure it is eye-catching and emphasizes the promotions specific to the festive weekend.
Use push notifications: Remain relevant to your users by intelligently interacting with them through push notifications and inform them of any last-minute deals and promotions. Make sure you use this such that it doesn't account for spamming them! Here, segmenting your audience can help to engage relevant audiences with targeted messages. 
Make in-app shopping seamless: As people stay in, it is important to make sure any in-app shopping experience is frictionless. Use simple checkout processes to avoid card abandonment. Inform users of new arrivals and deals as well as exclusive offers.
Engage and re-engage: Start by acquiring and engaging users on Black Friday and continue to re-engage and retain them on Cyber Monday. This can push your revenues as you target users throughout the shopping weekend. 
Consider online-offline journeys: Shifting user shopping to online or to BOPIS means advertisers will have to attract users across their online-offline journeys. Consider all relevant channels to target your users and drive greater conversions.