Mic'd Up With MAAS Episode 5: Talking Attribution Measurement With AppsFlyer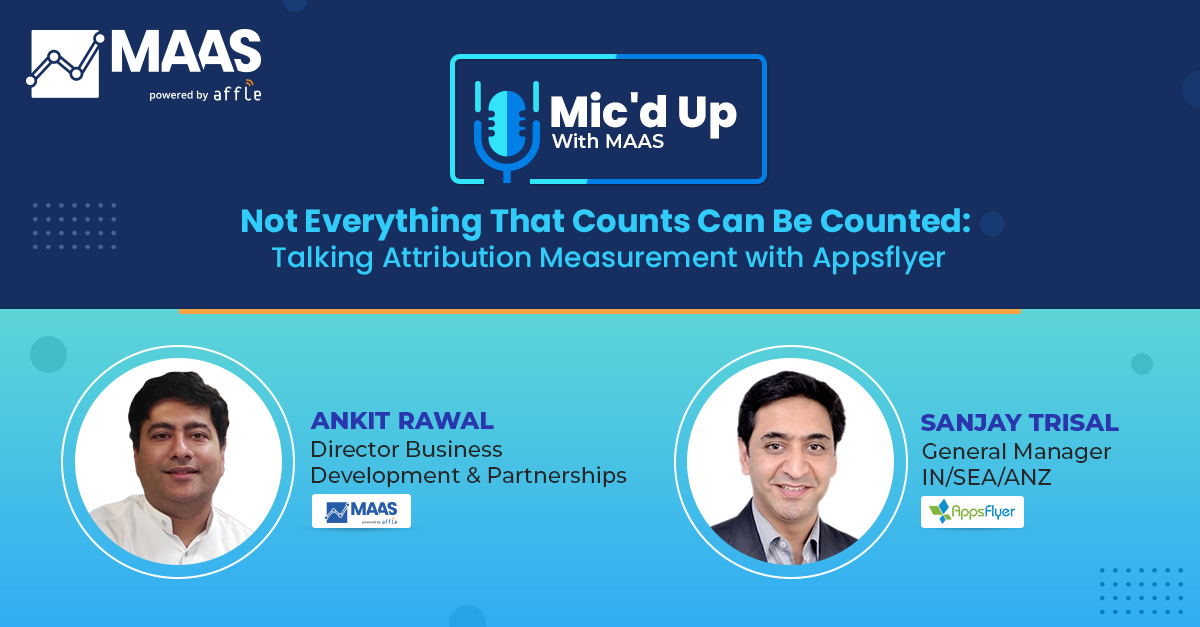 Albert Einstein famously said, "Everything that can be counted does not necessarily count; everything that counts cannot necessarily be counted."
And who better to know that than modern-day app marketers. App measurement and attribution are crucial cornerstones of app marketing. In Episode 5 of Mic'd Up With MAAS, AppFlyer's General Manager for IN/SEA/ANZ, Sanjay Trisal joins us for a candid conversation on how attribution and measurement are changing with iOS 14.5, app usage trends emerging in India since the pandemic, and how the app ecosystem is changing across IN and SEA.
Here are the edited excerpts from the conversation. You can listen to the full episode on Mic'd Up with MAAS podcast on Apple Podcasts, Spotify, and Google Podcasts!
Ankit: Let us start with the elephant in the room – Apple's changes to iOS 14.5 already caused a lot of hysteria in AdTech. What are your initial thoughts on how the ecosystem is set to change? 
Sanjay: The mobile ecosystem is in the midst of an ever-shifting landscape. Mobile has evolved drastically, you know, uh, whether it is COPA compliance or GDPR. Most notable is a major increase of change around privacy. The way data is being shared and consumed there. Despite these changes, mobile is booming. iOS 14 is no different. Is it another change that we are going through? Well, yes. Is it something that we need to kind of lookout for? Are things changing? The answer is absolute Yes. What we need to do is overcome the challenges that it brings. We just need to carefully adapt to it. 
Ankit: Given these changes how do you think attribution measurement will change and how are you preparing for it as a company?
Sanjay: Everybody in this ecosystem is going to get affected, whether it is the advertiser on one side, or the network or the publisher on the other side, or an attribution platform.
So fundamentally three things are impacted if we look from an attribution standpoint.  One, the attribution is fundamentally going to change. First-party audience segmentation and data will be limited. And the deferred deep-linking will be limited to some extent.
There are many things that need to be considered or reconsidered when it comes to iOS 14. 5 Whether it's from the way the brand's architecture is designed or how the data gathered is applied, whether it's aggregated or user-level to how they strategize around user acquisition.
Even the way the product is designed. 
To those opting in for tracking right now – presuming this number is going to be low – the ability to create a lookalike is challenging and limited. So remarketing has to be carefully thought of. Appsflyer is the only MMP to provide a unified attribution. So fundamentally what we have done to overcome the challenge…we have a product SK 360. It is a suite of products solution which will help the marketer to run the marketing more effectively to optimize the ROI using the new convergent algorithm. And have a better fraud-proof environment and analyze the results.
Privacy, by the way, has not been new to us at AppsFlyer. We've been working on it for a long time. And the combination of advanced aggregated privacy, which is a solution on the aggregated basis on the problems modeling cloud with the SKAD network, more deterministic attribution. Can help advertisers overcome plus a larger extent of this challenge. That being said we are all in this innovative phase. We would want to be ahead of innovation. We want to be the first to innovate every time in this. And I'm sure we're going to learn as we move forward on this.
Ankit Rawal: Till now the whole app marketing industry is built on last-click attribution. Any insights or learnings of how do you see the whole attribution industry changing in the next few months or maybe years to come?
Sanjay: I think it is, it's not right to say that only last-click probably would have made an everlasting impact on a user to kind of download the app. 
What happens in a life cycle of a user who actually becomes your user? Often, there are multiple touchpoints that a user is exposed to. And depending on the time of the day, the mood behavior environment, what that user is exposed to at that point in time, he, or she may or may not necessarily complete the whole action, which means clicking the ad, going to the store, redirecting to the app, downloading the app, and then opening the app. So it may vary at any point in time.
I think for a company that believes in end-to-end measurement, it is very important for us to give a holistic view to the advertiser of how or where the user has come in the entire life cycle. And the journey of the user. That's why we have put the multitouch attribution in place, which tells you where or how many touchpoints before the user came to your app necessarily had.  I think as attribution providers our job is to make sure that we give the entire life cycle of the user for the advertiser.
Ankit: Coming to the current ecosystem, the pandemic has significantly changed mobile marketing with many new brands exploring the space perhaps for the first time. What kind of app usage trends have you noticed coming in India? 
Sanjay: Most advertisers or developers showed their resilient nature in this pandemic. This pandemic and the other factors created a new space. We were able to identify certain user behavior. New needs came, new demands came in. And the marketer's approach to this whole ecosystem and its expectation and needs changed.
As a consumer today, I know that I need to have an access to let's say a health and fitness app, a grocery app, and things like that. And similarly, the needs of each user are getting far more defined and crystal clear. So what's happening is that developers and advertisers are catering to those needs.
The clear trends that I have, at least I can see from an attribution stand standpoint, we saw a huge growth in EdTech. But the other thing that completely stood out which I was very skeptical to be very honest for a long time was gaming. I thought India as a gaming market it's not in our DNA to pay to advance to the next levels, pay to buy coins, etc. But I think that changed by far. We saw a huge emergence and a lot of apps got developed out of India. The other piece which showed very strong growth was the short video apps.
Ankit Rawal: Lastly, how do you compare and contrast app trends in India versus some of these markets, in Indonesia, Singapore, or Australia?
Sanjay: If you look at India and Southeast Asia as a region, I think pretty much nuance to the same landscape, mindset, expectation pricing. Now the scale that we look at in Indonesia is amazing. Or if you look at Vietnam, amazing games coming out of that market. We see we know that Australia has always been a very heavy brand market for the adoption of apps around health tech fitness, fashion lifestyle. 
While you can't compare A versus B, the most dynamic booming and high-growth markets are India and Southeast Asia. If you look at India, at about 30% smartphone penetration at 1.4 billion people there is so much more potential. The growth is going to come from Tier-2, Tier-3 cities. The first exposure to the internet is not a laptop or a desktop, it's a smartphone and the mobile. Mobile literacy is very, very high. And therefore the growth is very high and that's what I see across these markets.