Mic'd Up With MAAS Episode 13 : Talking Business & Tech Trends in Advertising – Part I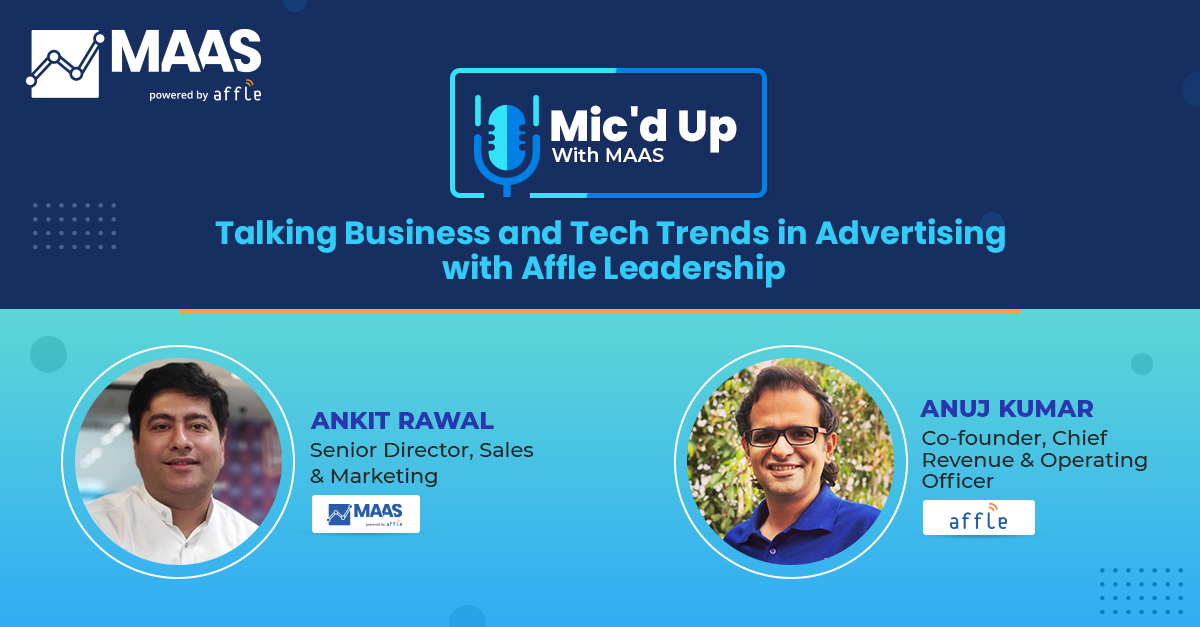 2022 is set to be a challenging year for mobile marketers with rising adaptability of privacy policies and higher demands from a more educated consumer. In the first episode of the new year, Ankit Rawal, Senior Director – Sales & Marketing, MAAS and Anuj Kumar, Co-founder & CRO, Affle reminisce about the disruptive trends of the past year and what the future of mobile marketing looks like in the year ahead.
Here are the edited excerpts from the conversation.
Ankit : Reflecting on 2021, how do you think the digital business space has evolved? 
Anuj : I think 2021 was quite an exciting year in terms of what the world was going through. So I think it was clearly the year where the pandemic ruled and people were compelled to engage with businesses digitally. I feel this is a non-reversible change, which has happened in the digital economy where consumers have lapped up to digital trends much faster than what they would have done naturally. What's also been quite dramatic in 2021 is how we see entire industries being disrupted. So if you look at eCommerce, music/video streaming, FinTech – each industry is going through a significant amount of disruption. It is evident with the amount of new startups which are coming in these industries and also evident by the kind of quality funding available to these startups. At the other end, you have technology innovations, which are always in an industry like ours. 
Ankit : How did MAAS fit into the overall scheme of things for Affle for the last one year? And how do you see the platform panning out for the next couple of years? 
Anuj : In the past year, MAAS has evolved to be a unified platform for marketers to engage and acquire new users. And if you look at any business, whether it is a digital first business or a non-digital first business, the most important growth objective for any business is to look at how they can appeal, engage, and acquire new consumers. We've revamped the platform, integrated it with the overall DMP proposition of Affle and that's where MAAS is providing an amazing growth platform for marketers across the world. We ensure weeding out the bad data, which is also a problem in our industry, through our fraud detection platforms and creating a unified way where they can engage users and have a unified dashboard where they can manage and see the kind of impact different channels are having for their overall marketing and growth strategies.
Ankit : In 2022, if you have to watch out for certain trends in AdTech or app marketing, which ones do you think will stick? 
Anuj : There's definitely a focus on consumer privacy that I see continuing in 2022 and beyond. I believe it will mature the industry and companies with a privacy-first policy are set to win. The other thing, which will impact a lot of ways in terms of how digital advertising continues to grow is largely programmatic. If you look at any media now, there's programmatic – whether it is audio or the entire TV space with CTV. I think we are moving towards an era of programmatic, where any kind of advertising across media, which you would be consuming increasingly will be connected or transacted through programmatic technologies. The third area is the focus on vernacularization. The vernacularization of the internet is continuing to go at a rapid pace, which will impact how tech and marketing moves.

The other one is more a macro factor – the evolution and adoption of 5G, which is expected to fast-track in 2022 across the world. At the same time, I think the role of measurement will also become absolutely critical. Measurement itself will also evolve, especially given how different media might have certain nuances of measurement and how the unified view of the consumer is what will matter to the marketer.

Ankit : Everything is programmatic media – how do you see this specific trend panning out beyond 2022?

Anuj : So I think the ad funded internet is the model in which the internet has thrived. And I think that's where any company which has got a large consumer footprint will need to look at having an effective advertising strategy because that advertising strategy will allow it to scale. The larger mass of population is where people would want free experiences, which are ad funded. And I think that is where we are seeing a lot of these companies moving into ad funded models, which is always interesting for the digital advertising economy.
The other thing which I see is the entire omnichannel consumer engagement – the entire online – offline space has merged. It's blending between the times we are spending on the device versus what we are doing in physical interaction. And I think that is creating ways in which traditional companies, which saw them as physical experience first, are realizing that their consumers prefer omni-channel experiences.
Listen to the full podcast on Apple Podcasts, Spotify, and Google Podcasts!
Want to rev up your app's user acquisition campaign? Get in touch with our team of experts today.