Mic'd Up With MAAS Episode 10 : Navigating the Mind of the Festive Shopper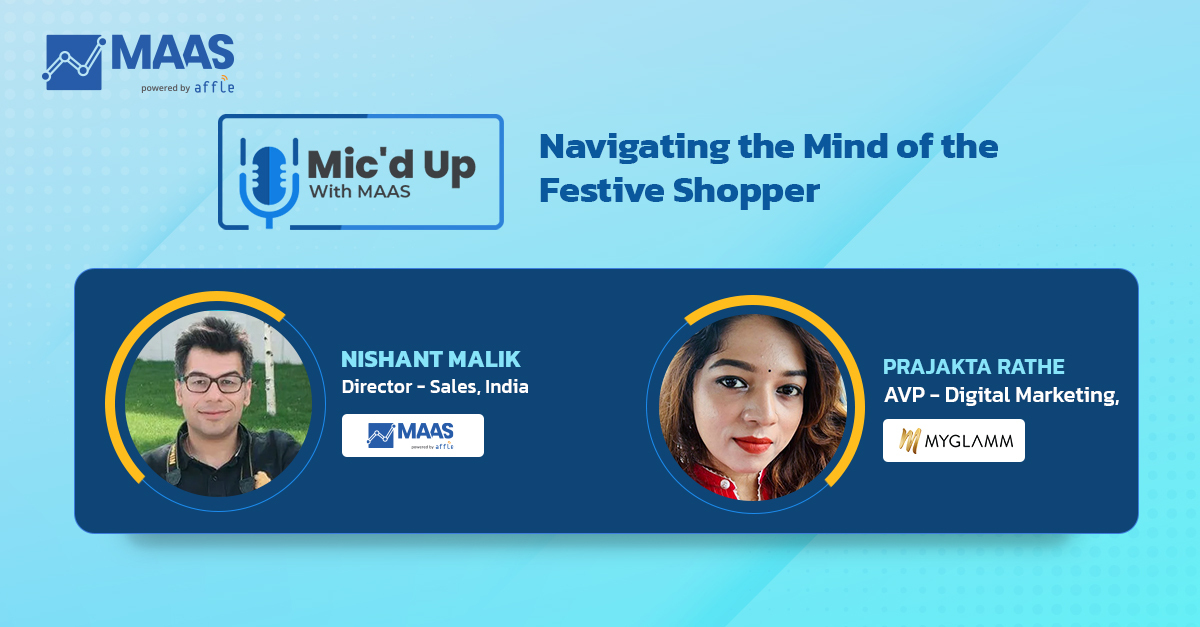 The excitement of the festive season has all of us hooked to our shopping lists. In the latest episode of Mic'd Up With MAAS, catch Prajakta Rathe, AVP – Digital Marketing, MyGlamm and Nishant Malik, Director – Sales India, MAAS discussing on user behaviors to watch out for and how to build up on the festive zeal for an impactful eCommerce UA campaign.
Here are the edited excerpts from the conversation.
Nishant : D2C has been a key emerging eCommerce model that has strengthened in the last year. Why do you think so many brands have taken the direct route?
Prajakta : I would like to highlight Nykaa here as the inspiration to put faith on the D2C model. When Nykaa came into picture, no one, including consumers or even business holders were sure how far they would go. But their success journey has set an aspiration for brands opting for the D2C model;  especially for cosmetic, make-up, skincare and similar businesses.

There was hope that was given to us. With the app ecosystem booming in the last three to four years, it gave D2C brands a valuable channel to drive conversions and revenue out of the entire consumer base market primarily online.
Nishant : With the ongoing festive season, how do you compare it with 2020? Are you noticing a pick up in consumer sentiment this year?
Prajakta : Oh there have been a lot of learnings. The strict lockdown of 2020 unfortunately halted deliveries of lifestyle categories. However, the unlock phase starting in July brought with it a breath of fresh air to businesses. We noticed a continuous spike in new users across Tier 1 and Tier 2 geographies. Not only that – the spends, transactions and revenues from these geographies were almost equal. Users were practically revenge shopping.

This year I notice users have become aware of the privileges online shopping offers. They have developed loyalty to brands they would have otherwise not known about while they were dependent on physical stores. However, in the festive season the buying intent is high and therefore the inclination to switch to brands that provide better offers is also quite high. This kind of change in user behavior was not prevalent earlier. With greater awareness about online shopping, the online home shoppers find it easy to quickly switch to multiple brands.
Nishant : Tell us a bit about the user engagement in-app trends you have noticed?
Prajakta :  In-app retention metric has definitely been high. The consumer is getting used to app acquisitions. Especially women are increasingly getting comfortable downloading an app and performing a transaction through it, leading to better retention rates. Another noticeable trend is consumer expectation of a personalized approach – birthday offers, loyalty credits and such. I could say CTRs and conversion rates are getting better day by day.
Nishant : A huge uptick is typically seen closer to the festive season not only from a consumer perspective, but also for the brands as they invest in getting more users and increasing revenues. Are you focused more on UA or would you rather focus on the LTV of the user and retention?
Prajakta :  User acquisition, brand awareness, retention – all three have to go hand in hand. Like I mentioned before, users are very aware right now, therefore brands  have to be present throughout the year to meet them. The upper funnel campaign should always be active and should ideally start months in advance. Shoppers usually have items added to their cart; they are just looking for the best offer. However, there has to be a continuous campaign to increase awareness and that is of utmost importance. And once you have that awareness, it is easy to remarket and retarget those people and then convert them in your last funnel. Multiple but different relatable ads is one way to increase the likelihood of your consumers' conversions. Also brands always have to be prepared in a geography like India where there are multiple festivals, wedding seasons spread across the year.
Nishant : Have you had to relook at the UA channels you spend on in the festive season 2020 vs 2021? 
Prajakta : I love to be in this space for this reason because every time I am in a meeting, it surprises me that there are so many new things that are there in the market – not only for acquiring new users but also re-acquiring returning users. You have to keep on trying new channels. For example, if you decide to work on, say Snapchat, it could work considering the app has a heavy female user base and majorly iOS users who show inclination to increase your average order value. A trial always helps you to understand if it is working or is it not working for your brand. And ask – Am I getting something out of it? And if I am then at what rate and at what cost and how is it that it is helping my brand on an overall level? Is it adding any value or not?
Listen to the full podcast on Apple Podcasts, Spotify, and Google Podcasts!
Want to kickstart or ramp up your festive campaign? Get in touch with our team of experts today!