Mic'd Up With MAAS Episode 1: Demystifying Mobile Advertising in 2021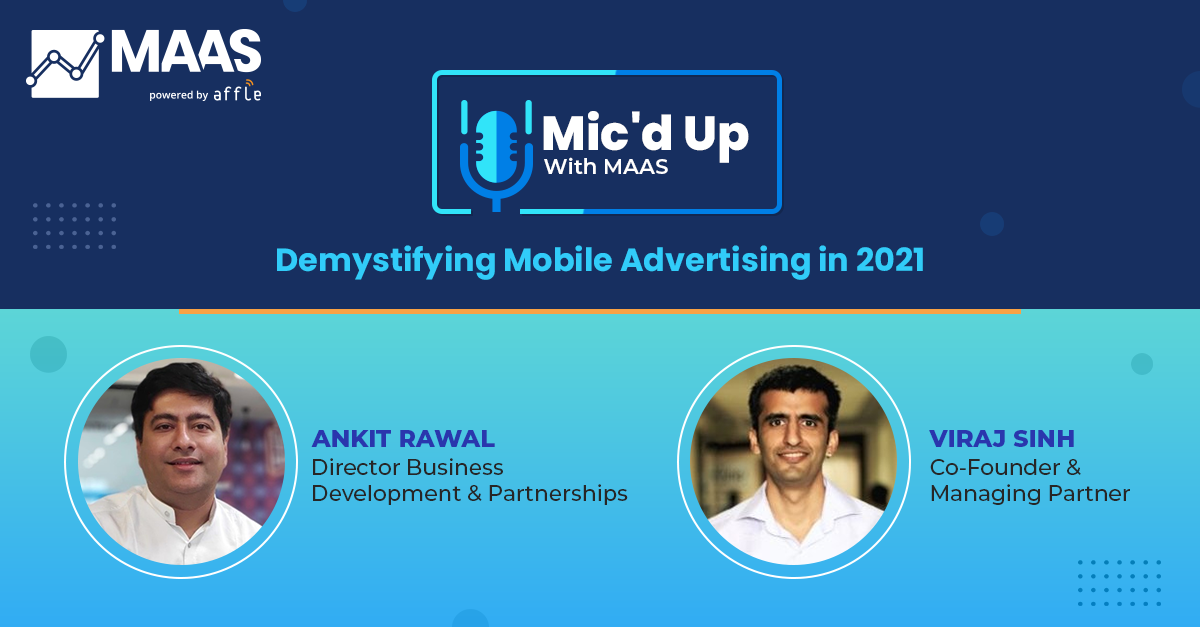 Welcome to a new year and with it, our first episode of the interview series "Mic'd Up With MAAS" where we will unlock mobile user acquisition and the world of AdTech. In today's interview, we are joined by Ankit Rawal, Director of Business Development and Partnerships at Affle, and Viraj Sinh, co-founder and managing partner (international), who unravel the year that went by and what's coming for mobile advertising in 2021.
Q: 2020! What a year it was! How would you summarize it for mobile AdTech?
Ankit: It was an interesting year for mobile AdTech, largely because of the change from Apple's announcement on IDFA. While they postponed it to this year, it created an upheaval among all the major players within the mobile ecosystem. While the jury is still out on how this will play out, it was definitely one of the big themes that dominated the industry. The second, of course, is the pandemic and its effect on the app economy. I've touched upon this before on how it created a transition for industries to go from "hi-touch" to "hi-tech," accelerating the digitization for many businesses and creating new opportunities for the mobile economy across the globe. 
Viraj: Every industry goes through a cycle of change every few years, and this year disrupted the mobile ecosystem. Like Ankit mentioned, the impact of Apple's announcement is definitely something that will be felt this year. But also what is interesting for me is to see how the pandemic gave birth to new verticals within the app ecosystem. At the beginning of the year, there were bigger brands who were spending actively and had to question their business models and spends once the pandemic hit. Within a few months, we identified new app verticals and opportunities in the EFGH category (Education, FoodTech/FinTech, Gaming, and HealthTech). These verticals have come back so much stronger post-Covid that mobile AdTech as a whole witnessed an uplift towards the second half of the year. The effect of this was also seen through the number of companies in the mobile ad-tech ecosystem doing an IPO or raising funding.
Q: In your opinion, what would be the defining trends for mobile advertising in 2021? 
Ankit: Creatives & Creative Thinking. Till now because of the available data around micro-segments, CTR, CVR, creativity was relegated to poor-quality highly iterative creatives. However, now because of limited targeting with the deprecation of IDFA early this year, UA managers would have to invest more in creative strategy and quality of creative products. User research, motivation and behavioral analytics on why certain personas click on ads will become interesting. Mobile acquisition teams will become more holistic, hiring more right-side brains than just with data/analytical skills, as was the case still now. The other is how cross-platform mobile web and app advertising will evolve. Mobile web advertising as a channel for acquisition is becoming important. With Apple Tax charging 30% on in-app purchases on some of the biggest players, companies are discovering other channels to acquire users and the mobile web is emerging as a favorable channel. It already offers standard ad formats and cheaper CPMs, web+app will become important for mobile UA.
Viraj: As the world slowly returns to normalcy, certain mobile habits that were formed in 2020 will stick in 2021. With increased mobile consumption, there will be renewed opportunities for mobile advertising and the ecosystem will further evolve. As we already saw with the emergence of newer app categories, the mobile advertising game changed altogether. And I expect to see more continued momentum in investment in the FinTech, Health, and EduTech sector globally as these verticals emerge as mobile-first, something that was hard to visualize before 2020. That being said, I do expect that some of the bigger categories like shopping, entertainment and gaming — which already have a huge and active user base — will look to penetrate into Tier 2 and Tier 3 markets, especially in the emerging countries. Video formats and vernacular content are likely to play a central role in all the communication that comes out of these brands.
Q: Given these changes, how should advertisers approach their advertising in 2021?
Ankit: With rising concerns on user privacy and limited ability to target micro-segments brands need to explore Contextual Targeting: learning user personas and behavior from the context she is present than from any personally identified information. For example, anyone watching a live sport on TV or any OTT platforms is contextually interested in sports and a sports brand/drink could appeal to that context. Contextuality could also mean as basic as understanding the environment in which the user is using her phone. If the user is on a "lean forward" mode means she is actively involved in the content like playing a game, responding to an email, etc. vs "lean back" mode where she is more relaxed and just browsing the phone on social media or OTT apps. Showing her an ad in a "lean back" context where she is more open to discovering new products and services can drive a higher brand recall than in a lean-forward mode where it is construed as an irritant. Hence recognizing contextuality signals and using them for targeting can be a better privacy-respected approach in 2021.  
Viraj: This year is going to be a year of transition. With Apple deprecating IDFAs for user targeting and segmenting, the way growth marketers especially in the developed nations where Apple has a much higher market share, manage their growth budgets and campaign execution is going to evolve drastically compared to how it has been done until now. Tracking, attribution and campaign management are all open-ended questions and with no correct answers yet. Growth marketers are not just going to be focused on spends, but also look at all the different channels and what impact they create together. From a tracking and attribution lens, incrementality measurement is going to be the biggest trend to track in 2021.
Q: Unify is one big theme coming out a lot across both of you? Can you share a bit more about how at Affle you are looking to unify audiences to the dashboard? 
Ankit: AdTech has evolved in defined waves of growth over the past decade. In the beginning, it started with a huge focus on massive downloads and incentive channels. Later, the "lumascape" started becoming more complex with the emergence of ad networks and unique supply. As the industry evolved, DSPs and OpenRTB were also added. When advertisers felt the need for additional reach, OEM recommendation arrived on the scene. So, today there are different companies who are playing to only one part of the equation. With Affle's MAAS, we are unifying all the channels so that clients don't have to navigate that maze all alone. Based on their campaign KPIs, we find the right mix for them to put them on the path of UA success. The other challenge with having multiple dashboards and partners is that seeing the business outcome becomes difficult. We are trying to resolve that by having one unified dashboard that gives an advertiser transparent and deeper insights. 
Viraj: With unification, we are working to empower our advertisers with greater transparency on where their ad budgets are spent, how their ads are served, and how each channel they are working with is delivering. On one single dashboard, advertisers are empowered to measure each and every channel as per the KPIs set by them. And even though the buying currency on each channel could be different, how these impact the business goals set by the advertiser can be visible across one dashboard to help them make informed decisions. Whether it is to evaluate the creative impact or to see which channel works better at install vs post-install level, these transparent insights can help advertisers make quicker decisions that can help them to drive their budgets.
Q: The privacy debate is back in focus with WhatsApp's new privacy policy. What sense can we make of data privacy in 2021 and how is this going to impact the app ecosystem? 
Ankit: With rising data privacy concerns and country-specific regulations for privacy coming up, I see we are in the phase of  "vocal for local." Be it local app store distribution, short-format videos or privacy-first messengers we are seeing the rise of regional/local social platforms beyond Facebook/Tiktok, be it Takatak, Josh in India,  Triller in the U.S or Yubo in France. We are likely to see more & local companies in the consumer internet space competing head-on with global players across all verticals.
Viraj: Even before the IDFA announcement, the ball on data privacy was already set rolling with the implementation of GDPR in Europe and eventually the CCPA in the U.S. There are already conversations around India drafting its own regulatory policy, even as more active conversations on privacy pick up around the world. As more policies are drafted and driven into each geography, what becomes personally identifiable information will change and so will how advertisers can use it.