How to Use Data and Channel Mix to Make it a #MAASiveDiwali for App Marketers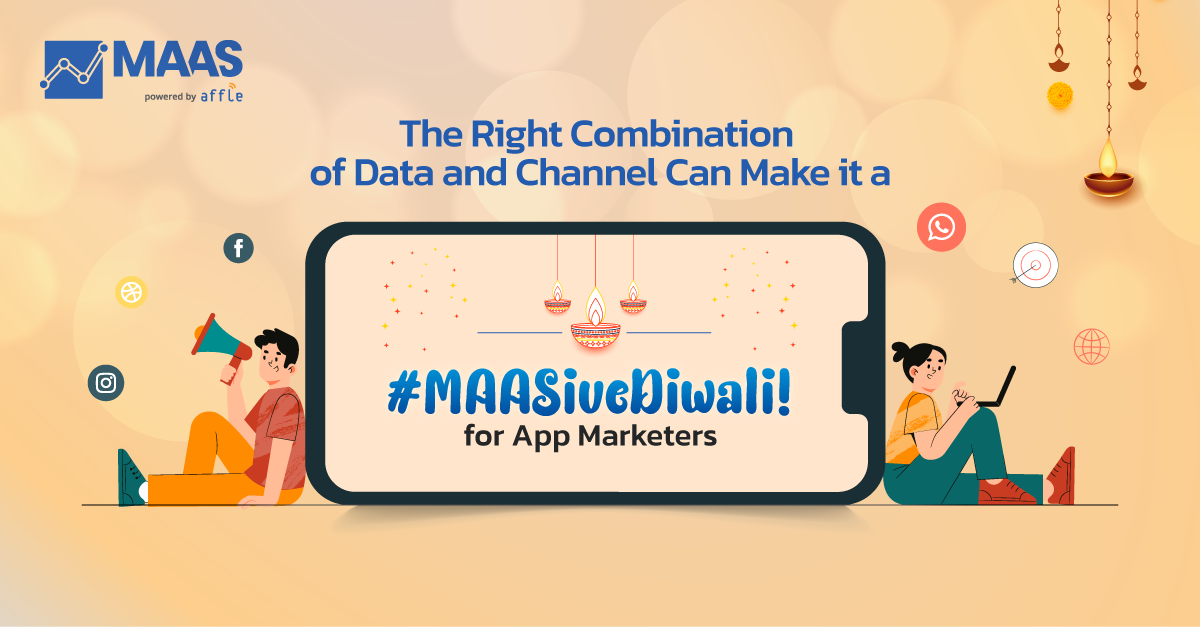 There's an air of festive excitement after two long years, with the restrictions of the pandemic behind us. Not only is it a time of bonding, festivity, and celebrations, it is also a time when retail peaks owing to consumer demand. Brands and advertisers gear up to offer exciting deals, acquire new customers, and make an impact on their brand visibility. This year, there are already early signs of an upbeat festive retail season. 
Online sales that start with Amazon's Great Indian Festival and Flipkart's Big Billion Days set the stage for the offers to come in and consumer activity to pick up. eCommerce festive sales have recorded a volume growth of 28% this year as compared to 2021. For many brands, it is also a time to retain consumers they acquired during the pandemic when dependency on online shopping, food ordering, and qCommerce increased owing to mobile-first behaviors. Reaching out to these users throughout their journey is going to be key for app marketers.
Why Festive Season 2022 Matters for Advertisers
Physical retail opening up after the pandemic restrictions

Online retail continues to grow as mobile behaviors stick 

Overall household spending

increased for 58% people

during festive season

Preference to transact through digital finance apps as user comfort grows 

Percentage of Daily Active Users (DAUs)

risen to more than 25% in 2021

for a retail platform

Between

40-50 million new shoppers

were added to the Indian e-retail market in 2021
Why a Data-Driven Approach for a #MAASiveDiwali?
Data – both availability of it and the usage of data analytics – form the cornerstone of modern-day app marketing. Without the right data, plenty of ad budgets are wasted as you approach your campaigns with a spray-and-pray approach. On the other hand, if you don't have relevant data insights after a campaign has started, optimization becomes challenging leading to poor conversion and ROAS.
Festive marketing campaigns hinge on the right data-driven approach to make the most impact in a short period of time. Marketers need to look beyond the available pool of data and find the most relevant cohorts in the stack to go beyond the next 100 million users. 
Here's how you can leverage data to get the right targeting: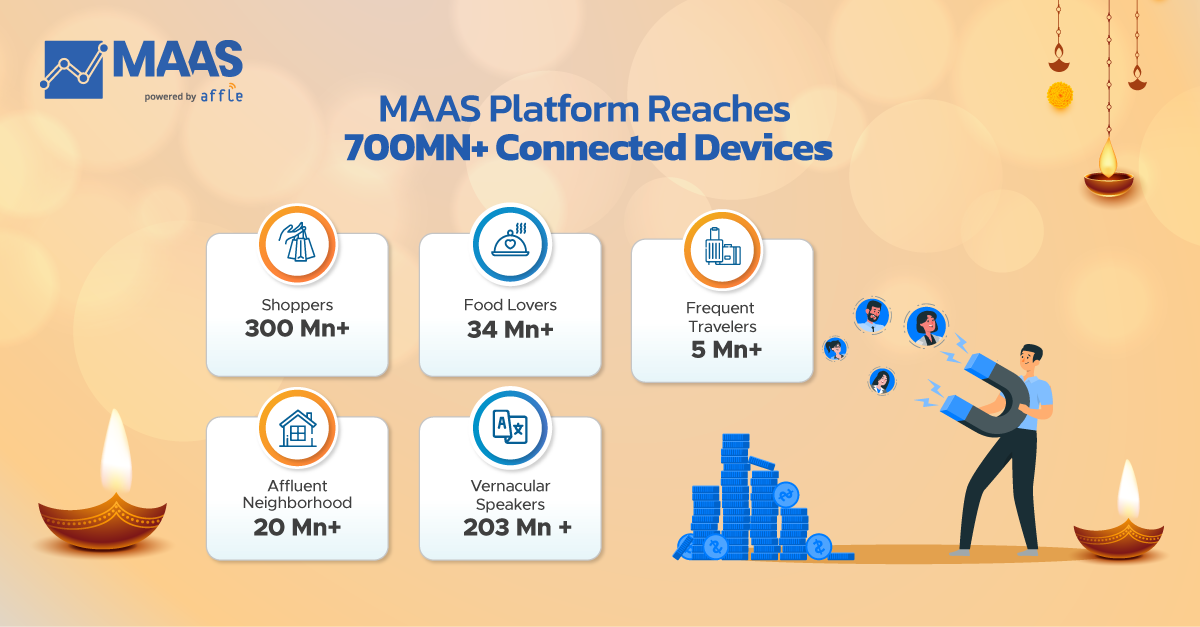 Create cohorts that convert:

Finding the right audience among a large pool of data can increase ad wastage as not all users will be relevant. Creating user cohorts that offer maximum conversion can make the campaigns more effective. Advanced audience segmentation – for instance on MAAS platform's mDMP segmentation – helps advertisers to find the devices which are the right fit for the app's reach. One can look at user cohorts of shoppers, food lovers, travelers, etc to create a targeted campaign for conversion.

Create high-affinity segments:

Once you have crossed the stage of building your audience cohorts, it's time to bucket them on the basis of their conversion behavior. With the right data analytics system in place, advertisers can segregate their audience based on locations or times of the day to streamline high-affinity targeting. A simple example for a use case – for food/grocery delivery apps, where time and distance are of the essence, segregating your target cohorts based on their location to fulfillment centers can go a long way to generating the happiness that births a loyal user. Similarly, you can also segregate your target devices based on the time when it records more activity to ensure your ad didn't miss the user's attention.

User recommendations to find personas that matter:

Amplify your spends based on suggested persona-based targeting. For example, an eCommerce user also has touchpoints across travel or a food app. Having the right recommendation engine powers up cross-interest targeting to find premium shopping, social, music, and other platforms where users are most likely to be. Talk to your advertising partner about the right premium inventories that fit seamlessly with your product offering and brand image. Another benefit of cross-targeting: your brand reaches out to a whole new potential user group, maximizing your reach.
Beyond Data – The Right Channel Mix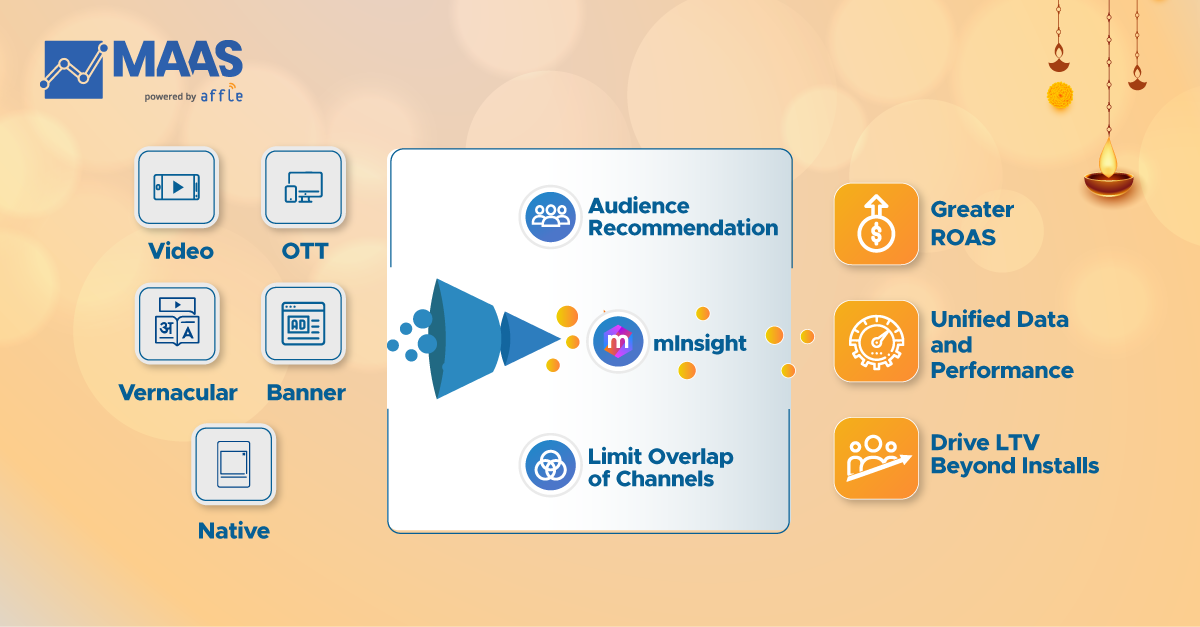 Diversify beyond the metros:

In a developing market like India, where parts of the country still suffer from connectivity issues or low awareness, OEM and social commerce can bolster your brand's adoption in non-metro markets. OEM recommendations significantly help in creating continued top-of-the-mind brand recall, eventually nurturing prospects to install your app. Another important channel avenue to remember to target smaller towns and cities is video or live commerce. India's non-metros are only just getting digital savvy. Leveraging live commerce can overcome the knowledge barrier to generate brand adoption.

It's all about the right balance

: While you may want to deploy a particular channel, it may not be the right fit for your app. For instance, in the initial days, the scale may be a priority while after achieving a few milestones, the quality of the users acquired takes on more importance. Therefore, the channels of your choice depending upon the growth stage of your app and your business objectives. The right blend of channels acquires users at scale but also maintains a stable conversion ratio and the best way to hit the jackpot is continued testing.

Optimize channels to reduce overlap

: It's a crowded world out there for advertisers – with multiple channels it is not always possible to see the high-performing channels from the low-performing ones. Subscribing to multiple channels with the expectation of increasing user reach can create a massive overlap and diminish channel-wise growth due to the overlap of users. This can create a poor ad experience. In this case, having a transparent account of audience overlap across channels can help advertisers see the true value of users for each channel. With MAAS, you can move beyond the unidimensional view of data to identify the true channel performance.
Unify Your Festive Marketing
Unified platforms consistently score big during seasonal marketing campaigns. With data analysis, comparative insights, and media mix recommendations all on one platform – it gets that much easier to manage campaigns during peak hours when every moment is a potential marketing opportunity. If you would like to know more about how the team MAAS platform uses the power of data to deliver strong UA performances, feel free to consult our experts.
 Karnika Roy contributed to this article